After growing rapidly in the last 2 decades, many investors think that Intel (NASDAQ:INTC) became nothing but a dividend cow. Because of the perception that the chipmaker's growth is highly dependent on growth in computer sales, many are skeptical about this company. One remaining fact about Intel is that it kept surprising those that were skeptical, and it can continue to do so in the future.
Intel's Past Growth
From 2001 to 2011, the company's revenues grew from $26.54 billion to $53.99 billion. This translates into revenue growth of 103%. Similarly, the company's annual EPS grew from $0.19 to $2.39, indicating a growth of 1157%. In the same period, Intel was able to increase its free cash flow by 233% to $10.20 billion from $3.06 billion. The company's book value by the end of 2011 is $45.91 billion, up from $35.86 billion a decade ago.
In the same period, Intel's stock price depreciated by 19.21% from $32.98 to $26.64.
click to enlarge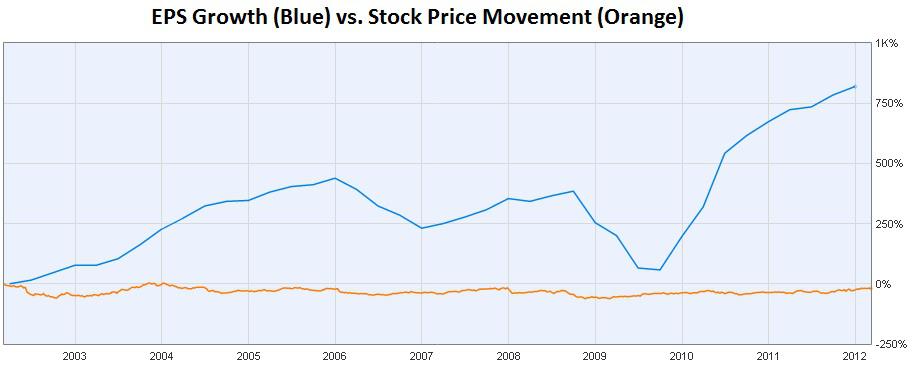 It is clear that Intel hasn't been appreciated by investors in the last decade, both literally and figuratively.
Intel Today
Intel holds the pulse of the technology in the world, as its products go into most technological products built around the globe, including mobile phones, tablets, computers and other hardware. When Intel's revenues start declining, this is usually a sign that world economy is slowing down. Similarly, whenever Intel's revenues jump up, this is usually a good news for the world economy.
Currently, 34% of Intel's revenues come from Dell (NASDAQ:DELL) and Hewlett Packard (NYSE:HPQ). This number is down from 38% a year ago. The declining trend is good for the company, as it means that Intel is less dependent on these two companies than it used to be. Other than Dell and HP, none of Intel's customers account for more than 10% of its revenues. I believe that it is very important for a company not be too dependent on other companies.
Intel's platforms, which are composed of chipset and processors, are often complemented by other hardware, software and services provided by Intel. Currently the company's software and services segments include McAffee, Wind River Software Group and Software and Services Group. McAffee provides security solutions such as anti-virus software and Wind River Software Group focuses mainly on software developed for mobile phones and devices.
Competition
The most direct competitor of Intel is AMD (NYSE:AMD). Intel enjoys many competitive advantages over its competition. For example, it is able to combine its huge networks of manufacturing and assembly and test facilities to provide more integrated solutions than any of its competitors. Due to this advantage, Intel is able to have more control over its processes such as quality control, production time and costs associated with production compared to its competition. Intel's less direct competition includes IBM (NYSE:IBM), Qualcomm (NASDAQ:QCOM) and Oracle (NASDAQ:ORCL) among others.
Future Growth Avenues
Many people focus too much on Intel's PC business and fail to see the endless opportunities in front of this company. Intel is currently transforming itself to address the future needs of its clients. In the near future, the company will start shifting its focus from producing semi-conductors for personal computers to providing its own platform, software and service packages.
The company's future solutions will have 3 main components of improvement: energy efficiency, connectivity and security. Producing more energy efficient platforms will allow devices to have a longer battery life. Improving connectivity will allow devices to share information with each other more efficiently. Increasing security will help avoid issues such as identity theft and privacy invasion. By accomplishing these three goals, Intel can increase its client base and see significant growth.
Much of Intel's future growth will rely on growth of its customers. I believe that in the future, fast growth costumers like Apple (NASDAQ:AAPL) will contribute to larger portion of Intel's revenues than costumers like HP and Dell. In my opinion, having a larger percentage of high growth customers will help Intel's growth significantly. In 2009, 71% of the Intel's revenues came from PC business; in 2010 this number fell to 69%, and in 2011, it fell to 66%. This is exactly what Intel wants, as the company aims to reduce its dependency on slow growth segments, such as PCs.
Intel's server business serves as an another potential avenue of growth. Currently, this business segment has some big name clients such as Facebook (NASDAQ:FB) and Google (NASDAQ:GOOG). As these companies see growth, it should reflect positively on growth of Intel itself.
A Word on Dividends
Intel loves to return value to its investors, and it has a generous dividend tradition. The company currently yields 3.12%. Intel has a very long history of dividend growth; since 2002, the company's dividend payments have been growing at 100% every 3 years.

The company's dividend payout ratio is only 32.63%. This indicates that the company's dividend payments are pretty safe, and it contributes enough money for growth opportunities.
Analyst Ratings
Of the 38 analysts covering the stock, 17 rate it as "strong buy," 1 rate it as "buy," 19 rate it as "hold" and 1 rates it as "underperform." The company's EPS in 2012 is expected to be $2.44, just like 2011. This is partly due to slowing global economy. In the next 5 years, the company's EPS is expected to grow at an annual rate of 9.89%. The average price target on the stock is $28, only slightly higher than its current stock price of $26.90.
Conclusion
Since the beginning of the year, Intel is up by 11%. This indicates that there may be a pullback soon. On the other hand, the company still enjoys a low P/E of 11, which means the pullback, if happens, may not be that sharp.
Long-term investors and dividend investors should definitely consider Intel to get exposure to a company that has the pulse of the technology industry. Short-term investors may want to wait for a pullback.
Disclosure: I am long (INTC).