Investment Model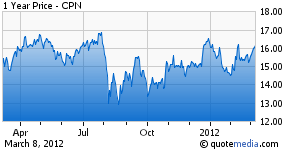 I like to invest in companies that share four characteristics: (1) trading less than intrinsic value, (2) possessing a competitive durable advantage, (3) where management is shareholder oriented, and (4) the company is benefiting from a identifiable macroeconomic-trend. Calpine (NYSE:CPN) I think has all these characteristics, but this is not a quick trade, but rather a very long term investment that is 3 to 10 years.
Investment Rational
Macroeconomic trend: Although declining natural gas prices are generally negative for merchant energy companies, Calpine is a beneficiary of lower natural gas prices because coal generating capacity is being displaced. Thermal coal is now more expensive than natural gas on a heat equivalent basis (BTU's) based upon current spot prices. Calpine has one of the largest fleets of natural gas burning, combined cycle power plants and are some of the most efficient cleanest burning power plants in the United States.
Calpine is well positioned to benefit from future environmental regulation of greenhouse gas emissions or a carbon tax. While the debate about global warming continues, environmental concerns appear to have a higher priority than they did previously.
As the collapse of Solyndra and the Fukushima nuclear accident illustrates, there are no easy solutions to our energy needs. If the U.S. were to move away from nuclear power, the difference would need to be filled.
Competitive durable advantage: Calpine is also benefiting from an aging power infrastructure and tighter power supplies along with declining power reserve margins in ERCOT as well as elsewhere. This is creating a favorable backdrop for pricing despite lower natural gas prices. The high replacement value creates a significant barrier to entry.
Intrinsic value: Calpine trades at a significant discount to replacement value; it is cheaper to buy a power plant than to build it. It also has significant unused capacity. It currently operates at a 46% of capacity factor.
While I don't equate intrinsic value with replacement value, I do believe that the combination of discount to replacement along with growing free cash flow makes the company undervalued. The NOL's provide a very significant tax shield. I define intrinsic value as the net present value of future cash flows accruing to shareholders appropriately discounted for the time value of money and risk.
Management provided positive, significant, free cash flow guidance for 2012 of approximately $500 million, and EBITDA guidance of $1.6 billion to $1.7 billion. The company has $7.4 billion NOL's (net operating losses) which means that it is unlikely that it will pay taxes anytime soon.
Management: The management team is led by Jack Fusco, CEO. Management has worked very hard turning Calpine around since emerging from bankruptcy. The projected free cash flow generation in 2012 and beyond is testimony to their hard work. Insiders currently hold 21% of the shares.
Business Overview
Calpine Corporation, an independent wholesale power generation company, owns and operates natural gas-fired and geothermal power plants in North America. It is one of the major unregulated electric utilities in the United States with one of the youngest fleet of natural gas power generating plants.
The company operates natural gas-fired turbines along with renewable geothermal conventional steam turbines, as well as cogeneration power plants. The company sells wholesale power, steam, capacity, renewable energy credits, and ancillary services to utilities, independent electric system operators, industrial and agricultural companies, retail power providers, municipalities, and power marketers.
As of February 10, 2012, it operated a fleet of 93 power generation plants representing more than 28,000 megawatts of generation capacity. The company was founded in 1984 and is based in Houston, Texas.
Investment Risks
Calpine is highly leveraged with more than $10 billion in debt. If the company were unable to service that debt, then they could potentially face bankruptcy, again.
Slowing economic activity could lead to lower demand for power and therefore profitability.
Lower natural gas prices puts pressure on electricity prices nationally and this potentially hurts Calpine, like all merchant energy companies. However, this is offset by switching from coal to natural gas due to lower cost.
Calpine did file for Chapter 11 once.
Disclosure:
I am long CPN.
Disclaimer: This is provided for informational purposes only and should not be considered a recommendation to buy or sell any security.