Coffee and computers should have very little in common - unless they are served by Starbucks Corporation (NASDAQ:SBUX) and Apple Inc. (AAPL).
Starbucks is credited for bringing gourmet coffee to the masses. What turned out to be unusual and unexpected in the case of Starbucks is that they were able to do so while maintaining premium prices. Who would have thought that paying an average of $4.36 for a cappuccino at Starbucks would become second nature to most? Some even pay more by adding lots of "bells-and-whistles" to their coffee; how about Logan Warren's $23.60 Starbucks coffee drink?
To most of Starbucks customers, the luxury of a latte, frappé or cappuccino has become a must. Even during economic downturns, many such customers will simply not shed such luxury away. Luxury is supposed to be discretionary; not so say some Starbucks customers. In a U.K. study, it was revealed that heavy coffee drinkers spend as much as £2,000 British pounds ($3,200) on cappuccinos, lattes and espressos, while an average person actually spends £452.28 ($724), more than the average electricity bill of £424 ($678).
It is no wonder that Starbucks has become a $37 billion company. Its shares have increased by as much as 45.5% during the past year, from $34.01 on 3/8/2011 to $49.49 as of 3/7/2012. Although shares did dip from October 2006 to about October 2008, they are currently trading at all-time highs.
Starbucks Corporation Stock Price Chart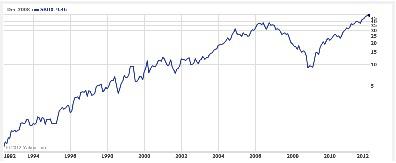 Source: Yahoo Finance
Even during such share price drop, Starbucks revenues had actually only dipped slightly in fiscal year 2009 (-5.77%), while they soon recovered this ground and more in the following year.
| | | |
| --- | --- | --- |
| Fiscal Year | Revenues | Revenue Growth |
| 2006 | 7.8 billion | |
| 2007 | 9.4 billion | +20.51% |
| 2008 | 10.4 billion | +10.64% |
| 2009 | 9.8 billion | -5.77% |
| 2010 | 10.7 billion | +9.18% |
| 2011 | 11.7 billion | +9.35% |
What Starbucks achieved with gourmet coffee, Apple Inc. achieved with computers and gadgets. What is more impressive is that Apple was able to create the sense of a "must" for discretionary luxury items that are far higher priced than a cup of coffee. As a matter of a fact, we would not be surprised if some readers of this article make comments that Apple's products are no longer consumer discretionary.
Although a cup of coffee, even at Starbucks, is a lot cheaper than an iPad, iPod or iPhone, when you add up all those daily cups of coffee, they can easily translate to much more. In the above listed case for the U.K., those spending $3,200 annually on gourmet coffee can buy 6 iPads, or 21 iPod Nanos, or 60 iPod Shuffles, or at least 4 iPhones annually.
At its latest event on March 7, 2012, Apple announced some staggering sales figures. They have sold more iPads in the last quarter of 2011 (15.4 million) than any other competitor sold PCs. That's even more impressive given that competitors launched more than 100 new tablets last year. As we discussed in an article published on 3/5/2012, "the art of tablet war," it is not surprising that Apple has maintained its lead in the tablets war, and it is expected to maintain its majority share of such sector for several years to come.
Apple shares did not react much following the event of 3/7/2012. However, it is very likely that Apple shares will possibly make new highs in the near future, as discussed in the article published on 3/6/2012 "4 signs Apple shares may rebound to new highs, again." Some skeptics believe that the law of large number will act as a headwind for Apple. However, Apple still has substantial growth opportunities not only in new products, but also in emerging markets.
Again, let's go back to Starbucks. It is expected that Starbucks may triple its China outlets to 1500 by 2012. How significant are such plans? Quite significant if one considers the cost of a Starbucks cup of coffee, when compared to the average income in China. According to The Motley Fool, given the average cost of $2.20 for a Starbucks coffee in Bejing, China, it would cost an average Chinese the equivalent of $13.66 for a Starbucks cup of coffee when adjusted to China's lower GDP per capita. As a matter of a fact, such figure can be as high as $29.58 in rural areas. Despite such statistic, Starbucks still sees substantial opportunity, not only in China, but also in South Korea, India and elsewhere.
Apple's prospects for ingraining the necessity of its products in consumers' minds is actually even better than Starbucks. After all, one can simply make coffee at home. None of us stand a chance to produce anything remotely close to Apple's gadgets at home; even Apple's corporate competitors are struggling in such endeavors.
To take matters to an extreme side, in case of an economic downturn, consumers can possibly start brewing their own coffee at home in order to afford the latest Apple gadget. According to economicshelp.org, in the U.K., only 2% of the cost of a Starbucks cup of coffee is actually attributed to the coffee ingredient. As it turns out, 86% of the cost is attributed to labor, rent, tax, administrative costs and profit, while 6% is attributed to milk and 4% is attributed to sugar, and the cup/lid.
Despite the relative ease for consumers to save money by making their own coffee, it is highly unlikely they would do so, as they have become accustomed to the "Starbucks luxury." It seems Apple consumers have also become accustomed to the "Apple status," and given the difficulty in reproducing such gadgets at home, along with the competition's inability to overcome the "Apple status" factor, it may be even more difficult for Apple consumers to give up their Apple gadgets.
As it turns out, the common ingredient in both Apple gadgets and Starbucks coffee is caffeine - they are addictive luxury.
Disclosure: I have no positions in any stocks mentioned, and no plans to initiate any positions within the next 72 hours.