Cisco (NASDAQ:CSCO) has long been a leader in innovation. The company has made strategic moves to expanding its capabilities in networking and communication products. Below, I will build a solid case for investors looking at Cisco.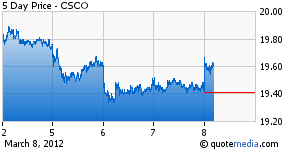 Shares currently offer an annual dividend of $0.32/share for a yield of 1.6% with a 19% payout ratio. It just started with its first dividend ever in April of 2011, and now less than a year later it has already raised that dividend to the current level. A dividend only makes sense, as Cisco has over $40 billion in cash and investments on the books.
Cisco competes against companies such as Juniper (NYSE:JNPR) and Finisar (NASDAQ:FNSR) for the development and production of Ethernet switching hardware. In 2009 it launched a unified computing solution segment, which involves complete network solution packages and building servers. This puts it in competition with companies such as IBM and Hewlett-Packard (NYSE:HP).
According to its annual reports and press releases on its website, Cisco has also been making some strategic acquisitions over the last few years: Tandberg (2010), Starent Networks (2009), WebEx (2007), and Scientific-Atlanta (2006). Each of these companies is very different but help Cisco expand its existing capabilities. Tandberg is a video communication company with a large U.S. Government contract. Tandberg was widely used in Afghanistan, and is widely deployed for secure and non-secure video conferencing throughout government facilities across the globe. Starent was a mobile system provider, WebEx was an on demand collaboration provider, and Scientific-Atlanta was a cable set top maker.
Cisco owns about 60% of the overall ethernet switching market and over 50% of the overall routing market. It is a dominant force with a $106 billion market cap. Going forward I see the switches and router segments (39% and 21% of annual sales respectively) improving margins based on efficiencies. I think the new products segment is where the majority of sales growth will come from. This segment houses the areas that each of the above acquired companies falls into as well as the new unified solution segment. It also holds another new innovation an interactive experience manager.
According to an article in the Dallas Business Journal, this device is changing signs and making them interactive devices. Take those common maps that reside at malls, transit stations, airports, etc…and imagine that you can now use them like screens in "The Bourne Identity" or other Hollywood blockbusters. This has huge marketing implications, as a person could click on a scrolling ad instead of looking and hoping to remember what it was later on. The article notes that these devices are currently deployed in a casino in Pennsylvania, New York's Metro Transportation Authority, and a sports arena in Kansas City, KS. The ones in the metro stations could also be used to aid in an emergency. It could allow people to relay information to responders when they may not have cell phone signals. It could allow a dispatch center to relay step-by-step life saving instructions or allow people to find an evacuation route. Expect these to be a huge growth area for Cisco and have huge marketing implications for other companies.
I think Cisco will see flat to minor sales growth but increasing profits due to improving margins. As long as Cisco can keep customers coming back, sales should be secure as companies have to buy updated hardware every so many years based on useful life. In technology though, that useful life is pretty short because of the advances coming each day and the bandwidth required to support those innovations.
I like Cisco here and think we'll see shares near the $25 mark by the end of 2012. I think we'll see 10% revenue growth for FY 12 and operating margins back over the 21% mark as the cost-cutting measures take effect. I think we'll see a slight pull back to around $18 as people get scared when stocks cross over the 52-week high.
Disclosure: I have no positions in any stocks mentioned, and no plans to initiate any positions within the next 72 hours.