This short and quick article is intended to alert those who have been waiting for a pullback on McDonald's Corporation (NYSE:MCD). The stock has been on a tear lately, as indicated by the price chart shown below. A lot of investors, including us, have been patiently looking at initiating a new position or to add to existing ones. We might have a good opportunity today and in the next few days.
Bad news for the firm is good news for investors: Today, it was reported that the company's same store sales growth for February fell behind the analysts' estimates. The stock reacted by going down to as low as $96.46 at the time of this writing. People who have been in the market for a long time know and agree with the notion that temporary bad news for a good firm is good in the long run for investors.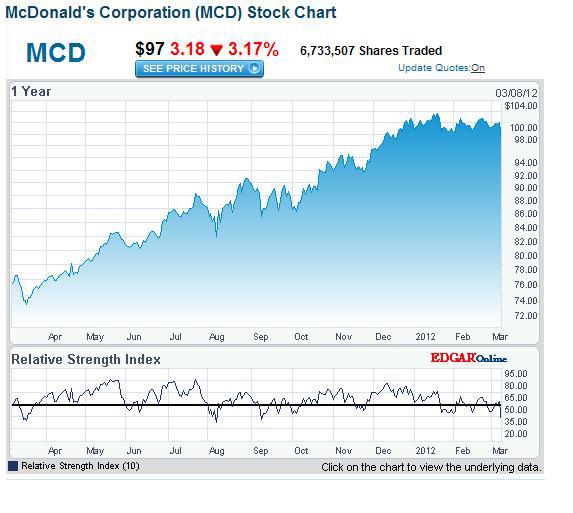 Higher Entry Yield: At current price of $96.46, the stock yields almost 2.9%. Another slight pullback to about $94 will give it a current yield of 3%. Also, we are almost sure to get a dividend increase in November 2012. So even at the current price of $96, the upcoming dividend increase will yield more than 3%, based on its dividend growth history.
Disclosure: I am long PM and may initiate a long position in MCD over the next 72 hours.