Best idea EDAC Technologies (NASDAQ:EDAC) reported fantastic fiscal fourth-quarter results Wednesday that showed significant earnings improvement and backlog growth. We are increasing our fair value estimate for the aerospace component supplier to $15 per share (from $10) on the basis of stronger profitability over the intermediate term than previously expected. To view our excellent call and track record on EDAC Tech, please see our previous article here when the stock was trading at $4 per share (but only after reading this article first).
The company's fourth-quarter sales jumped 27% from the same period a year ago, while net income per share came in at $0.21 per share versus roughly break-even in last year's quarter. Sales for its AERO product line advanced 30%, while revenue for its Machine Tool product line increased at a similar pace. We continue to anticipate increased levels of sales in coming years thanks to an acceleration of commercial deliveries at the airframe makers Boeing (NYSE:BA) and Airbus (OTCPK:EADSY), which will have positive implications on the supply chain. Improved cost absorption (higher operating leverage), increased production efficiency and more cost-effective manufacturing drove the significant improvement in profitability. Gross margins advanced to nearly 18% of sales in the fourth quarter versus roughly 10% in last year's period, while operating income for the quarter increased seven-fold (an excellent showing). EDAC Tech's backlog jumped to over $250 million at the end of the year compared with $213.5 million at the end of third quarter and $138.3 million at the end of last year, representing over 80% year-over-year growth.
Looking ahead, management conservatively expects that sales will meet or exceed the aerospace industry's projected growth rate of 7% during 2012. We think EDAC Tech will blow by this top-line forecast for the year, and we think a revenue growth rate in the low teens is more reasonable. Such a forecast is supported by management's claims for continued sequential sales expansion during the year and its massive and growing backlog. Further, based on the tremendous operating leverage inherent to EDAC's business model, we're expecting net earnings per share to come in at $0.95 in 2012 (was $0.72) and more than $1.20 for 2013 (was $0.85).
Applying a conservative market multiple of 12.6 times to next year's earnings (the average of S&P 500 companies), we arrive at a base-case $15 per share fair value estimate for the company. We have further substantiated EDAC Tech's intrinsic value via our discounted cash-flow model and continue to believe the company belongs in the portfolio of our Best Ideas Newsletter. In the spirit of transparency, we show the performance of our portfolio below: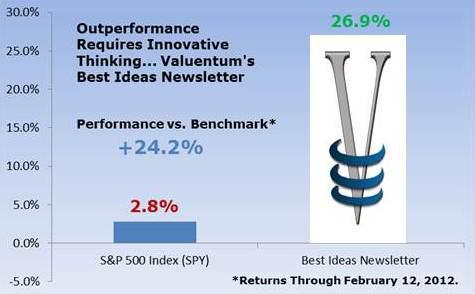 Disclosure: I have no positions in any stocks mentioned, and no plans to initiate any positions within the next 72 hours.
Additional disclosure: EDAC is included in the portfolio of our Best Ideas Newsletter.