On March 7, 2012, I interviewed Dr. Deepak A. Kapoor, MD, Chairman and CEO, Integrated Medical Professionals, PLLC, or IMP. Dr. Kapoor is one of the youngest physicians to have been certified by the American Board of Urology and comes to IMP with more than 20 years of clinical and business experience. He received his B.S. magna cum laude from the Pennsylvania State University and his MD from Jefferson Medical College, in the Accelerated Five Year Honors Program. He completed his residency at Geisinger Medical Center, after which he served as Assistant Professor of Urologic Surgery at the University of Minnesota Medical Center. His medical background is diverse with both laboratory and clinical experience, both in the academic and private sectors. Dr. Kapoor´s expertise includes basic science research in molecular biology as well as extensive experience in oncologic and reconstructive surgery.
Presently, Dr. Kapoor is president of the Large Urology Group Practice Association, Director and Immediate Past Chairman of Access to Integrated Cancer Care (an informal advocacy group representing the rights of patients to access integrated services of the highest quality), Chairman of SCRUBS RRG (the only national Urology-specific medical malpractice carrier), a member of the Board of Directors of Allied Urological Services (the largest lithotripsy partnership in the United States, where he also functions as chairman of the Finance Committee), and Founder and Past-President of the Integrated Medical Foundation. Prior to his tenure with IMP, Dr. Kapoor functioned as managing partner of Long Island Urological Associates, during which time LIUA enjoyed double digit growth in each year of his leadership despite declining medical reimbursements nationally.
IMP is a multi-specialty physician group comprising more than 100 physicians operating in the greater New York Metropolitan area. IMP's model is to forward integrate surgical specialists at the point of patient contact with physicians that provide diagnostic and therapeutic services to those patients. IMP's vision is to provide our patients with the highest level of care available, as measured by both clinical outcomes and patient satisfaction.
Cohen: Thank you for taking the time to talk with me this afternoon, Dr. Kapoor.
Kapoor: The pleasure's all mine, Ted.
Cohen: I'd like to talk today about Dendreon's (NASDAQ:DNDN) Provenge, if we could, as well as JNJ's (NYSE:JNJ) Zytiga and Medivation's (NASDAQ:MDVN) MDV3100.
Kapoor: Happy to oblige. But first, please allow me to say I do not invest in any drugs we use in our organization. I think it's important people for people to know my decisions regarding the care given to patients are never tainted by conflicts of interest.
Cohen: Thank you, Doctor. You caused quite a stir late last year when participated in an interview with Goldman Sachs analyst Sapna Srivastava on November 16, 2011, at which time you stated that although "... you were unable to roll out a protocol for Provenge use until November 1, 2011 ... your practice has already placed seven patients on Provenge, and had identified 100-200 potentially eligible patients for the drug as well."
Kapoor: <laughs> Yes, I remember that. I never expected the stock market to react the way it did.
Cohen: So, now that we are some four months beyond that point, could you update us, please, as to how many patients have received or are in the process of receiving Provenge at IMP, and what their experiences have been?
Kapoor: Well, to answer that question, you have to know a little about the demographics of our patient population. Many of our folks head south for the winter holidays - snowbirds, if you will. So, we as a practice experience a slowdown in the December-January time frame regardless of what treatment we're talking about. It's simply a time when people either are away or put off quasi-elective treatment. But I'll tell you this, the floodgates opened vis-à-vis Provenge in February. Strong month, very strong, which, interestingly, has normally been a slow month for us, historically.
Cohen: What do you mean "the floodgates opened?"
Kapoor: In February alone we had 15 patents either begin Provenge therapy or enter the pipeline. Many were patients returning from the winter in the south who came in for their regular checkups and were identified as candidates for the treatment.
Cohen: Do you expect this to continue, or is this just a burst precipitated by the snowbirds flying north?
Kapoor: Good question. Look, we have 2100 patients in our practice with advanced prostate cancer, Ted. My feeling, based on what I've seen so far, is that by the time 2012 is over, we will have treated 200 of them with Provenge. Once a physician uses the drug and sees the side effect profile and how happy the patient is, treating the next one becomes a lot easier.
Cohen: When we spoke last year just before Christmas, you told me it was your belief if IMP did not offer Provenge, it would lose patients to those practices that did. Do you still think this is true?
Kapoor: Absolutely. We're already seeing that. I was at a meeting not long ago with other urologists, and all of them were actively advertising their ability to treat with Provenge. They recognized that the treatment offered significant benefits and should be something made available to their patients.
Cohen: There have been some papers presented at symposia recently that discussed median life-extension benefits from Provenge beyond the 4.1-months determined in the Provenge pivotal Phase 3 trials. For example, Chadi Nabhan, MD, presented a paper (Abstract #144 and here) at 2012 GU showing a median 7.8-month median life-extension benefit. Do you use such data when you talk with patients about the possibility of treating them with Provenge?
Kapoor: No ... we stick with the on-label information when talking with patients. I'm not comfortable with data that has not been derived from primary endpoints. I will say this though ... I'm very impressed with the Frovenge data that I've seen.
Cohen: How do you deal the lack of data on progression when you talk with patients about Provenge?
Kapoor: Another good question, Ted. Men have been conditioned to think in terms of their PSA. By the time a patient is hormone refractory, PSA no longer is an important indicator. This is the point where their doctor should be talking about the overall duration of life. And that's what we do. We need to think about alternative endpoints and educate the patient regarding what's really important at this stage of his disease. Now, to be sure, this is a paradigm shift for the urology community. As clinicians, we have to pivot here and we, too, have to think in a different way when it comes to treating these patients. But that's to be expected.
Cohen: What do you mean?
Kapoor: Look. Up until recently, we didn't have interventions available to treat these patients. Now we do. It only stands to reason that with these new treatments - including the ones in the clinic and others soon to come online - that our thinking in the urology community is going to have to change as well. And this is going to impact on how we interact with our patients. By the way, just a side point to my remarks above regarding PSA ...
Cohen: Yes?
Kapoor: We actually are finding our hormone refractory patients seem happier not having to worry about their PSAs.
Cohen: Given that you now have quite an arsenal at your disposal to address prostate cancer, and for those patients to whom you have given Provenge, are you also, if it is shown to be indicated, prescribing Zytiga, and if so, at what point in the patient's treatment?
Kapoor: At IMP, we are very careful about the clinical pathway we use. More specifically, we don't want different patients getting different protocols. Our doctors stick with NCCN Category 1 guidelines. Furthermore, we are reaching out to the oncology community so as to better integrate what's available there with our practices. For example, most urologists don't provide Taxotere, which clearly is another treatment in our arsenal. Now, as to Zytiga and other treatments such as MDV3100 - by the way, we were a minor contributor on Medivation's previous MDV3100 study but will be more involved going forward - we are very excited about this treatment. But the fact is, with so many options available and more coming online in the next few years, we need to find ways to sort out how we're going to use them. Can they be co-administered? Must they be administered in sequence, and if so, which one should be administered first? These are the questions that companies in the prostate cancer space are just beginning to explore.
Cohen: Of course, there are strict label restrictions regarding which patients are eligible to receive Provenge, which is approved by the FDA for asymptomatic or minimally symptomatic metastatic castrate resistant (hormone refractory) prostate cancer. So, how has your practice qualified candidates for the treatment to ensure that there will be no reimbursement issues with CMS and other insurance carriers?
Kapoor: Bone tests are crude ... a blunt object. We are studying Sodium Fluoride, or NaF, PET scans as a technique to help us. But when is the best time to perform this scan? Using it, our ability to diagnose early in the process is amazing. If we can identify patients using NaF early in the process, it opens tremendous possibilities for Provenge.
Cohen: What about "mining" your current database for Provenge candidates.
Kapoor: Of course. Our EMR (electronic medical records) people already have done electronic queries to identify Provenge candidates. And we have just hired two full-time clinical associates to stay on top of the EMR process. Part of this is the result of the fact - and I've very proud of this accomplishment - that IMP now is a Clinical Affiliate of the Mt. Sinai Hospital Network. This is a win-win situation for both of us. Mt. Sinai's academic researchers have access to our databases, and our 100-plus physicians have access to Mt. Sinai's world-class academic facility. Even more important from the standpoint of our patients is that now, the "linkages" are in place to ensure the timely conveyance of patient data and information to whomever and to wherever it is needed. Let's say a patient needs to meet with a specialist in Philadelphia - in your neck of the woods 0 we can have all of that patient's medical history delivered to his designated caregiver quickly and accurately in plenty of time for the caregiver to prepare for the meeting. It will be as if they had been seeing each other all along.
Cohen: Let's talk a little about reimbursement. This has always been a subject of interest to the Street, especially the "shorts." When we spoke just before Christmas, your billing service had reported that Medicare reimbursement was averaging less than 14 days and that this was well within the needs of your organization. Is that still the case?
Kapoor: Absolutely. We have had zero problems. We have a good relationship with the payment director for CMS, the turnaround time is terrific, and our clinicians are very comfortable.
Cohen: Have there been any unique cases involving reimbursement that have given you pause?
Kapoor: We had one unfortunate situation where a gentleman's disease progressed so rapidly that he couldn't complete the therapy. But reimbursement was the last thing on our mind. I never looked to check what happened regarding reimbursement in that case. It never crossed my mind.
Cohen: You're fortunate to have your practice located in close proximity to Dendreon's New Jersey processing facility. But given that Provenge represents an entirely new paradigm in drug delivery, what problems have you experienced over the last four months in treating your patients?
Kapoor: We haven't had a single problem in all the time we've been working with Dendreon. I've never been to their facility in Northern New Jersey, though I've met with many of their folks at all levels over time. The company is, of course, increasing its footprint on the East Coast with the hiring of its new president, and they've invited me to visit the plant in the near future. So, I'm really looking forward to learning more about them and the manufacturing process.
Cohen: Ramping up a field organization to support your and other practices, academic and commercial alike, is no small undertaking, to be sure. What has been the quality of the support you're received from Dendreon, and are there any areas you think the corporation might be able to improve upon?
Kapoor: Well, we've noticed that they modified some things as time has progressed, but through it all, the company has been very supportive. They have reached out to large urology groups, and we find them more than willing to work with use in any way that's mutually beneficial.
Cohen: What are your thoughts on Direct-To-Consumer, or DTC, advertising?
Kapoor: Well, that's always a challenge, both for the company and for us.
Cohen: How so?
Kapoor: DTP can bring in patients who are not candidates, so it can be wasteful of time and money. The fact is, there is no shortage of patients right now who can qualify for Provenge. Going forward, we need to educate physicians ... to help them understand who are the right patients. So, when it comes to DTP, we're taking a wait and see attitude for the time being.
Cohen: Before we wrap this up, Dr. Kapoor, do you have any additional thoughts regarding the treatment of prostate cancer for our readers on Seeking Alpha?
Kapoor: The market for Provenge and other agents for prostate cancer is very strong. IMP's practice addresses 20% of prostate cancer cases in the State of New York, so you can imagine how exciting and very gratifying it is for us in general and for me in particular to be helping men in this critical area. And now, with the potential for real advances to be made in the area of sequencing, I'm more enthusiastic than ever regarding the potential for positive outcomes.
Cohen: Thank you, Dr. Kapoor. This has been a most enlightening exchange.
Kapoor: Thanks, Ted. I've enjoyed chatting with you today.
Technical Analysis (of Dendreon)
The daily chart, courtesy StockChart.com, shows the stock gapping down on the news that the JNJ Zytiga trial has been stopped with the recommendation that men in the placebo cohort be placed on the drug. This news, actually, was not unexpected. As this article goes to press, Deutsche Bank maintains a "Buy" on DNDN, with a target of $18.00.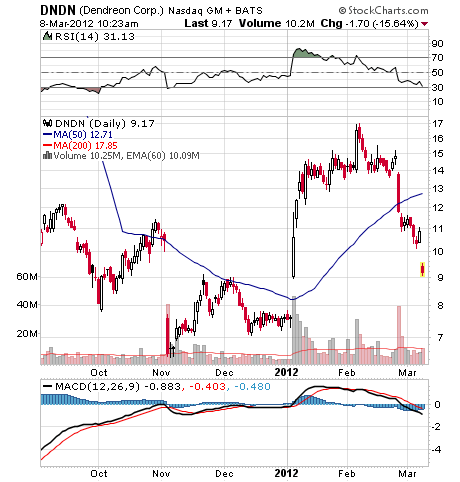 The weekly chart shows the relative strength dropping. The MACD, though still positive, appears to be tipping over as the stock corrects following the jump in share price that occurred at the start of the year.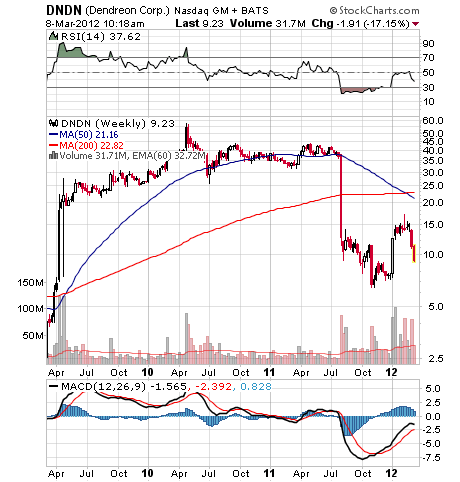 Disclosure: I am long DNDN.
Additional disclosure: I am long DNDN and will not alter my position within 72 hours of the time of publication of this article. Material presented here is for informational purposes only. Consult your financial adviser before making investment decisions. Investing includes risks, including loss of principal.