By Richard Rittorno
We've been on a hunt for yield within the natural gas pipeline master limited partnerships (MLPs), and the hunt has now led us to Enterprise Products Partners (NYSE:EPD).
Executive Summary:
Enterprise Products Partners is a North American midstream energy company providing a range of services to producers and consumers of natural gas, natural gas liquids (NGLs), crude oil, refined products and certain petrochemicals.
EPD operates in five main business segments:
NGL Pipelines & Services
Onshore Natural Gas Pipelines & Services
Onshore Crude Oil Pipelines & Services
Offshore Pipelines & Services
Petrochemical & Refined Products Services.
EPD conducts all of its business through its subsidiary, Enterprise Products Operating LLC. EPD is managed and controlled by Enterprise GP, which has a general partner interest in it.
Overall Valuation: EPD is in the Natural Gas Utilities industry and has positive earning. The PEG, PE, and Price to Book ratios are the most appropriate valuation measures. EPD appears to be fairly valued with a PEG of 3.3764 which is in line with the Natural Gas Utilities industry median of 2.62. However, their PE is 25.5257, above the industry median of 15.66.
Profitability: Although profitable on a gross basis, EPD has poor profitability characteristics compared to its industry peers. While the operating and net margins are below the medians, gross margin is among the lowest in the industry.
Yield/Dividend: EPD's dividend is currently yielding 5.16%, which appears on the surface to be unstable. However, MLP's are required to return profits through dividends.
Financial Strength: At 56.67%, EPD's debt to total capital ratio is line with Natural Gas Utilities industry norms, despite its increase over the last year. Given that the company's operating profits are greater than the interest payments, there should be little difficulty in repaying debt.
Quick rundown on technicals: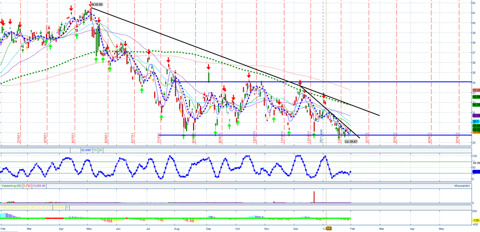 Looking at EPD's daily chart, traders will find the price has been in a bull market uptrend for over 3 years since hitting a 5 year low of $16 on October 8, 2008. Since then the price has been making higher lows and higher highs until recently. It consolidated with about 3 months of sideways trading, then continued higher to hit a 52 week / 5 year high of $49.86.
As with most stocks that hit a 52 week high, EPD is pulling back before continuing the trend. Traders can consider looking for entry points on the pull back towards the trendline. The trendline is in convergence with the 50% Fibonacci retracement level at $41.50 which is also confirmed by the 150 day moving average, which has acted a strong support with a few exceptions.
Note that with traders around the world looking for yield in these troubled times, it will not be long before others realize this multiyear bull run in the MLPs.