EMC Corp. (EMC) is a world-class company leading in high-end data storage solution and development. It has branched out beyond data storage through acquisition and is a leading provider of enterprise software. One of the struggles that EMC has to be aware of is its dependence upon its clients' needs to spend money on technology upgrades. When the economy gets soft, IT spending is one of the first areas to feel the pinch. Since a significant portion of its revenue now comes from outside the U.S., this has helped balance out its revenue sources.
(Click chart to enlarge)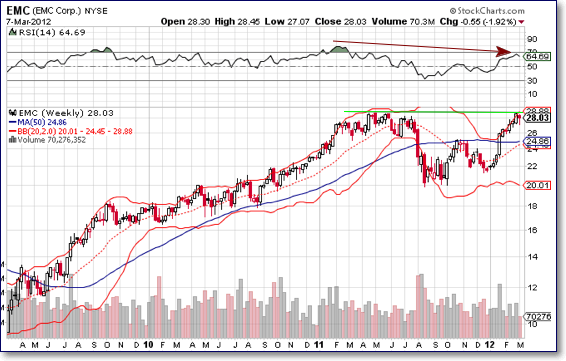 Analysts are very bullish on EMC right now. As the world's leader in the storage software market, its nearest competitor only is able to catch half of what it has. Its fastest-growing product is the (Fully Automatic Storage Tiering) storage product. Short for FAST, it enables customers to achieve higher levels of performance, cost efficiency and storage utilization in virtual data centers by exploiting the benefits of enterprise Flash drives and a tiered architecture.
And the (fairly new) cloud computing movement continually changes IT's look. Companies are consolidating data centers and using the EMC FAST software to automate what has been burdensome administrative tasks to help create efficiency in the past.
With the quick rise in EMC since the beginning of 2012, we believe it is due for a pullback and this is what we are looking to capitalize upon. Recently Cantor Fitzgerald initiated coverage in the stock. Noting the 33% gain since it did not expect the stock to grow much more this year. It set a target for $31 and the stock is currently trading at $28.03.
With the recent 33% rise, EMC has challenged the 2011 high and strong resistance area. At the same time, if we look at a long-term chart we can also see this challenge has come with much less strength than the last one. The RSI i showing us weakness as we have a long-term negative divergence in place. A shorter-term chart shows us how EMC has an extended period of being over bought and is ready for a pullback. We want to play this pullback.
The Options Play
Anticipating a pullback before it moves up, we are looking at a Bear Put Spread.
Buy the July 2012 28 put option (priced at $1.78)
Sell the July 2012 27 put option (priced at $1.42)
Net Debit to start: $0.36
Maximum Profit: $0.64
Reasoning behind the Trade
We are bullish long term on EMC but we really see a pullback here. Not only has it bounced off the 52-week high that offers strong resistance, but it also has a strong negative divergence that signifies the stock is weakening on this move up. It is not as strong as the last move. EMC has been over bought for a good three weeks so it makes sense that a pullback is coming.