By Mark Bern, CPA CFA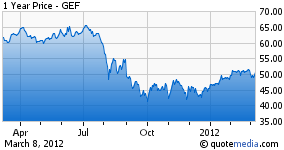 Greif (NYSE:GEF) is a world leader in industrial packaging. The company has been hit, along with the rest of the industry, with higher labor and input costs, and softer demand (especially in Europe). Greif also had to deal with a higher effective tax rate in the fiscal fourth quarter of 48% compared to 10 in the prior year period due to a geographic sales mix to customers in a higher tax jurisdiction. All these factors combined to crush the bottom line in 2011.
The first half 2012 doesn't look much better, but improvements should begin to show up in results by 2013. I consider this to be a stock worth watching for a bargain price that should come within the next 6-12 months. The dividend yield is 3.8% and management has increased the dividend for eight consecutive years. I expect more of the same in the future. The current dividend is also well-covered so I don't expect any cuts in the near future.
On the positive side, GEF is in the middle of a restructuring process that should begin to yield positive results by year-end. The company made several acquisitions in 2011 and appears content to focus on integrating these new units into the company. All sales growth in 2011 came from acquisitions. I expect bottom line improvements to show up in 2013 and beyond with 2012 earnings per share remaining flat. This should give value investors an opportunity to catch a bargain entry price.
Companies in this industry are very cyclical by nature because sales rise and fall with inventory buildups and purges as well as reduced demand for nearly everything during economic slumps. GEF can be considered as a long-term hold only if the investor can pick up shares near the bottom of the cycle. I'm not really a market timer, but this industry is one we need to be patient with in terms of entry. Of course, if the eurozone situation blows up and the EZ falls into a deep recession the low could be further off. But the nice side of that is the stock price can get very low and potential appreciation can be monstrous.
Let's look at how GEF scores on the report card relative to the industry averages. I prefer comparing companies to industry peers rather than the broader market because each industry has unique requirements in areas such as debt, labor intensity, marketing and the like. Thus, comparing to industry averages provides me with what I believe is a better gauge of how well a company is managed.
| | | | |
| --- | --- | --- | --- |
| Ratio / Measure | GEF | Industry Ave. | Pass / Fail |
| Ave. Annual 5-Yr Earnings Growth | 9.0% | 3.5% | Pass |
| Ave. Annual 5-Yr Div. Growth | 25.5% | 8.0% | Pass |
| Net Profit Margin | 5.1% | 5.5% | Neutral |
| Debt to Total Capital | 49.0% | 42.0% | Neutral |
| Return on Total Capital | 9.4% | 10.0% | Neutral |
| Dividend Yield | 3.4% | 1.8% | Pass |
| Payout Ratio | 45% | 25% | Fail |
| Price-to-Earnings | 15.1 | 13 | Fail |
With GEF earnings, three passes, two fails and three neutrals one might wonder what I see in this company. Well, let's look at each category and maybe I can explain what I see.
I'll start with the failed categories. The payout ratio doesn't worry me that much as I see management bringing it down over the next five years by reducing the size of the dividend increases. After all, at a compound annual average rate of 25.5% over the past five years, we'd be crazy to expect a level like that to be sustainable.
But management has accomplished what they intended: one of the best yields in the industry. The goal now is to remain in that top tier of dividend paying stocks within the industry and at a good premium over the S&P 500 average. I expect the dividend in five years to be in the range of $2.00 per share, which would provide a mid-single digit average increase each year. A good rate that keeps ahead of inflation is good enough for me.
The P/E ratio also graded out a fail but I think GEF probably deserves a slight premium to its peers due its more consistent earnings and cash flow record. Thus I wouldn't be overly concerned with the P/E level. However, this ratio, along with my expectation for flat earnings, also leads me to conclude that the stock is not a bargain at the current price. Again, I think the patient investor could pick up shares of GEF at a discount to today's price sometime later in 2012.
The neutral ratings rarely ruffle my feathers since they simply tell me that the company is in-line with its industry in these areas. It would be nice if net margin and return on total capital were higher, but when earnings growth is averaging more than twice the industry average it tells me that management is able to achieve above average growth in sales while not sacrificing margins. Regarding the debt to capital ratio, I also believe that management plans to pay down debt that accumulated from acquisitions. It has done so in the past and will likely do so this time around. I believe that this ratio could easily be below 35% within five years which would put this category in the pass range then.
I've already mentioned the dividend growth rate, so I won't reiterate on that point. But I do want to stress that the 9% compound annual average growth in earnings is likely, due to past acquisitions and future expansion plans, to increase to a low-double digits level over the next five years. Assuming that 2012 earnings will be fairly flat, this means that the growth will need to be closer to mid-teens over the 2013-2016 time frame. I believe that is achievable for Greif. The patient investor should do well over the longer term with this company. However, if you don't already own shares in Greif I recommend holding off for a price below $45, about 10% below current levels.
My goal is not to try to time the market or pick the top or bottom for any individual stock. Rather, I hope to separate the wheat from the chaff, so to speak. I try to bring the best two or three companies in each industry to investor attention. None of us knows with certainty when the market will correct or head higher or by how much. I also hope that all investors will complete additional due diligence on each stock considered before adding purchases to their portfolio to ensure that each holding is appropriate and suitable to each individual's needs.
Disclosure: I have no positions in any stocks mentioned, and no plans to initiate any positions within the next 72 hours.