BMW (Bayerische Motoren Werke) AG (BAMXY.PK), the world's largest maker of luxury vehicles, reported today very strong results for the full year 2011, reaching a new record profit. These results were driven by strong end-markets in the U.S. and China and the new models 5 Series and the SUV X3. The sales of the new 5 Series, which was launched in late 2010, surged 46%. The new X3 saw its sales more than doubled on demand in China and the U.S.
Since the beginning of the year, benefiting from the rally on equity markets and being a cyclical company, BMW rose 33.6% YTD. This return is better than the S&P 500 (NYSEARCA:SPY) with 7.5% YTD, Nasdaq (NASDAQ:QQQ) 12.6% YTD return and even for the DAX (NYSEARCA:EWG) Index 15.5% return. However, over the same period BMW slightly underperformed its closest peer Daimler AG (OTCPK:DDAIF) which rose 36% YTD. Volkswagen AG (OTCPK:VLKAF), owner of the Audi brand, since the beginning of the year has a 25.4% return.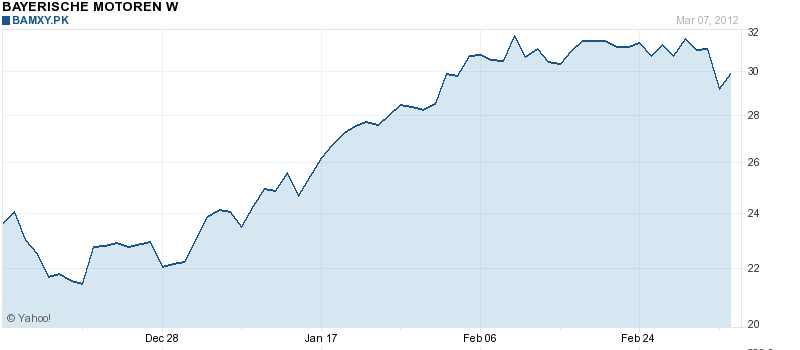 (Click to enlarge) Source: YahooFinance.
Sales increased 14% to €68.8 billion ($90.8bn). The operating result rose 57% to €8.02billion ($10.6billion), from €5.11bn last year. The EBIT margin rose to 11.8% from 8% in 2010, above the company's strategic goal of 10% for 2012. BMW's strong automotive margin is even more impressive considering that in the second half of last year the company spent €500 million ($660m) to introduce new versions of the 3 Series and 1 Series. BMW proposed a dividend of €2.30 ($3.04), an increase of 77% from last year's dividend of €1.30 ($1.72) after net profit surged 51% to €4.91bn ($6.48bn). BMW plans to release full 2011 earnings details on March 13.
Last February, BMW launched worldwide the new 3 Series sedan, the most important model of BMW that represents more than 20% of sales. As I discussed recently in my article analyzing BMW, the average age product is pretty low and this should be very positive for sales growth over the next two to three years.
BMW expects the new models to help it beat last year's sales record of 1.67 million cars. For 2012, expect sales to rise by at least 10% in China and by a high single-digit in North America. This should offset a market decline of as much as 5% in Europe. The last month was its best-ever February sales result for BMW, with an increase of 14.2% over last year. The drivers of the growth were China (+38.8%) and the U.S. (+31.5%). In Europe sales remained stable and grew only 0.1%.
Disclosure: I have no positions in any stocks mentioned, and no plans to initiate any positions within the next 72 hours.