Investing in oil companies could be highly profitable. Many prominent investors, such as T. Boone Pickens, made their fortunes by choosing this industry as their primary playing field. Oil and gas drillers have a particular role within the energy sector. These companies specialize in the exploration, development, and extraction of energy sources. Some drillers also operate on a contract basis, offering their services to other energy companies.
Their businesses are highly cyclical. There is a strong correlation between energy prices and the demand for drillers. As oil prices have reached their 52-week highs, it is natural to expect the drillers to gain positive momentum in the stock market. Apparently some investors do not agree with me. Several drillers have been recently experiencing a significant amount of short interest. A short interest of above 10% implies a pretty volatile future for these stocks. I think, given the bullish market sentiment, the short-sellers will need a lot of patience. A positive catalyst might cause a panic among short-sellers, driving these stocks to significantly higher levels in remarkably short periods. Here is a brief analysis of 4 oil & gas drillers with double-digit short interest rates:
Northern Oil and Gas (NYSEMKT:NOG)
Market Cap: $1.46 Billion
Shares in Float: 58.89 Million
Short Float: 28.88%
Northern Oil and Gas is one of the most shorted stocks in the market. Almost 1 out 3 shares in float is shorted by the short-sellers. That is a very significant amount. The stock has been trading in a range-bound zone for last 6 months. Its year to date return is in the negative territory.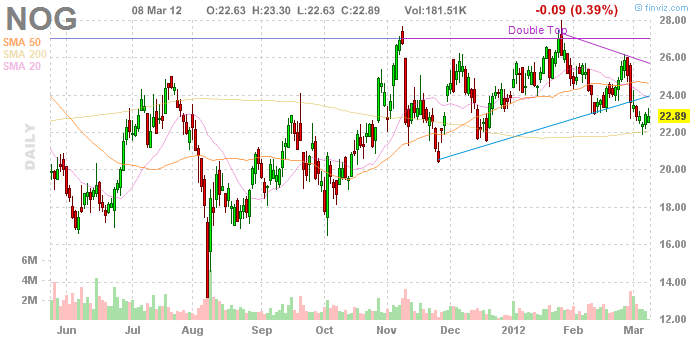 Click to enlargeWhile the stock did not perform well in the last year, its long-term record is very impressive. Since reaching its dip of $3 in 2009, it returned almost 800%. Northern Oil & Gas is a pure play in the Williston Basin Bakken and Three Forks. The company participated in almost 1000 wells since 2007 and controls 170000 of net mineral acres. In the most recent earnings release, the management highlighted several reasons to stay bullish about the company:
Proved reserves increased 198% year-over-year to 46.8 million barrels of crude oil equivalent.
PV 10% value of proved reserves increased 273% year-over-year to $1.1 billion.
117% production growth compared to 2010 (21% sequential quarter-over-quarter production growth in fourth quarter).
Total revenues increase to $149 million, representing a 235% year-over-year increase.
Grew Adjusted EBITDA 138% year-over-year to $112.3 million in 2011.
Net income increased to $40.6 million in 2011.
NOG was able to boost its earnings at triple-digit rates in the past 5 years. While the growth might slow down, analysts expect at least double-digit growth rates for the future. Debt is not a significant issue either. Therefore, I think, short-sellers are playing with fire. The consensus target price of $30.82 imply almost 50% upside potential.
Cheniere Energy (NYSEMKT:LNG)
Market Cap: $2.04 Billion
Shares in Float: 115.08 Million
Short Float: 15.65%
Cheniere Energy is a pure liquid natural gas play. The company owns and operates the Sabine Pass LNG terminal in Louisiana. Cheniere Energy also owns a significant stake in the Cheniere Energy Partners (NYSEMKT:CQP), a master limited partnership. MLPs are subject to favorable tax rule, if they decide to distribute their profits as distributions to unit holders. Thanks to this status, the partnership offers a nifty yield of 7.07%.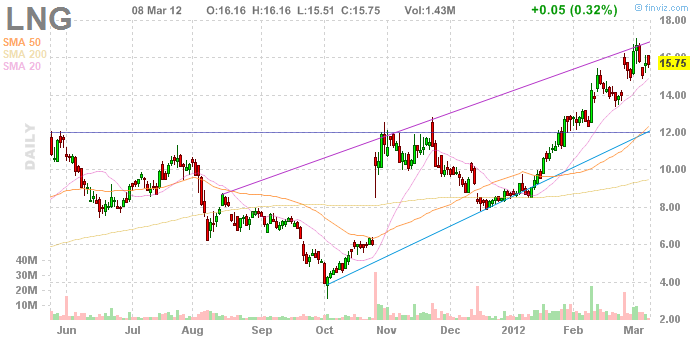 Click to enlargeLNG has been one of the top performers. The stock returned 151% in the last 12 months alone. Shareholders enjoyed a year-to-date return of 80% in this year as well. Since its dip of $4 in October, LNG returned almost 300%. A significant portion of this return can be attributed to the $2 billion equity investment by the Blackstone Company. This agreement states that Blackstone will purchase 111 million CQP units for $18 per unit.
Interestingly CQP is trading near its 52-week highs at a price $24. Obviously, the market hype has pushed the stock beyond what Blackstone already paid for. The spike in the CQP caused a huge run in the LNG stock price. While I think natural gas has great future, both LNG and CQP is subject to a market anomaly. I cannot recommend shorting them as the momentum still looks strong, but the timing is not right to acquire these shares.
SandRidge Energy (NYSE:SD)
Market Cap: $3.3 Billion
Shares in Float: 390.76 Million
Short Float: 10.04%
SandRidge is a hybrid energy producer, switching from gas to oil whenever the other one becomes more lucrative. When gas prices experienced a drastic reduction, SandRidge shifted to liquids on the Permian Basin and Anadarko Shelf. Meanwhile, shareholders experienced significant losses as insolvency fears caused a massive collapse in the stock price during the sub-prime crisis.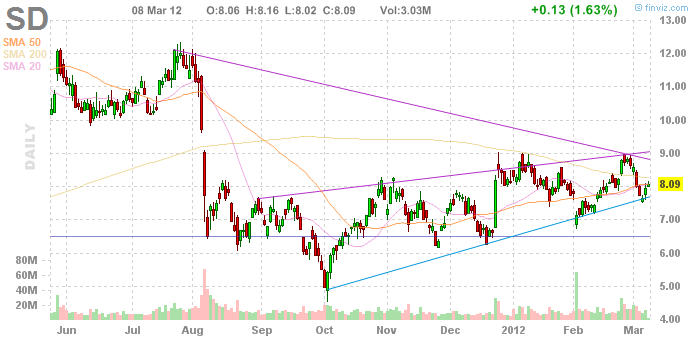 Click to enlargeThe company does not have a dividend policy for common shareholders yet. However, it announced a semi-annual dividend of $3.50 per share on its shares of 7% convertible perpetual preferred stock. The dividend will be paid in cash on May 15 to holders of stock on May 1. There are 3 million preferred shares outstanding.
I think SandRidge is one of the cheapest stocks in the market. It is trading at only 7 times the cash flow. Morningstar analysts are pretty bullish on the company's future, expecting double-digit returns over the next few years. If their estimates hold, SandRidge could be a huge outperformer.
Kodiak Oil & Gas (NYSE:KOG)
Market Cap: $2.3 Billion
Shares in Float: 245.56 Million
Short Float: 14.1%
Kodiak is among the most widely followed stocks in the market. As such, it is a highly volatile one with a Beta of 3.35. While it has returned 50% in a year, the ytd return is in the negative territory.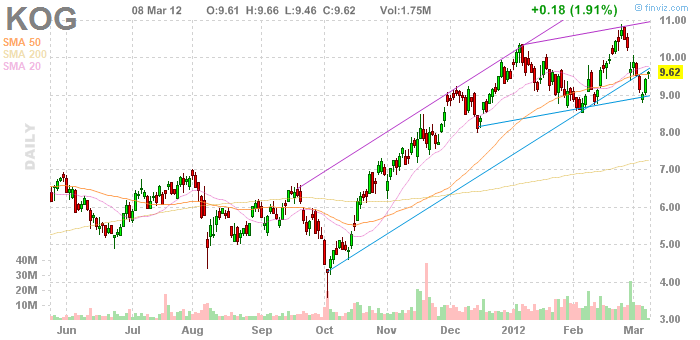 Click to enlargeKodiak is also a hybrid company that invests in both oil and natural gas wells. While the stock looks extremely pricey with triple digit P/E ratios, it is a very high growth company. Kodiak was able to increase its sales to $120 million, and adjusted EBITDA to $76.4 million. Oppenheimer has just initiated an outperform rating with an upgraded target price of $12. Mackenzie is the top institutional shareholder, followed by BlackRock. If you believe in the power of big money, than this is the stock for you.
Disclosure: I have no positions in any stocks mentioned, and no plans to initiate any positions within the next 72 hours.