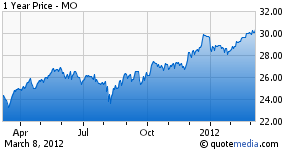 The recent economic recession affected all industrial sectors, causing many businesses to suffer from lost revenues, shrinking budgets, declining market shares, increased debt liabilities and a narrowing competitive moat. However, the same recession that has become the thorn in the side of many leading businesses has surprisingly provided the controversial global tobacco industry with the impetus for higher growth and increased revenue, allowing leading businesses to hit new highs in the last financial fiscal and causing an exponential rise in share prices.
In this article, the subject of my discussion and financial analysis is Altria (MO), one of the world's largest tobacco corporations. I have chosen this company for its impressive performance in the last fiscal quarter of 2011. Furthermore, Altria has also performed exceptionally well overall in the previous fiscal year, reporting sizable revenues, significant growth, increased market share, and higher cash flows, even in the midst of predominantly unfavorable market conditions.
Altria is an enormous business that caters to an ever-growing global market. The company has a massive market capitalization of nearly $62 billion and average trading volume of the stock exceeds $11 million. In terms of overall market capitalization, Altria comfortably dwarfs two of its major competitors - Reynolds American (RAI) at $24.5 billion and $2.5 million or Lorrilard (LO) at $17 billion and $1.5 million.
Looking at the company's financial performance, and reviewing key financial indicators for the last three fiscal quarters, we can see why Altria has appealed to countless investors as a viable investment option. For instance, Altria has consistently maintained an impressive price to earnings ratio of 18.4 which in itself reflects its remarkable performance in the last fiscal year. It also suggests that investors are expecting Altria to record higher earnings growth in the coming fiscal quarters compared to RAI (17.60) and LO (16.2).
The stock is currently trading at around $30, which is a little shy of its highest trading value in the last 52 weeks. Due to a brief period of looming economic uncertainty in global markets, the stock experienced some mid-year turbulence, causing it to plummet to as low as $23. However, sound performance in the last two quarters combined with greater economic stability, positive financial outlook and aggressive trading have helped the stock climb its way to the top once again.
Altria has maintained a healthy dividend history which is partly responsible for maintaining the interest of investors in the business while also attracting favorable sentiment in the market. On earnings per share of $1.64, the company pays its investors 41 cents in dividends. This has pushed Altria's dividend yield to around 5.8%, which is impressive compared to that of its competitors, RAI (5.3%) and LO (4.8%). Furthermore, Altria's revenue margins of $16.7 billion on total trading are significantly higher than those of RAI ($8.54 billion) and LO ($4.45 billion).
Altria has a defensive beta of 0.39, offering it greater resilience against predominantly negative market conditions and higher immunity to unfavorable investor sentiment. It also means that in the event of a severe economic backlash, Altria will generate handsome revenues where RAI (0.49) and LO (0.4) will largely be in the line of fire. Therefore, with an exceptional dividend yield of nearly 5.8% and a defensive beta of 0.39, Altria certainly holds an edge over its competitors.
Briefly catching up on the company's performance in the previous fiscal year, Altria started off 2011 with a solid start in the first quarter, reporting a net-profit growth of more than 15% compared to the same fiscal period in the previous year. Additionally, first-quarter earnings per share of 44 cents also met projected forecast of financial analysts. By the end of the fiscal year 2011, Altria reported growth in diluted earnings per share of nearly 9%.
Since the start of the current fiscal year, Altria has been on a rampage amidst predominantly positive market conditions, favorable investor sentiment and aggressive trading; I believe the stock is poised for growth and higher earnings per share. Even in the wake of more stringent regulations, the stock has continued to generate substantial revenues and cash flow.
Altria has recently made some important announcements that have reiterated the company's continued resolve to offer investors greater returns on investments. Most of these announcements pertained to key plans aimed at redirecting the company's strategic focus to alternative revenue drivers in a bid to achieve higher returns.
The corporation aims to diversify its product portfolio mainly to adapt to evolving market trends and to appeal to emerging markets. This is the main reason why Altria has introduced, in recent years, a diverse range of products specifically customized to cater to certain market niches, such as smokeless products, cigars and financial services. It normally achieves this through various subsidiary companies that help it in manufacturing and sale.
A recent report published in The Financial Times has claimed that the use of tobacco across the globe has risen sharply. Consequently, a majority of the already established global markets have seen an unprecedented rise in demand which has recently led to higher sales volume. Additionally, developing economies have also emerged strongly as a lucrative emerging market with a lot of untapped sales potential.
The major factors that are currently driving the stock up are an unexpected growth in emerging global tobacco markets and a sharp rise in global demand for international brands. These factors are expected to help the business stretch its growth and revenue margins, allowing it to offer investors higher returns on investment.
Therefore, with a comprehensive analysis of leading financial indicators, increased revenue generation, greater cash flows, and increased favorable market sentiment, I believe that Altria is currently poised for greater growth in the current fiscal year. Favorable investor sentiment over the last three quarters, which is largely due to the company's high dividend yield, has allowed the business to widen its competitive moat considerably. Owing to all these positive financial indicators, I rank Altria as a buy and consider it to be one of the most profitable investment ventures of 2012.