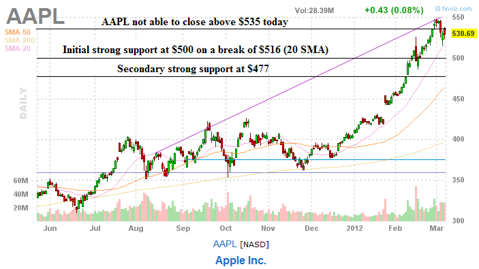 Click to enlarge
Daily Data: Apple Inc. (NASDAQ:AAPL)
Yesterday, Apple unveiled the new iPad 4G. The sleek new device will sell for $499 just as its previous model. The debut of the new iPad 4G had me thinking this morning that we may be in trouble with our bear call spreads. However, I felt differently after reading an article today from boston.com about the returns of Apple stock on the day of product debuts…the returns may surprise you.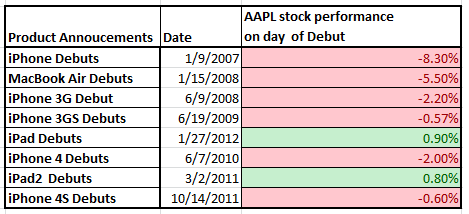 Above you can see that there has been a bearish bias in Apple stock during large product debuts since the iPhone. Also notice how the stock has always sold off on all product debuts that are not iPad. To follow up with today's performance of the Apple, the stock closed positive 0.08% after CEO Tim Cook presented the iPad 4G.

So, after today's return the historical pattern remains intact that Apple stock trades neutral to bearish on product announcement days. Now, if we look at product releases, the returns are a bit different.

Click to enlarge
Here we see that Apple stock has a neutral to bullish bias on the day a product is released, and neutral to bearish bias the day after a product is released. There is no way of knowing how far up or down Apple stock will go from now until the release date thus I currently cannot offer any new trades. However, I can recommend that you sell a slightly out of the money (+2%) call spread against Apple stock near the market close of the release date. The release date of the iPad 4G is scheduled for Mar'16, which is option expiration Friday this month. Thus, I recommend that in the last 20 minutes of trading on Mar'16 you enter a slightly out of the money weekly bear call spread on Apple. If the trade works out, great, if not just close the trade and move on. We have seen in the past this weakness, but then once the market sees how successful the product was AAPL gets bid up.
What other companies may benefit from the iPad 3?
Nuance Communications (NASDAQ:NUAN) - The iPad 3 integrated voice recognition that is most likely produced by NUAN. Strong sales will be great for NUAN.
Broadcom (BRCM) - The company continues to be one of the largest Apple suppliers, and it should be the supplier of the touch screen once again.
Amazon (NASDAQ:AMZN) - A lot of people are saying the iPad 3 is just not as great as people had wanted. The fact that the iPad 3 may not be a scene stealer could benefit AMZN, who has not had the type of Kindle Fire success many were hoping it would have.