Citigroup (C) is one of the largest diversified financial services firm in the world. A diversified services firm creates revenue by loaning money and receiving payment plus interest. The subprime mortgage fiasco in 2007-2008 hurt the company but it has been recovering as of late.
Citigroup appears to be at a crossroad for short to medium term option investors. Presently, if one is looking at a long term chart, a double bottom reversal pastern is very visible and the stock looks like it is ready to break out on the upside. If it does, it has the potential to move 7 points. But it also has had difficulty pushing through the 50 day MA. This is what it is presently attempting to do with an ascending triangular pattern on the day chart. Both these patterns are very reliable.
If one is bullish on the stock then you would tend to believe its dedication to slicing through long term debt. Street Authority from Seeking Alpha has an article the debit issue well. In it he writes:
Credit Suisse added Citigroup to the firm's U.S. focus list, noting that at the 2012 Credit Suisse Financial Services Forum, "management struck a serious tone on their aim to actively manage the expense base going forward. They target $2.5-3.0 billion of cost reductions in 2012 compared to 2011.
Presently, the bad assets remaining make up only 12% of its entire portfolio. If business conditions improve, it seems likely that shares will continue to rise. It appears we may be on the end (verses the beginning) of the European debt panic (if there is an end). With lending slowly picking up and debt problems shrinking, it appears the stock may turn up through the 50 day MA. It has become the go to financial stock for hedge funds lately. That has to say something for the bulls.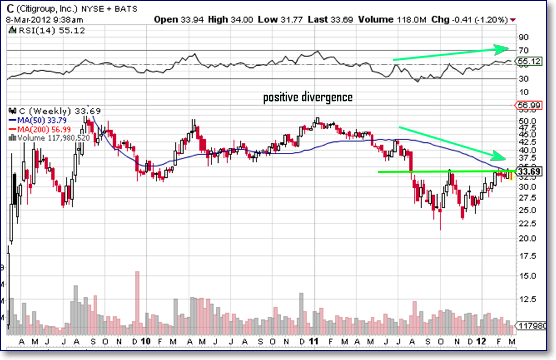 The Options Trade
So we are going to take a breakthrough position on Citigroup. Here's the Bull Call Spread we like:
Buy a September 2012 '34' call option (priced at $3.30)
Sell a September 2012 '35' call option (priced at $2.69)
Net Debit to start: $0.62
Maximum Profit: $0.38
Reasoning behind the Trade
This is not the normal trade for us, we like a greater profit. Which way will Citigroup go? Well, we side with the bulls on this one. With the hedge funds investing in it heavily, focus on debt reduction, and European debt looking like it is going to be handled slowly (for now), so we will go bullish on this trade. But, we are giving ourselves some room here for time decay in case Citi retreats a bit before it goes up.