Nerves of steel are a mandatory requirement for any investor willing to put their hard earned cash into speculative biotech. To do so one must have researched the company's product and have a complete understanding of the implications that are possible. An iron stomach is also a prerequisite as the volatility that one is subjected to is usually reserved for the likes of test pilots as stock values falls and raises at a rapid rate.
Failure is a real option, but so is the possibility of unbridled success. A company like Dendreon (NASDAQ:DNDN) is a perfect example.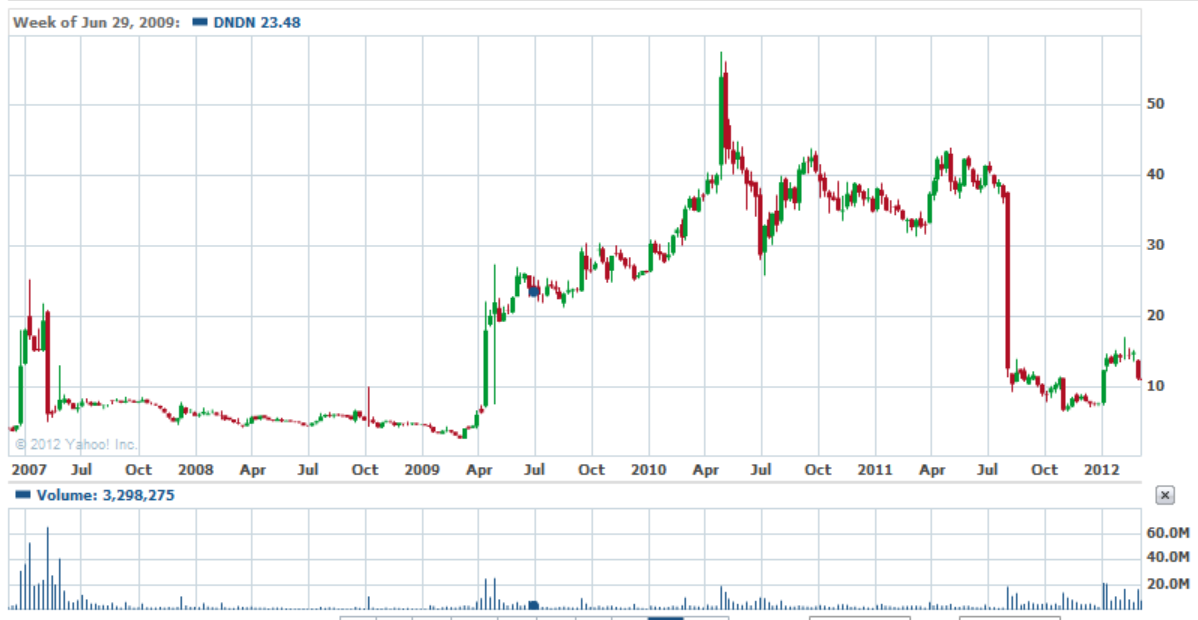 Click to enlarge
Consider DNDN's initial success when the stock made a move from $2 to $50 in the matter of less than one year. Prior to the parabolic move, investors had to have nerves of steel to keep their money invested as wholesale manipulation, rumors, and unfounded gossip hit the stock hard. Only the strongest willed investors stuck it out. As the FDA approved DNDN's drug, the stock made its run. It is at this point when an investor better have an iron stomach.
The $50 price tag was to only last a brief moment. Doubt crept back into investor's minds as reimbursement issues, inaccurate company guidance, and missed earnings came into play. The final result was the stock tumbled from its lofty heights to a price of around $10, where it trades today. Any investor still holding shares during those times truly needed an iron stomach.
As we turn our attention to today's biotech stocks, we see the same tumultuous investing environment. Though there are lots of biotech stocks in the market, there are currently two that are testing their shareholders metal and psyche. These stocks are Keryx (NASDAQ:KERX), and Advanced Cell Technology (ACTC.OB), and both are proving how hard it can be to be a shareholder.
Keryx
Most any biotech investor knows of KERX and its recent happenings. KERX is currently coming to the end of one of its studies dealing with the drug Perifosine, which is an oral anti-cancer drug. KERX has the rights to the drug from a commercial license agreement in 2002 with Zentaris AG, which is a wholly owned subsidiary of AEterna Zentaris (NASDAQ:AEZS). The current clinical trial will end after there are 360 deaths, and that was initially expected sometime in the first quarter of 2012.
The problem for investors is when you do not have a specific end date it leaves the door open for all kind of speculation, no matter how wild or unfounded. So called experts will make grand statements either for or against the stock and the company. Most recently we have seen such claims of success as the results of the trial are being put off. Speculation is that the drug is working, so the predetermined numbers of deaths have not yet been met. On the other end of the spectrum comes the claim that the trial will be a failure, for the simple reason that no other company in KERS's market cap range has ever been able to prove successful.
As all these different claims parade across the internet and media, the stock price moves in a dramatic fashion. Massive gains and losses in the stock price move investor's account values on a large scale. Each investor's nerves of steel and iron stomach comes into play as each individual faces nerve-racking decisions on what their next move should be based upon an never ending swirl of data mixed with varying opinions.
In the end, though, each investor need to take a step back and contemplate on what is happening. Articles and write-ups published in the media are merely opinions and nothing more. Many of the opinions are supported with hard facts, but in the end they are only opinions and nothing more. Those looking for that glimpse into the future surly won't find it here. The truth is that no one really has any idea as to whether KERX or AEZS will be successful or not with the trial. If anyone truly did know they would not be forthcoming with such data, especially in the mass media.
What is a true and undeniable is the company's latest financials where they reported they had cash, cash equivalents, interest receivable, and investment securities of $39.5 million, as compared to $28.5 million at December 31, 2010. The net loss for the year ended December 31, 2011, was $28.1 million compared to a net loss of $20.3 million for the year ended December 31, 2010, representing an increase in net loss of $7.8 million.
The change in net loss in the year ended December 31, 2011, as compared to 2010, was primarily attributable to a $12.5 million increase in other research and development expenses, related to Perifosine and their other drug. Finally, and most important, the company has also said that their financial position remains strong and they believe that the have sufficient capital to reach their key milestones.
In the end, any investor staying with KERX or AEZS are going to have to have the nerves of steel and an iron stomach. The simple truth is that if the drug works it will be worth a huge sum on money. If the drug fails then KERX will have to fall back on its other drug in the pipeline to lead the charge. My advice is to simply read everything you can about the company, but do so with a grain of salt. Invest only what you are willing to lose, and if possible try to hedge your investment with put options.
Advanced Cell Technology
If one thinks that investing in KERX takes nerves of steel, then one must turn to ACTC to see some real high risk, high reward potential. Until fairly recently very few investor had heard of this stock. Dealing with the relatively new world of stem cell technology was off most investor's radar. At least that was until Geron (NASDAQ:GERN) started its landmark trial dealing with stem cells to treat spinal cord injuries. Fast forward to today and one finds GERN's recent decision to stop focusing its time and talent on stem cell research and rather turn their attention to their other products in their pipeline. As a result all eyes have shifted and now focus on ACTC who has become the tip of the spear when it comes to the new world of regenerative medicine.
It took nerves of steel to invest in ACTC in the early days, but current trial results seemed to back those risk takers. In late January 2012 Phase 1 / 2 clinical data was published in The Lancet. In that publication it noted the safety of ACTC's human embryonic stem cell (hESC) for the treatment of Stargardt's macular dystrophy (SMD) and dry age-related macular degeneration (dry AMD). Results were reported for two patients. In addition to showing no adverse safety issues, both patients had measurable improvements in their vision that persisted for more than four months.
This news was huge, as macular degeneration is currently an unmet medical need worth billions worldwide. Then in the recent year end conference call, ACTC went on to state that the next three SMD patients had been treated but are still early in the course of their post-surgical reviews. The exciting part was that ACTC observed a generally similar trajectory as was seen from the first SMD patient at this stage of post-surgical review. If true then this would be a fantastic set of events as 100% of the patients injected reacted positively to the treatments with no noted safety issues.
As good as those results are ACTC does have its glaring issues. In years past the company had to accept toxic financing plans and undergo major dilution to survive. The end result was a severely depressed stock price and a huge number of outstanding shares. Trading on the bulletin boards, and subjected to sever manipulation without any institutional involvement made investing in ACTC only palatable for those with the iron stomachs.
To address this, the company called for a huge increase in the number shares which would push the number of outstanding shares well over the 2 billion mark. The goal was to use the new shares to settle the toxic financing and put the sordid financial past behind them. Shareholders, feeling the pain of further dilution, unanimously voted for the increase in the hopes of a better financial standing.
Though the dilution was a hard pill to swallow, investors girded their steel nerves with the fact that the patients were showing amazing results. Then in early March 2012 the company released the year end results. They announced year end results for the year ended December 31, 2011 that was pretty much expected. ACTC utilized $13.6 million in cash for operations during the year, compared to $8.8 million in the year-earlier period.
The increase in cash utilization resulted primarily from ACTC's ongoing clinical activities in the US and Europe. ACTC ended the year with cash and cash equivalents of $13.1 million, compared to $15.9 million in cash and cash equivalents in the year-earlier period. It wasn't until the end of the filing that the real news was discovered. There ACTC announced that it is going to seek shareholder approval for a reverse split of between 1 for 20 and 1 for 80 shares.
It is here where the nerves of steel and the iron stomach were truly tested on each investor. Reverse splits are usually a very bad sign and many investors will jump ship just at the mention of them. It was no different here as the trade volume the following day was well above the average. What was interesting though was the price per share did not fall in the dramatic fashion that one would have assumed.
A conference call later the following day helped shed some light on the subject. In it ACTC stated its attention to get listed on the NASDAQ capital market following the reverse split. The reason for this was simple. The company needs to attract institutional investors and get the outstanding number of shares under control. In an effort to jumpstart the process ACTC has already met with more than 15 large mutual funds and other healthcare focused institutional investment funds.
Needless to say, only investors with the nerves of steel and iron stomachs are left as most weak hands have been shaken out with the announcement of the reverse split. The big question now is if there is a positive vote on the reverse split and the up listing to the Nasdaq, can ACTC deliver its technology to the markets? If the company is successful with its macular degeneration trials, along with a more distant blood program, then the stock will appreciate in value to much greater heights than today's price.
On the other side of the coin, if the up listing to the NASDAQ is met with trial delays or inconclusive results then the newly valued stock price could easily fade to lower levels. In the case of ACTC, only time will tell but what a story it will make in the end.
In conclusion, both of these companies have potential to make huge strides in the field of medicine. Needless to say, if the companies are successful the stock price for both could reach levels well above where they currently trade. Until that time comes to pass, investors will need to be ready for increased volatility in these equities. The requirement for steel nerves and iron stomachs will remain.
Disclosure: I am long KERX, ACTC.OB.