As I discussed recently on my article "Germany Is The Best Way to Play Europe," the German economy is in good shape with a record low unemployment rate and positive economic growth outlook in relation to other European countries. For 2012, the economic growth forecast for Germany is only 0.5% but given the current negative sentiment towards Europe this number has some potential to be revised upwards.
Given the good macroeconomic background supported by a strong domestic market and exposure to high growth emerging markets, German companies have produced recently record earnings. It also has brands that are recognized worldwide, such as BMW (BAMXY.PK), Siemens (SI), SAP (NYSE:SAP), Volkswagen (OTCPK:VLKAF), Adidas (OTCQX:ADDDF), Porsche (OTCPK:POAHF), Allianz (OTCQX:AZSEY), Bayer (OTCPK:BAYRY) or Mercedes-Benz (OTCPK:DDAIF).
This also explains why companies in the main German index DAX 30 (NYSEARCA:EWG) generate, on average, 70% of its revenues abroad. The dividend yield of the German market (DAX 30 Index) is around 3.6%, which compares favorably with yields below 2% for U.S. markets like S&P 500 (NYSEARCA:IVV) or Nasdaq 100 (NASDAQ:QQQ).
For income investors, although the German market as a whole offers more value than the US markets, there are even better opportunities on specific companies:
RWE AG (OTCPK:RWEOY): Is a utility company that generates, distributes, and trades electricity to municipal, industrial, commercial, and residential customers. It also produces natural gas and oil, mines coal and supplies drinking water. RWE AG operates mainly in Europe and has a market capitalization of €21bn ($27.8bn). It has a trailing dividend yield above 10% and a P/E of 10.3x;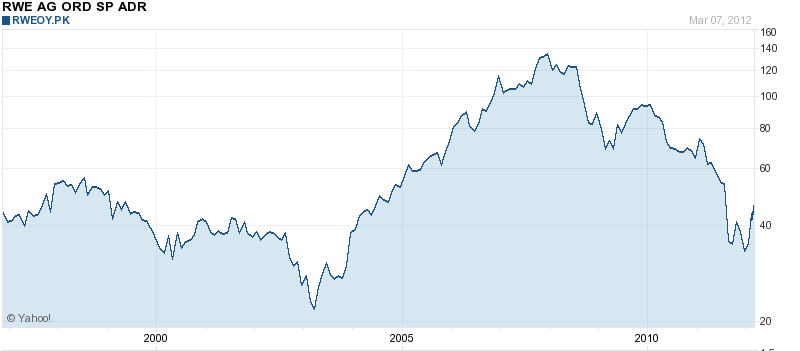 E.On (OTCPK:EONGY): E.ON operates in power generation and gas production businesses. The company's operations include electric generation at conventional, nuclear, and renewable-source facilities, electric transmission via high-voltage wires network, regional distribution of electricity, gas, and heat, power trading and electricity, gas, and heat sales. It has a market cap of €33.4bn ($44bn), a dividend yield of 9% and a P/E of 7.7x;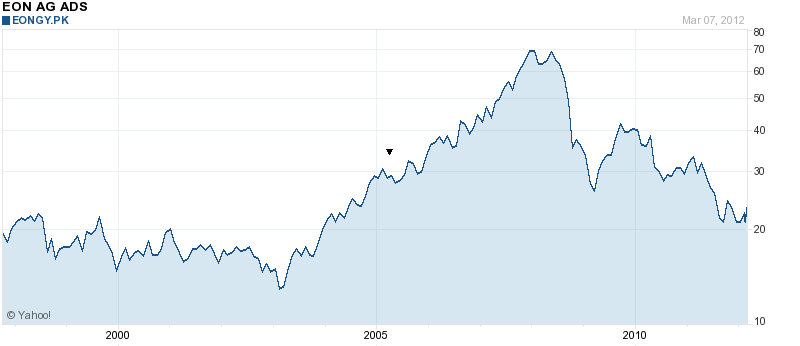 Deutsche Telekom (OTCQX:DTEGF): Deutsche Telekom offers telecommunications services. The company offers a full range of fixed-line telephone services, mobile communications services, Internet access, and combined information technology. It has a market cap of €37bn ($49bn), a dividend yield of 8.1% and a P/E of 13x;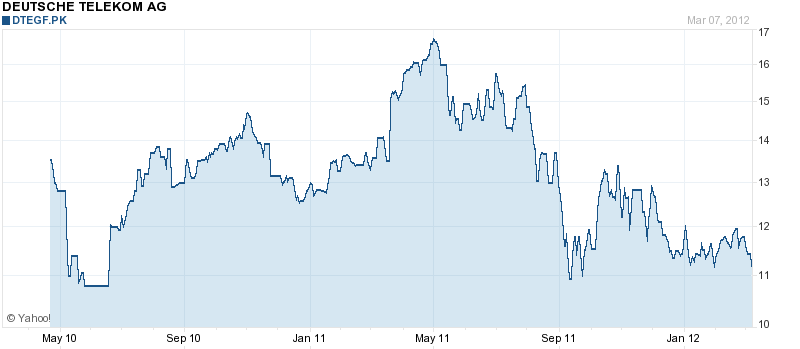 Deutsche Lufthansa (OTCQX:DLAKY): Provides passenger and cargo air transportation services worldwide. The Company offers flight and connection programs in cooperation with Star Alliance airline partners from North America, Scandinavia, and Asia. Lufthansa also provides travel agency, catering, and aircraft maintenance services. It has a market cap of €4.5bn ($5.95bn), a dividend yield of 6% and a P/E of 16.6x.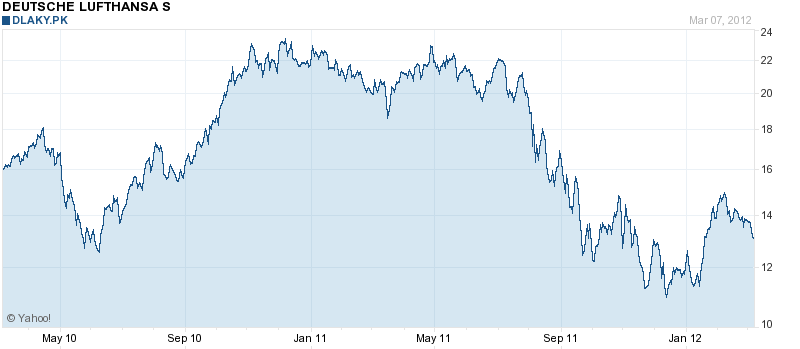 Disclosure: I have no positions in any stocks mentioned, and no plans to initiate any positions within the next 72 hours.