Today's Diabetes Drug Market
As of 2010, over 235 different diabetes-related drugs were recognized in clinical studies vying for a piece of the $25 billion market. Diabetes drugs, especially those targeted at treating type II and potentially curing type I, will be extremely profitable both in the near and long terms. Insulin products and analogs remain the bread and butter of pharmaceutical diabetic treatment, but many companies are making a calculated investment in developing pipelines in the recognized growth areas for improving treatment. A majority of novel drugs focus on type II diabetes due to the nature of its etymology and prevalence. 90-95% of all diabetics have type II. Fewer serious companies are pursuing the dream of gene therapies or stem cell treatments in the near term for the simplistically frustrating roots of type I diabetes, but these concepts do hold some long term potential. Drugs coming off the patent cliff in 2012, such as Takeda's (OTCPK:TKPHF) $3.3 billion in U.S. sales a year type II insulin resistance drug Actos, for which Teva Pharmaceuticals (NYSE:TEVA) and Watson Pharmaceuticals (WPI) and others will pick up as a generic, open name brand market share. The intersection of expanding diabetes numbers and increased innovation spell growth for investors.
Where sound science meets financial support is where long-term growth with near-term catalyst can benefit investors. Novel approaches may require novel funds and there is risk inherent in smaller caps diluting shares to raise cash and support research. Combinations to look for in a solid diabetes pipeline include a diverse interest of products, ideally insulin products in addition to oral therapies targeting identified areas for innovation. Key areas for diabetic drug growth include drugs and/or therapies which decrease insulin resistance, improve cardiovascular health, are limited in dosing requirements, and reduce neuropathies and associated pain.
Eli Lilly's Conventional Success
Eli Lilly (NYSE:LLY) is taking the classic large pharma approach to diabetes. Of the company's 2011 $24 billion in revenue, nearly 15% came from its two main insulin products, Humulin and Humalog, both which increased in revenue. Lilly gained insulin market share ground from Novo Nordisk (NYSE:NVO). Its recent partnership with Boehringer Ingelheim had an expressed intent to acquire a robust diabetes pipeline. This partnership has already produced two FDA approved and launched drugs, Tradjenta (linagliptin), which Thomson Reuters projects sales of $3.5 billion yearly by 2016, and Jentadueto, a combination of linagliptin and metaformin. Tradjenta is a first-in-class single dose formulation DPP-4 inhibitor which increases insulin levels in type II diabetics by increasing incretin levels. This potential comes at a time when LLY will be losing revenue by 2013 from the ending of its partnership with Amylin (ALMN) on twice daily injectable diabetes drug Byetta and ALMN and Alkermes (NASDAQ:ALKS) on once daily Bydureon. With success of products such as these, for which the active ingredient, exenatide, is a GLP-1 agonist insulin increasing hormone isolated from the saliva of a Gila monster, a variety of R&D potential is being realized today.
Pipelines don't always equal profits, however, as Lilly well understands. After failing to meet clinical trial end points, the company gave up on Arxxant, its once-hoped blockbuster peripheral retinopathy drug, losing many years and cash on studies and research. The company's strategy and financial backing, however, look solid. In addition to the acquisition of mature stage pipelines in partnerships and buyouts, 12 of Lilly's 65 compounds in its pipeline are diabetes-related drugs, with eight in phase II trials or better. Two of the products are insulin related products in phase III trials, which have the potential to draw in increasing revenue. The company will continue to compete with NVO, as the PDUFA date for long acting insulin, degludec, is set midway through 2012. Empagliflozin, another of the Boehringer partnership drugs, is a sodium-glucose transporter inhibitor with type I treatment potential in phase III trials. Also in phase III is a once weekly type II diabetes drug Dulaglutide. Phase II study products include receptor antagonists, enzyme inhibitors and monoclonal antibody therapy for the treatment of diabetic nephropathy.
Lilly's pipeline isn't overwhelmingly innovative, but it possesses a solid mix of revenue generators and new in class diversity of drugs and therapies. For what novelty it might lack in internal development, the company has shown it has the capability of reaching out and making successful partnerships and acquisitions that bring commercial success. Throw in Lilly's 5.1% dividend yield with its near term consistency and long term potential and investors and diabetics alike have a win.
The Global, Holistic Sanofi-Aventis Approach
Sanofi (NYSE:SNY) was first to market with a once-daily long acting insulin in Lantus. Lantus was up over 14% to $1.4 billion in sales in 2011. Lantus is actually the one bright spot for Sanofi in 2012 as it is the only one of its blockbuster drugs not coming off patent this year. The product does come off patent in 2014, making Sanofi's interest in replacing this diabetes derived revenue vital.
The company does have its own GLP-1 agonist drug, Lyxumia, in phase III trials. Data from late 2011 showed the drug significantly reduced HbA1c levels, a long term measure of blood glucose control, in type II diabetics in conjunction with Lantus use. SNY has filed for regulatory approval in the EU and will file in late 2012 in the U.S. However, unlike some of its larger competitors, Sanofi's diabetes pipeline is not as deep. In a move to perhaps spur innovation, the company announced in early 2012 it was partnering with University of California San Francisco to identify both type I and type II potential drug targets. The $3.1 million deal will use academia to help focus on insulin producing Beta cells. Emphasis of the study will be placed on small interference RNA which functions in gene regulation, a growing platform in many specialty smaller caps like Alnylam (NASDAQ:ALNY).
Though Sanofi was an innovative leader to market with Lantus, it is taking a more unique approach to the diabetic market. The Sanofi Diabetes division seems genuine and consumer-savvy at the same time, incorporating technology and social networking to support treatments and devices to its more global, European based market. The company offers its iBGStar !glucose monitoring system which connects direction to an Apple (NASDAQ:AAPL) iPhone or iPod Touch. It's GoMeals app for Apple and Android (NASDAQ:GOOG) systems offers diabetics quick, smart phone friendly dining data. It has also tapped into the Facebook market for diabetic support.
Another interesting move has been Sanofi's Data Design Diabetes Innovation Challenge in the United States. The competition offers entrepreneurs the opportunity to compete to design a human centric module to improve the lives of diabetics through improving design of products and/or care giving dynamics of the disease. Last year's winner designed an app to alert diabetic caregivers of blood sugar related behavior changes. The company's holistic view of the disease may open doors for partnerships in diagnostics and home care devices.
Room for Both in the Field
Sanofi's strength lies in its global reach and diversity. Emerging markets in Sanofi's range area also are emerging in diabetes prevalence and ability to access its care. One might be concerned about Sanofi's potential overextension, but it is well funded with an incorporated generics line potential gain from the patent cliff and a new partner in Genzyme bringing novel drugs into trials. Eli Lilly provides the classic research and development of a large pharmaceutical with deep enough pockets focused on diabetic pharmaceuticals alone. Each company is a dividend play, with Lilly's being somewhat more attractive than Sanofi's 4.8% yield.
Click to enlarge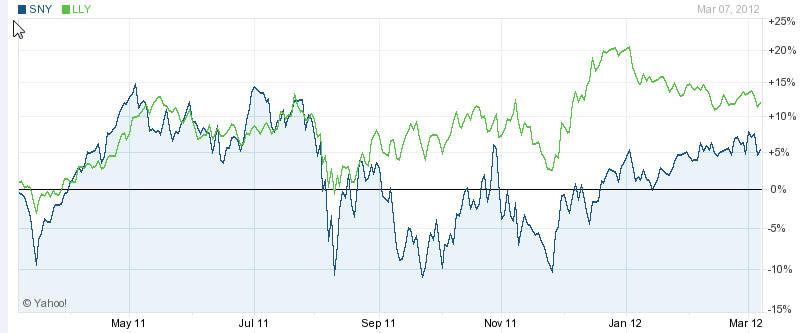 Either company is likely to be a safe enough position in the land of volatile healthcare stocks. Taking a position in both would provide a portfolio with the attention getting modern synergy of global SNY and the consistency and pipeline potential of LLY.
Disclosure: I have no positions in any stocks mentioned, and no plans to initiate any positions within the next 72 hours.