By Matthew Smith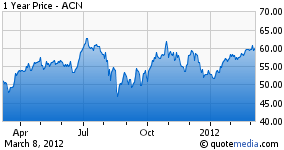 In the post-recession global economic arena, terms like shrinking budgets, lost revenues, increased debt liabilities, narrowing competitive moat and declining market shares have become common among many business strategists regardless of the industry they are associated with. This has encouraged businesses to make more efficient and thorough use of available resources and existing opportunities in shrinking markets in order to acquire maximum returns on investments.
In this article, I will discuss Accenture (NYSE:ACN), a company based in the IT services and IT consultancy industry. Accenture stands to gain from the current economic outlook given the increased prospects of growth and profitability. I have chosen this stock because it has shown impressive signs of growth in recent fiscal quarters and has continued to do so amidst favorable market sentiment.
In such an economic outlook where even leading businesses of various industries are haunted by reduced revenues, increased debts and falling cash flows, the global information technology services and consultancy industry mainly stands to gain, as it has been blessed with the ideal opportunity and the perfect global setup to bolster growth levels. This is because countless businesses have traditionally perceived IT services and consultancy businesses as friendly neighborhood Samaritans for their tremendous role in helping businesses stretch their profit margins by efficiently managing their assets and running their operations more effectively.
Accenture is the world's largest global management consulting, technology services and outsourcing company with around 244,000 employees serving clients in nearly 120 countries. Accenture combines comprehensive market know-how, unparalleled experience and extensive capabilities across a wide range of business functions to help a diverse clientele achieve maximized revenue and growth. Among Accenture's leading clients are nearly 75% of companies listed in the Fortune Global 500 and 96 companies on the Fortune Global 100.
With such a powerful and diverse clientele comprehensively spread across global markets, we can easily claim that Accenture has a lot of "friends in high places." As a result, the company had a favorable during the previous fiscal year ending on 31st August 2011, with reported net revenues worth nearly $26 billion. In the following fiscal year, Accenture bolstered its operating profits by 18.5% to nearly $3.5 billion.
All these positive financial indicators have impressed upon investors and stock traders favorable sentiment for the company in recent fiscal quarters and this has reflected well on the business' performance in the last three quarters. Currently, the stock is trading at almost $61 which is close to its highest trading price of $63 in the last 52 weeks. Although there was a brief period of reduced global economic activity in the previous fiscal year that brought down the trading price of Accenture to as low as $47, the stock has only gained since then amidst renewed market activity and aggressive trading. In terms of overall invested capital, Accenture is a massive global business with a market capitalization exceeding $84 billion and an average trading volume of nearly $4 million.
The company's price to earnings ratio is impressive at 17.8 and on earnings per share of nearly $3.5, Accenture offers investors nearly 70 cents in dividends. These figures have allowed the company to maintain an impressive dividend history with a yield of more than 2.2% which in turn has attracted favorable investor sentiment in predominantly poor market conditions. Accenture has a defensive beta of 0.88, which means that unfavorable market conditions will have a largely reduced negative impact on the business.
Accenture faces increasing competition from a group of off-shore service providers all of whom have reported impressive annual upward growth of nearly 30% by offering similar services at a more reasonable price. As a result, where the average cost per employee of Accenture is $110,000, Infosys Technologies (NASDAQ:INFY) manages it at around $34,000. Additionally, the business faces increased exposure to developing markets as compared to its competitors. For instance, one third of Accentures's overall workforce is placed offshore compared to only 18% for IBM (NYSE:IBM), 12% for Electronic Data Systems (NASDAQ:EDS) and 9% for Computer Sciences (NYSE:CSC). By spreading its major operations across developing countries, Accenture is highly susceptible to unprecedented government regulations in the private sector.
As Accenture mainly deals in three service areas, it faces growing challenges from different competitors on each front. In the Management Consulting services market, Accenture is locked in battle with traditional strategic consulting groups such as Boston Consulting Group and McKinsey & Co. while in technology services, Accenture is fighting against IBM. Due to its sheer size and overall market share, IBM comfortably leads the competition by a huge margin as far as revenue, market share and profitability are concerned. However, Accenture still remains the undisputed top provider of outsourcing.
Furthermore, the company has recently announced a string of positive developments that are expected to help the company to strengthen its position in international markets and widen its competitive moat. To start with, the company has recently signed an IT contract worth nearly $1 billion to provide technology services to the Justice Department. Accenture also plans to expand its analytics capabilities with the planned acquisition of Neo Metrics Analytics S.L. The company has also been selected to develop a regional operating model for human services in 12 counties of Southeast Minnesota. Accenture has also been the choice of the Basque Regional Government that is interested in the development of a strategic cost transformation program for the Department of Internal Affairs which is largely responsible for law enforcement and public safety. With these important developments, the company is expected to retain its market share amidst increasing competition from newly established companies mainly from the Indian sub-continent.
Accenture has performed well in the last three quarters with an impressive fourth quarter. Although growth margins and recorded revenues have not been as impressive as those of its leading competitors such as IBM, the company has reported high revenue growth and shown positive and consistent signs of upward growth over the previous fiscal quarters. More recently, the company has established a new Research and Development lab in Beijing which is aimed at strengthening the company's stronghold in emerging Asian markets amidst growing competition from newly established Indian competitors operating in the market. Therefore, it is safe to assume that the business is poised to grow and expand its market share in the current fiscal year. With continued positive upward growth and solid performance indicators in the first two months of 2012, I believe that Accenture has the capacity to significantly boost its revenues and increase cash flows. Therefore, I rate the global business as a "buy" in the year 2012.
Disclosure: I have no positions in any stocks mentioned, and no plans to initiate any positions within the next 72 hours.