When you sift through insider trading data, much of the buying and selling can be noisy. Insiders buy and sell for a variety of reasons but we're looking for the really telling trades. I'm seeing more and more institutional investors stepping up, buying big chunks of firms and then the work begins. Unlike a Warren Buffett-style, hands-off approach, these insiders take senior roles in their firms and roll up their sleeves to unlock shareholder value (and enrich themselves along the way, too -- gotta love the profit motive).
And that's the case for this week's Insider stock pick Rand Logistics (NASDAQ:RLOG) - a small cap (currently around $150M marketcap) shipping firm that services clients in the Great Lakes region.
The firm is run buy Laurence Levy, a seasoned private equity investor. His investment vehicle, Hyde Park Holdings, is based in NY, has invested over $1.5 billion in its portfolio firms, and has a penchant for logistics and asset-rich firms. Levy even served as Director of the Detroit and Canada Tunnel Corporation which runs the toll road between Detroit and Windsor, Ontario.
Edward Levy is President (I don't believe there's a relationship between the two Levys) of Rand with an investment banking background - he was an MD in CIBC World Markets Leveraged Finance Group in the early 2000s.
Methodology
My methodology uses insider trading data from Bluetrader. I monitor hundreds of weekly trades, looking for interesting stories that may slip between the cracks and publish these in my weekly (FREE) insider trading newsletter. When you subscribe, you can get a feel for the methodology I use by downloading a free ebook there, The Harvard Guide to Insider Trading.
Trigger Event
On March 3rd and March 5th, two insider purchases (small) were made by Rand's Chairman and CEO (Lawrence Levy) and President (Edward Levy) for $8400 and $35,508 respectively. Both Levys have been buyers of RLOG stock over the past few years. Here's Lawrence Levy's most recent trades:
click to enlarge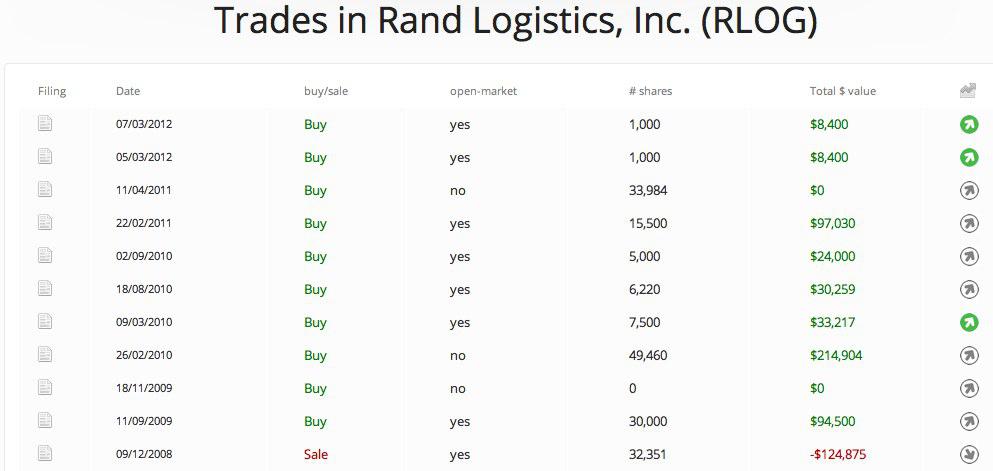 Click to enlarge
Management and directors now (as of February 2012) own 13% of the firm.
Company Tearsheet
Rand Logistics' origins stem from a blank check company that was floated in 2004 and eventually bought the assets of Lower Lakes Towing and Grand River Transportation in 2006. Since then RLOG has bought or attained the use of vessels to expand its fleet servicing the Great Lakes region.
What does RLOG ship?: Rand Logistics is a leading freight shipper of dry bulk commodities. So, that means iron ore, coal, salt, grain, and aggregates (construction).
Stable business: Over 95% of Rand's business is under long-tem contracts, which means that the firm is less susceptible to hiccups in the economy, insulating it from pricing pressure. Clients include Morton Salt, Cargill, ADM -- that caliber of customer.
Competitive moats: it's not easy to get into this business in this region. There are significant barriers to entry (economic, legislative, and geographic).
Rand's strategy
Rand, under Levy's direction, has been strategically adding vessels with the attention that they become accretive and further strengthen his firm's hold on the geography and clients. Here's a sample of recent activity: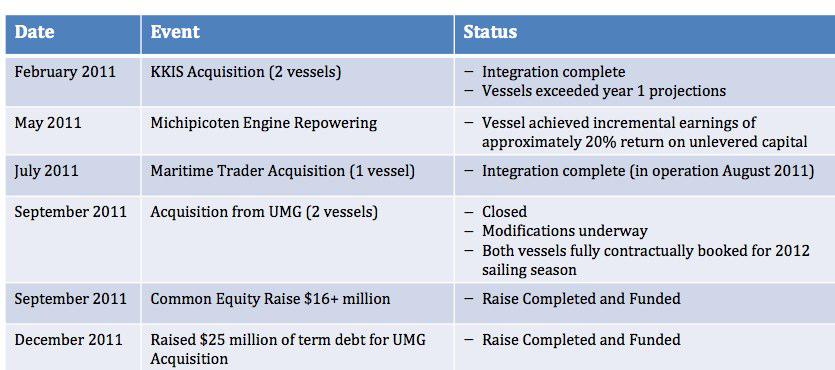 Click to enlarge
Asset play: Ultimately, shipping is an asset play and that's a comfortable place for CEO Levy. He's now got 13 self-unloading bulk carriers (most efficient way to move stuff down rivers, lakes in the area) and 4 bulk carriers (better for long-haul shipments of grain and iron ore).
Legislative barriers: The Jones Act passed in 1920 and limits maritime competition to domestically constructed ships and local crews. Given current shipping rates, it doesn't pay to manufacture new boats and the last self-propelled Great Lakes vessel was built 20 years ago. So, like the game of Monopoly, there's a fixed number of utilities and Rand owns much of them (in River Class and Bulk Carriers, anyway).
Demand imbalance: While big players in this market operate larger ships, playing smaller is Rand's game and the demand dynamics appear favorable.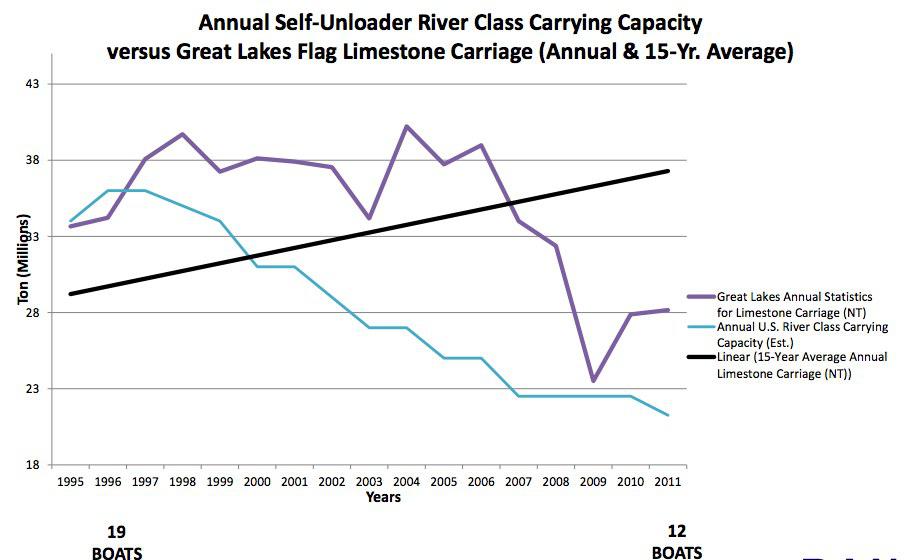 Click to enlarge
Customer mix: About 50% of Rand's business is in aggregates, materials for construction. The rest is split between iron ore, coal, grain, salt, etc. The important point here is that customers like Kraft, Bunge, and Cleveland Cliffs are under long term contracts.
Rand's plan is to leverage its customers relationships and its geographic focus to expand its business. These strong relationships also work to keep competition at bay.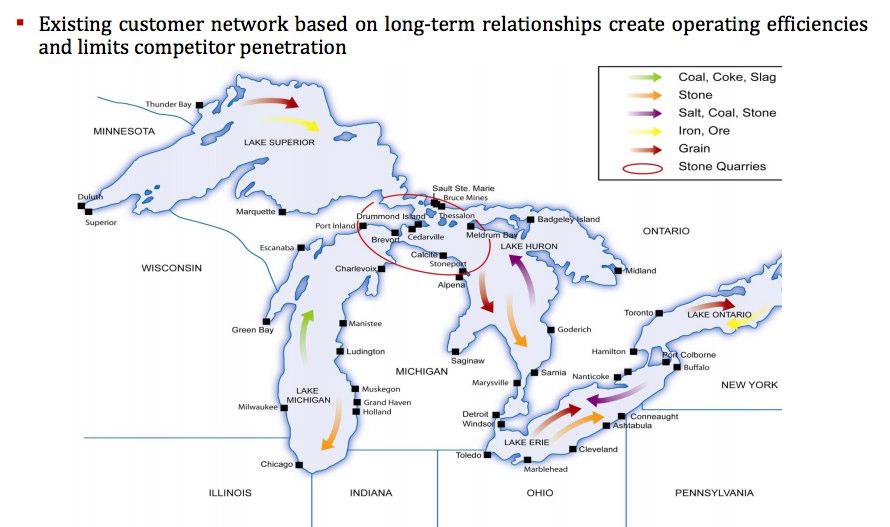 Click to enlarge
Is RLOG's strategy working?
There's good leverage in the model and Rand appears to be executing well. Rand Logistics has accelerated its profit growth by sailing more days (from 2714 in 2007 to 3649 in 2011) and getting more revenue/day (from $23417 to $29094 over same period) while it takes pretty much the same amount to run the fleet.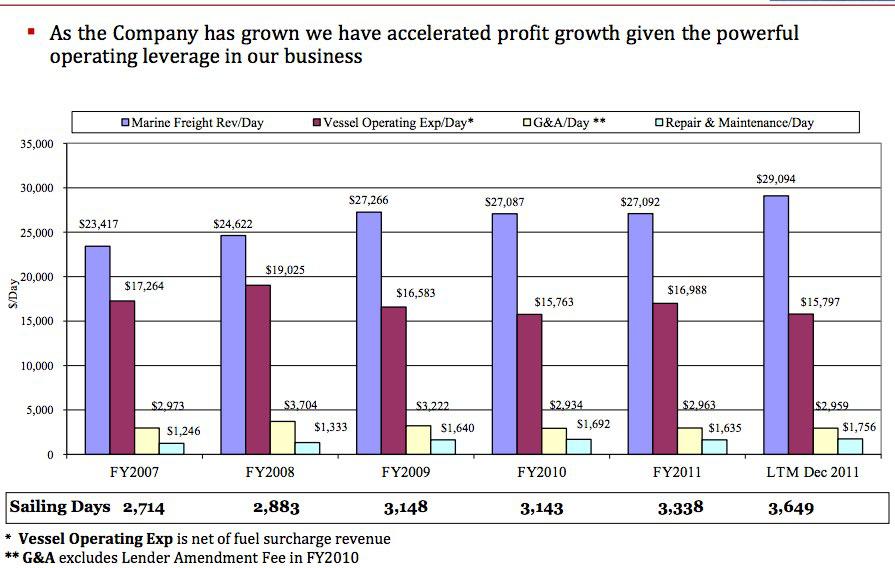 Click to enlarge
RLOGs operating income is ramping as exemplified by this chart.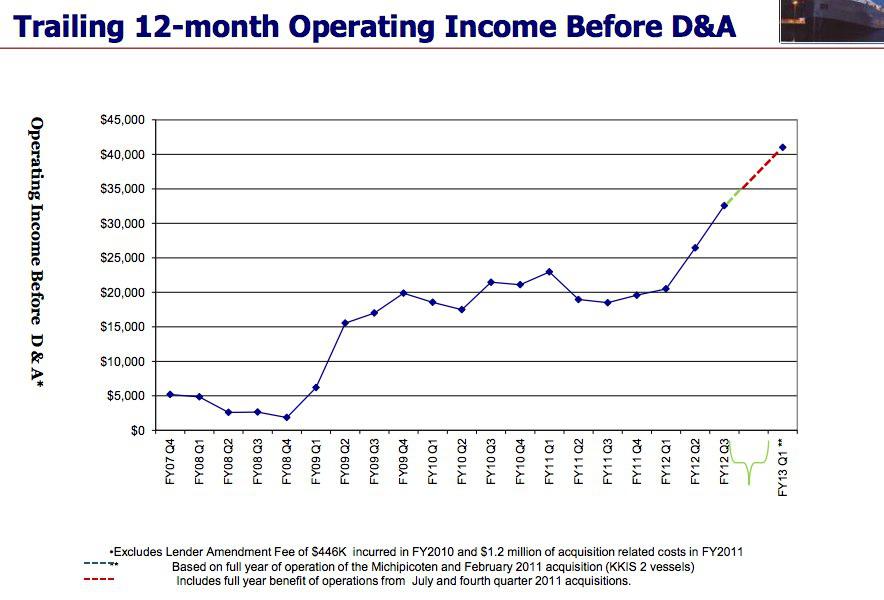 Click to enlarge
This performance hasn't been lost 0n investors as RLOG is up 30% over the past 3 months, though the stock is only up 6% over the past 12 months.
If Levy and his team are able to selectively add vessels that make financial sense, expand their relationships with customers, they're positioned to just own this type of dry bulk shipping on the Great Lakes.
It's almost like Rand Logistics has set up a toll road in this part of the country and will just continue to collect its dimes and nickels. But in this case, it's more like $30k per day.
Disclosure: I have no positions in any stocks mentioned, and no plans to initiate any positions within the next 72 hours.
Disclaimer: This should definitely not be construed as investment advice. I've tried my best to be as faithful to the story as I could, using sound resources to help describe the insider trading activity at leading companies. But you should definitely do your homework — don't base an investment decision off this information.