The demand for corporate bonds continued unabated Thursday as eight issuers came to market with new issues totaling $6.2 billion. That brings the total this week to over $37 billion, a near record week. The following were the issues brought today: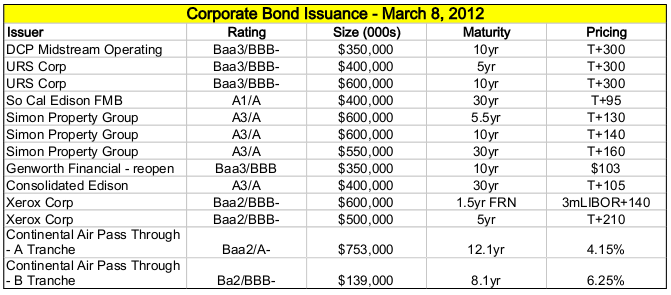 Click to enlarge
Of the bonds issued, I would like to spotlight three of them.
Simon Property (NYSE:SPG) was the big issuer of the day, bringing $1.55B to market in traditional REIT bond form. Covenants in the deal are the same as the last deal with:
Total debt/total assets less than 65%
Secured debt/total assets less than 50%
Interest Coverage greater than 1.5x
Unencumbered assets/unsecured debt greater than 125%.
I think that Simon priced as I expected when I "stock talked" it at 130-160bps this morning. Personally, I think that Simon is a little tight here and the curve is almost too flat. They are best in class, but there is better value in other players in the sector - Westfield (A2/A-) 21s are quoted 192/202 and Kimco (NYSE:KIM) 2019s (Baa1/BBB+) are quoted 255/245 to the 10 year treasury. As I wrote March 5th, I think KIMCO bonds are cheap, and this new Simon issue doesn't have much room to tighten unless the entire sector goes tighter (at which time I think Simon will underperform).
Notice that both utilities that issued today - Consolidated Edison (NYSE:ED) and Southern California Edison (NYSE:EIX) - came with 30 year debt at around +100bps to treasuries. Utilities are stable, yes, but at +95 or +105, long utilities will get smacked when rates start to head up. That said, comparable credit quality industrials don't trade much wider and some trade tighter. For example, Caterpiller (NYSE:CAT) 41s trade at +91, Lowes (NYSE:LOW) 41s trade at +115 to treasuries. At these levels, I would buy the first mortgage bonds as they have a lower risk profile.
The Continental (NYSE:UAL) pass throughs are interesting. Recall that this market (Enhanced Equipment Trust Certificates) has not been a large issuer in nearly a decade. September 11th turned the market on its head (AMR had a deal price that day), this was followed by the airline bankruptcies and then followed by 2007/2008, where financing transactions didn't get done. One thing I learned real fast in this sector was that you buy the planes, not the deal. Look at the collateral and the valuation and the age of the collateral. It is easier to re-lease a narrowbody jet than a widebody jet should you take possession of collateral under section 1110 in a bankruptcy. This deal will be secured by 18 new Boeing aircraft scheduled for delivery from February 2012 to December 2012 and three Boeing aircraft acquired by Continental in 2009. The 21 Aircraft to be financed will consist of 18 new Boeing aircraft and three Boeing 737-924ER aircraft acquired by Continental in 2009. The new aircraft will consist of 14 Boeing 737-924ER aircraft and four Boeing 787-8 aircraft scheduled for delivery between February 2012 and December 2012.
I like the weighting towards the 737-924 extended range narrowbodies and the four dreamliners (787-8s) are not a huge concern as they would have a strong secondary market. The initial loan-to-value and the maximum loan-to-value in the deal is 55.3% for the A tranche and 65.5% for the B tranche. Both are acceptable and have a decent equity cushion under the bonds.
Secured debt at nearly +200bps to treasuries (in the case of the A tranche) has value and warrants inclusion in a portfolio.
Conclusion: As you can see by the volume issued Thursday and week to date, the credit markets are open for business and the demand is strong. I would expect to see continued heavy issuance in the near future as corporations take advantage of the low rates and risk appetite of the market.
Disclosure: I have no positions in any stocks mentioned, and no plans to initiate any positions within the next 72 hours.