By Jason Napodano, CFA
On March 8, 2012, Depomed Inc. (NASDAQ:DEPO) reported financial results for the fourth quarter 2011. Total revenues in the fourth quarter were $12.1 million, in-line with our expectations. Revenues consisted of $0.5 million in sales of Gralise, $7.6 million in royalties from Santarus on Glumetza, and $4.0 million in licensing and collaborative payments. Royalties on Glumetza ($28.5 million in sales in the fourth quarter 2011 at Santarus) were greater than expected. Sales of Gralise were essentially in-line. We note that Gralise reported sales tracked below the prescription trends based on the company s co-pay assistance program designed to lower the out-of-pocket expense that patients pay for Gralise, bringing the drug more in-line with generic gabapentin, and the lower cost titration starter pack.
Net loss for the fourth quarter 2011 was $13.8 million, or $0.25 per share. This was better than our expectations on lower than expected SG&A and R&D expense. Loss was driven by a significant increase in SG&A during the quarter, relative to previous quarters, as Depomed launched Gralise in October 2011.
Stock Remains Attractively Priced
We believe Depomed's stock is attractively priced. Valuation is supported by three core metrics, Gralise, Glumetza and its technology, and the cash balance.
...Cash...
Depomed exited 2011 with $139.8 million in cash and investments. We find this level of cash to be sufficient to fund operations for the foreseeable future. Management has guided to cash flow positive operations by the end of 2013. We model Depomed burning approximately $40 million in 2012. Upside to this number comes from licensing deals and product collaboration with Merck (NYSE:MRK), J&J (NYSE:JNJ), Boehringer Ingelheim, and Covidien (COV), all of which revolve around the company's proprietary technology provide non-dilutive capital that helps lower the operating burn.
From a valuation standpoint, Depomed has $163.1 million in current assets and long-term marketable securities. Backing out $39.8 million in current liabilities leaves $123.3 million in net positive working capital. Based on 57.0 million shares (fully diluted), the net working capital on the balance sheet is worth approximately $2.15 per share.
...Glumetza et al...
Glumetza is under the control of Santarus (NASDAQ:SNTS). The product is the primary driver of the company's top-line. As part of their renewed efforts around Glumetza, Santarus raised the price of the drug by 60% on the 500mg and 62% on the 1000mg in August 2011. An additional 8% price increase was taken in January 2012.The Glumetza price is now par with Fortamet (branded metformin). The company also increased the number of field reps promoting the product, from 110 to 150. Santarus has also launched an eVoucher and savings card for Glumetza in an effort to increase patient access and reduce the out-of-pocket expense to equivalent of Tier-1 coverage ($10 co-pay). The eVoucher program has been very successfully in driving uptake for Glumetza.
Glumetza is now the #1 metformin product on the market with over 50% share. Sales in the fourth quarter 2011 were $28.5 million. We have conservatively modeled that Glumetza sales will eclipse $125 million in 2012, up 62% from 2011. We remind investors that the royalty rate payable to Depomed increased to 32% in 2012 and 34.5% in 2015. We are expecting Glumetza sales to continue their run up until February 2016, when we expect that we will see the first authorized generics on the product.
We feel very comfortable with our Glumetza forecasts. Both Santarus and Depomed seem to think >$120 million in 2012 is achievable. While not as cut-and-dry as cash, the valuation assigned to Glumetza is straight-forward. Glumetza pays Depomed pure cash, in excess of $35 million in 2012 and potentially north of $40 million in 2013. Generics are expected in February 2016. Plugged into our DCF model, Glumetza is worth another $2.20 per share.
Depomed also has collaborations and licensing agreements around the company's AccuForm and formulation technology. For example, in February 2012, Merck announced U.S. FDA approval of Janumet-XR (sitagliptin and metformin hydrochloride (HCl) extended-release). Janumet is a combination of Januvia and extended release metformin. Now that Janumet-XR is on the market, we expect Merck to fully-cannibalize Janumet with Janumet-XR. We see peak Janumet-XR sales at $1.5 billion worldwide.
The above is good news for Depomed. In July 2009, Depomed entered into a license agreement with Merck that netted $10 million upfront. These deals centered around Depomed's extended release drug delivery technology, and allowed Merck the right to reference the Glumetza intellectual property. Beside the upfront fee, Depomed is eligible to receive a modest royalty (we model 2%) on sales of Janumet-XR for an agreed-upon period (undisclosed). Additional licensing agreements are in place with J&J ad Boehringer Ingelheim. Depomed also has an acetaminophen / opiate combination program with Coviden and a GI disorder discovery program with Ironwood.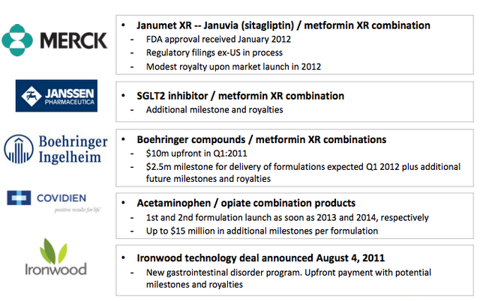 We've done some analysis modeling milestone and royalty payments around the above collaborative programs. Royalties from Janumet-XR are the biggest near-term driver. However, we note that Depomed can earn up to $15 million in additional milestones per formulation delivered to Covidien for the Vicodin-XR and Percocet-XR products. Plugging these values into our DCF model yields an additional $1.25 per share in value to Depomed.
...Gralise...
Before Gralise, and the significant operating costs associated with it, we see Depomed worth an estimated $5.60 per share. Gralise, the company's recently launched extended release gabapentin product, is the wildcard. Gralise sales in the fourth quarter 2011 were only $0.5 million. Based on the current trajectory and prescription data, we see sales in the first quarter 2012 totaling $2.6 million. For the full year 2012, we model $17.5 million in sales.
Share price appreciation in Depomed, much beyond the current level, is going to come from Gralise. We've pulled some of the slides from management's most recent investor presentation.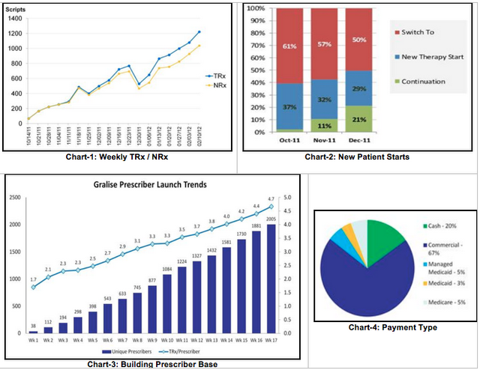 Chart-1 shows the weekly TRx and NRx trend for Gralise since the launch in October 2011. As noted above, the general trend has been in-line with expectations. There was a significant decline around the Christmas and New Year holiday, understandably, but the snap-back was strong.
Chart-2 shows how patients are starting on Gralise. We note that 50% of the new patient starts are switching form another molecule. Roughly 60% of those switches are coming from generic gabapentin TID. This is strong data supporting the future of Gralise. We think that management's co-pay assistance program is helping to level the playing field from an out-of-pocket standpoint. We note another 30% of patient switching is coming from Lyrica and Cymbalta, with the remaining switches coming from Lidoderm.
Chart-3 shows the building prescriber base. We note that approximately 35% of the scripts are being written by pain specialists. Another 28% is coming from primary-care. Both pain specialists and primary care physicians seem to be big fans of the Gralise titration pack (G-Pak). Neurologists are writing another 17% of the scripts, followed by Nurse Practitioners / Physician's Assistant at 11%. NP/PA's are able to write prescriptions for the non-scheduled Gralise - a big advantage over Lyrica (Schedule V).
Chart-4 shows payment type by patient. Gralise has >90% Tier-3 of better coverage, with new providers coming online each month. Over 80% of covered lives have access to Gralise. Recent efforts have been focused on government and Medicare Part D participation.
The marketing message for Gralise continues to be strong: better tolerability, easier dosing, and comparable efficacy. The U.S. prescription market for gaba molecules also remains strong. Generic gabapentin is in the top five for total prescriptions in the U.S. The gabapentin market continues to grow meaningfully. Total gaba market prescriptions in 2011 were 42.9 million, up nearly 10% year-over-year.
Pfizer's (NYSE:PFE) sales of Lyrica (pregabalin), the company's follow-on gabapentin molecule, totaled $3,693 million worldwide, up a strong 21% in 2011. Sales of Lyrica in the U.S. were $1,514 million, up 9%.
We think this is evidence of a strong branded market for gaba drugs. Pfizer has been able to turn Lyrica, a drug we see as having little efficacy and only modest tolerability advantages over generic gabapentin, into a mega-blockbuster. This is despite the fact that formularies have instituted step-edits for prescriptions of Lyrica. And as noted above, Lyrica is a Schedule V molecule.
We believe that Gralise offers comparable efficacy in post-herpetic neuralgia to generic gabapentin and Lyrica, with lower incidence of dizziness and somnolence. The approval of the Gralise titration pack, which allows for full dose titration in only 15 days, is a significant advantage for patients. There is evidence that some patients take as long as eight weeks to titrate to the full generic gabapentin dose. Some patients will never tolerate a full 1800mg dose TID of generic gabapentin. Finally, we believe the once-daily dosing is a meaningful driver of new patient starts and switching to Gralise.

All this leads to our bullish forecasts for Gralise, which include over $100 million in 2015 and peak sales at $356 million in 2022, which is approximately 1.75% of the total gabapentin / pregabalin market in the U.S. We've plugged this ramp into our model, along with management's guidance for operating expenses for 2012 and our forecasts going forward, and conclude that Gralise is worth another $3+ per share. This is how we arrive at our $9 price target. A screen shot of our DCF model can be found below.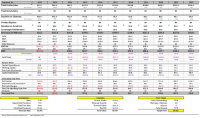 Click To Enlarge
We've conducted some sensitivity analysis around our Gralise forecast. If our forecasts are 25% too low, which we call the "Bullish Trajectory", the Depomed is worth $12 per share plugged into the above model. If our forecast are 25% too high, which we call the "Bearish Trajectory", then Depomed is worth $6 per share plugged into the above model.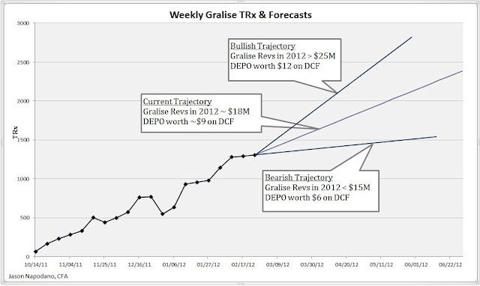 The stock is currently trading just above our "Bearish Trajectory". Thus, we believe the risk / reward is favorable. And we rate the stock 'Outperform'.
Disclosure: I have no positions in any stocks mentioned, and no plans to initiate any positions within the next 72 hours.