On March 7, after the markets closed, American Capital Agency Corp (AGNC), announced the pricing of the secondary public offering of 62 million shares of common stock for total estimated gross proceeds of about $2.0 billion. This was also a slightly larger offering than the earlier announced 54 million share plan. The stock closed down slightly over three percent on Thursday, March 8, following the announcement.
See a recent performance chart for AGNC, below: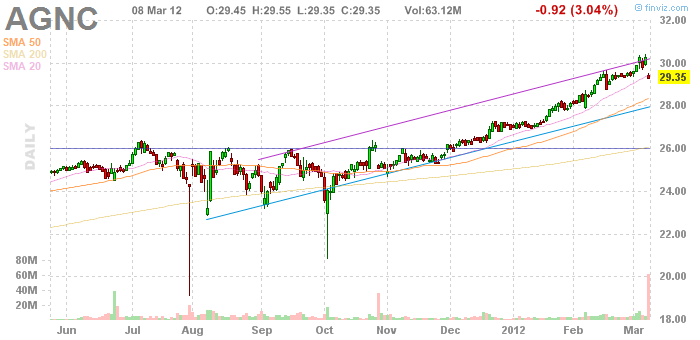 American Capital Agency is an agency mREIT which buys agency mortgages that are backed by federal agencies. Other well-known agency mREITs include Annaly Capital Management (NLY) and Hatteras Financial (HTS). Index funds for mREITs include the FTSE NAREIT Mortgage REITs Index ETF (REM) and the Market Vectors Mortgage REIT Income ETF (MORT), though these ETFs also have exposure to non-agency mortgage REITs.
Just last month, on February 6, AGNC reported earnings for the fourth quarter of 2011 of $208.7 million, or $0.99 per share, and a net book value of $27.71 per share. AGNC had earned $1.39 per share during the third quarter of 2011. AGNC also then announced a dividend policy cut, lowering the quarterly payout to $1.25 from 1.40 per share. That was a 10.71 percent dividend cut, reducing the mREIT's dividend from about 19 percent to about 17 percent.
At the time of the above-mentioned reporting and dividend cut, I noted that some investors may expect another imminent secondary, possibly following AGNC's March 5, 2012, ex-dividend date. AGNC had previously announced such secondaries post ex-dividend. This secondary was issued precisely as anticipated. It is also possible that many would-be buyers and accumulators of AGNC shares were waiting for this announcement.
Many investors prefer to enter mREITs following secondaries that follow ex-dividends. Such investors feel that by looking out for announcements on secondary offerings, individual investors can buy high yield companies with the knowledge that institutional money and advised high net-worth investors are buying in at the same prices. Of course, that does not mean it is a good investment, but only that you may be in good company. One should understand that AGNC must pay the dividend to those new shares too.
Generally, AGNC has appreciated following a secondary, including between the secondary and its next ex-dividend. Leverage should increase after almost any mREIT secondary. See the chart, below, showing AGNC's secondaries (red arrows) and ex-dividends from the first half of 2011.
Generally speaking, past secondaries marked relatively preferable buying prices when compared to shortly before or after them. Many investors get very angry when a REIT issues a secondary, especially if they had just bought shares at a higher cost.
By issuing a secondary after the ex-dividend, AGNC eliminates some of the apparent sting and it may also seem an inviting time to accumulate more shares (especially if not automatically dripping dividends, but considering otherwise accumulating).
American Capital Agency last reported a net yield spread of 1.9 percent, a decrease of 24 basis points compared to the previous
quarter. The mREIT also reported leverage of 7.9x at the end of the
quarter and 7.6x on average throughout the quarter, which is in line
with leverage rates for the third quarter of 2011. This new secondary could indicate AGNC will move its leverage rate up between 8 and 10 times assets.
Despite AGNC's recent dividend cut, the mREIT still offers one of the highest yields among all mREITs, and possibly the highest yield within publicly traded agency-only mREITs. Nonetheless AGNC holds significant leveraged interest rate risk, which could become an issue if and/or when interest rates ever begin to substantially rise.
Disclaimer: This article is intended to be informative, and should not be construed as personalized advice as it does not take into account your specific situation or objectives.