Jim Cramer just interviewed Mel Karmazin. They did a good job of selling SiriusXM (NASDAQ:SIRI) and I now expect the stock to go up. My suggestion is to consider closing bets against SiriusXM, but be careful if you're buying. I'm not questioning his integrity, but Jim Cramer is a salesman, not an economist.
He wears a nice suit. He talks a good game. He's a broker. His role is to make a call to action. He's not an allocator. Don't let him fool you. On paper he's a lot of things--don't let it fool you. In essence, Cramer is a salesman, not an economist.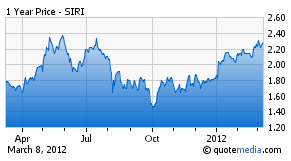 Here's what he's selling you in SiriusXM:
1) Free Cash Flow
2) Loyal Customers
3) Buyout Opportunity
Ultimately, this is an iteration of the "multiple choice defense". SiriusXM launches multiple defenses to protect its P/E. This distracts from the real discussion, of how much money the company can make.
It's easy to find a statistical test that favors your perspective, and present that test to prove your point. Of course, one could just as easily find another test that would yield a different conclusion. There should always be an independent discussion of why a given test is superior. Selecting a test to fit a conclusion is circular reasoning.
In this case, the statistical lie takes the form of "free cash flow". There's no honest justification presented for over-representing free cash flow in SiriusXM's valuation. If Jim Cramer was an economist, he would explain why free cash flow is superior as a metric; instead he essentially asserts its supremacy, like a true salesperson.
There are a lot of businesses with loyal customers. They don't have 34 P/Es. 34 P/E implies growth. Starbucks (NASDAQ:SBUX) has a lower P/E. Starbucks has loyal customers, alcohol in some stores, and a new espresso machine.
A buyout opportunity exists to the extent someone with money thinks SiriusXM is worth more than its current multiple plus premium. So again, we're back to the single idea that SiriusXM is worth more than 34 times its earnings.
What is SiriusXM's real ability to make money? Cramer's discussion of this is quite limited. He discusses the opportunity of selling to new and used car buyers. But the low-end services like Pandora (NYSE:P) will be selling in the same market. Cramer says that doesn't matter because last year SiriusXM grew its sales despite such competition. So Cramer is saying, look backward when it helps our valuation, look forward when it helps our valuation, and look at free cash flow when it helps our valuation. That's a multiple-choice defense.
Sorry, Mel Karmazin was the one saying some of these things, but I found it hard to tell the difference. Cramer was busy nodding his head the whole time - like a good salesman.
Disclosure: I have no positions in any stocks mentioned, and no plans to initiate any positions within the next 72 hours.