In a previous article related to Verizon Communications (NYSE:VZ) posted on January 5, 2012, a collar position, selling a call option against a stock and using some of the proceeds to purchase a protective put option, was considered in light of Verizon's upcoming dividend payment. The 2012 Feb 40 call option associated with the collar position expired worthless at stock option expiration in February and an investor in the collar would still be long the Verizon stock. Additionally, the investor would have received a $0.50 dividend per share on February 1, 2012.
On the news front, Verizon recently announced the launch of a wireless broadband service marketed as HomeFusion, which is targeted for rural areas not having DSL or cable access.
A long investor purchasing Verizon on the day of the prior article would be sitting on a small loss of 0.1%, including receipt of the dividend. However, an investor in the collar position would now be realizing a 0.8% profit including receipt of the dividend. For the collar, the credit differential between selling the call option and purchasing the protective put option of $0.38 is enough to push the position into the black.
Verizon is paying a $0.50 dividend on May 1, 2012 to shareowners of record at the close of business on April 10, 2012. Once again consideration for entering a collar to protect a Verizon investment is considered. Verizon announces its first-quarter 2012 earnings on April 19, 2012, a day prior to April stock option expiration, so a collar for the Month of May will be searched for, as an April collar would not protect from any bad news related to the earnings release.
Using PowerOptions search tools, a collar position was found for Verizon with a potential return of 2.2% (11.2% annualized) and a maximum potential loss of 11.5% even if the price of the stock goes to zero. The specific call option to sell is the 2012 May 40 at $0.52 and the put option to purchase for protection is the 2012 May 34 at $0.17. A profit/loss graph for one contract of the position is shown below: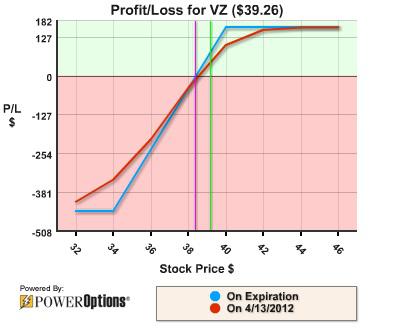 For a stock price below $34, the value of the collar remains unchanged, even if the price of the stock drops to zero. As a bonus, if the price of the stock is greater than or equal to the $40 strike price of the call option at stock option expiration in May, the position will return 4.1%. And, if the price of the stock increases to around $45, the position most likely can be rolled in order to realize increased potential return.
Disclosure: I have no positions in any stocks mentioned, and no plans to initiate any positions within the next 72 hours.