Ford (F) has an interesting twist as an American automaker. Within the last year or so (looking back 12 months or more) a stagnant U.S. sales market pushed increased sales to Europe and China. In Europe, Ford developed highly acclaimed vehicles well known for quality.
2012 looks good for Ford, especially abroad. In February of 2012 alone, Ford's sales in China grew at an incredible rate. It reported a 28% rise in its February sales in China selling 40,978 vehicles in the month. Ford's Jiangling Motors Corp commercial-vehicle venture sold 18,642 vehicles, a rise of 48%. The U.S. sales figures showed a 14% increase for the month also. With all this good news, we cannot forget struggling Europe, where it only makes sense the company expects a loss of about $600 million (not for February).
Ford Motor will focus on small, low-cost cars in India, to make the country a manufacturing hub for Africa and the Asia-Pacific region. Ford will launch a slew of new small cars in India over the next three years where 70% of cars sold are in this market. Cheap, small models dominate India's car market as middle class families, mainly relying on loans, trade in their motorcycles for four-wheeled status symbols. This should continue Ford's bullish run.
(Click chart to enlarge)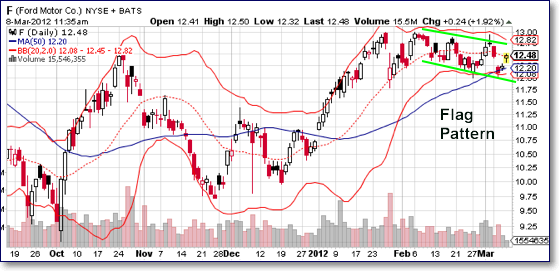 With this in mind, we have noticed Ford's position and a consolidation period looking like it will end soon. Since the end of January, Ford has been consolidating in a very reliable flag pattern (some refer to it as a pennant) that often speaks of a continuation pattern. This pattern is well formed and it looks like Ford will continue upward sometime soon. We would like to position ourselves for a move like this with an option play.
The Option Play
Since we believe it is bullish, we are going to look at a Bull Call Spread. Trading presently at 12.,49 here is what we are looking at:
Buy a December 2012 '13' call option (priced at $1.14)
Sell a December 2012 '14' call option (priced at $0.75)
Net Debit to Start: $0.39
Maximum Profit: $0.61
Reasoning behind the Trade
We believe Ford has a lot of upside potential in 2012. It was recently upgraded by Standpoint Research to a buy as of March 1. With the flag (pennant) formation it looks like a move up soon. There is always the problem that our timing is off and the formation we will not break up as soon as we thought it would. For this reason we bought clear out into December for time decay protection. Since the 52-week target price is 15.39, we are well within the bullish trade parameters.