With all of the new unconventional oil and gas shale fields, natural gas liquids are often being brought up out of the ground in pure or near pure states. This was true before, but not to the degree it is today. Not long ago many of the NGLs (natural gas liquids) such as ethylene were refined from oil. Much ethylene is still produced that way. Today with all of the new unconventional fields, ethane is being brought up out of the ground in increasing amounts in near pure form. This ethane is cheaper than oil (about $40-$60 per barrel versus more than $100 per barrel currently for oil). Plus the ethane can be more quickly and inexpensively converted into ethylene, which is used to ripen fruit after it has been transported (among other uses).
This is just one example, but it is a prominent one. With the sudden growth in the amount of NGLs being brought up out of the ground, new refineries are being built, and some old refineries are being converted to NGLs use to produce such items as ethylene. I think you can see where the approximately $50 difference in price between NGLs and oil would save refiners huge amounts in raw materials costs for products like ethylene. The easier conversion process doesn't hurt either.
All this means that leaders in the NGLs business will be the beneficiaries of this change over. They will be the first to supply the new pipelines and the new refineries and/or fractionators. Targa Resources Partners LP (NYSE:NGLS) is one such leader.
"It provides midstream natural gas and natural gas services in the US. The company operates through two divisions: Natural Gas Gathering and Processing, and NGL Logistics and Marketing. The first division engages in gathering, compressing, dehydrating, treating, conditioning, processing, marketing, and transporting natural gas and natural gas liquids. It operates in the Permian Basin in west Texas and southeast New Mexico, the Fort Worth Basin (including the Barnett Shale) in north Texas, the Louisiana Gulf Coast, and the Gulf of Mexico. Its gathering systems consist of approximately 12,485 miles of natural gas pipelines. It has 20 natural gas processing plants. The NGL Logistics and Marketing division is involved in the downstream business. This includes converting raw natural gas liquids into NGL products, marketing the finished products, and providing value added services. It transports and stores mixed NGLs. It fractionates, stores, terminals, and transports finished NGLs. It provides liquefied petroleum gas balancing services to refinery customers. It transports, stores, and sells propane; and it provides related propane logistics services to multi-state retailers and other users. It markets natural gas; and it purchases and resells natural gas in select US markets. It provides transportation services to refineries and petrochemical companies. It owns and operates 39 storage wells with a net storage capacity of 64.5 million barrels. These logistics assets are located in several states including Texas, Louisiana, and California" (Yahoo Finance).
Targa Resources Partners LP provides the following pictorial view of its business.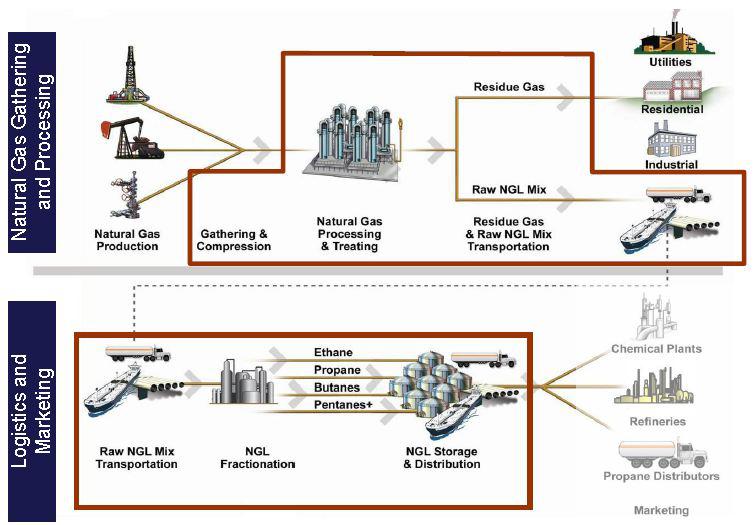 Note (NYSE:TRGP) in the picture above is Targa Resources Corp.
NGLS is middling size with a market cap of $3.75B and enterprise value of $5.17B. Its relatively low Beta of 1.18 for a stock of this size indicates that the market views it as a stable investment. It has only 1% short interest. It trades at a PE of 21.23 and an FPE of 17.81. These might seem high until you realize that NGLS' next five years' EPS growth estimate per annum is a robust 19.89%. With this in mind, the PE seems cheap. On top of this analysts estimates for NGLS' FY2012 EPS have been trending upward for the last three months (from $1.87 to $1.97). NGLS has beaten EPS estimates dramatically in three of the last four quarters by an average of 46.60%. It missed in the other quarter by -22.50%. Still the performance is overall outstanding. Plus NGLS is not standing still. It has over $1B of current organic growth projects. These are expected to be completed in 2012 and 2013. It expects a distribution growth in 2012 of 10% to 15%. NGLS has a 13% CAGR on distributions since its IPO in Feb. 2007.
The current emphasis of US E&P projects on oil or liquids rich resource plays benefits NGLS. Pricing for both oil and NGLs is strong. The increasing NGL supplies should benefit NGLS' downstream business, which is integrated with an expanding export/import facility at Galena Park, Texas. This exports and imports both propane and butane, and its is the only ethylene export terminal in North America. Ethane demand has been increasing significantly. Hence NGLS expects to increase exports ethylene near term. China for one has been expanding its LPG imports dramatically.
In addition NGLS' fee-based contracts have been increasing, and it expects operating margins for these to increase to 40% to 50% over the next several years. It is well hedged for natural gas in 2012 at $5+, but this situation is set to deteriorate in 2013 (with less natural gas hedged). We can hope the price of natural gas rises by then, but this is something you will want to keep an eye on. However, you can take comfort from NGLS' clear outperformance of most other investments, including the Alerian Index, as seen in the chart below.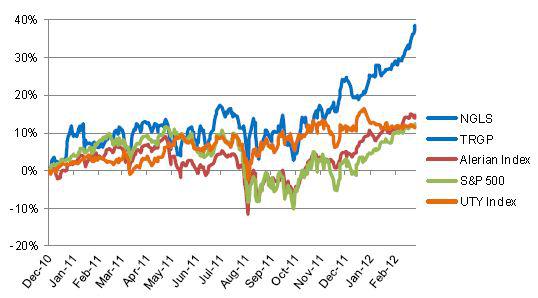 Not many stocks can claim such good stock performance, and NGLS pays a 5.73% dividend on top of that. It is simply hard to beat such performance, especially in a stable stock with a Beta of 1.18. Over the last two years NGLS has outperformed the SPY by threefold. For a stable dividend payer (5.73%), which has gotten more stable in the five years since its IPO, this performance is nothing short of fantastic. I apologize for not presenting market timing aids, but Yahoo Finance seems to be having some problems as I write. Still the overall market is highly over bought. It is due for a retracement. NGLS will likely follow it down, if it does retrace. I think this is an excellent long term investment, but it may be a good idea to average in, so you do not buy at a near term top.
Disclosure: I have no positions in any stocks mentioned, but may initiate a long position in NGLS over the next 72 hours.