I have been warning investors in my articles about high yielding equity Closed-End funds (CEFs) that have excessively high Net Asset Value (NAV) yields and in fact, over the past year, many of these funds have been forced to cut their distributions. The most recent of which was the BlackRock International Growth and Income Trust (NYSE:BGY) which just the other day slashed its distribution 35%. I had warned investors back in early October that certain BlackRock funds which had excessively high NAV yields could be vulnerable to a distribution cut or risk seeing continued erosion of their NAVs. You can read the article here.
The problem with these overpaying funds is that investors will often bid them up to premium price levels believing that the fund must have some advantage over others to justify their high distributions. Unfortunately, that is not the case and if investors would consider the cost to the fund's NAV over time to receive those high distributions and yields, they would probably think twice about investing in them.
Consider the following two funds which all have 12%-plus NAV yields and may be vulnerable to a distribution cut in the future. The first fund at risk is the Wells Fargo Advantage Global Dividend Opportunity fund (NYSE:EOD). EOD is an option-income fund that has a 12.6% NAV yield and currently trades at $9.23, a 3.9% premium over its $8.89 NAV as of March 9, 2012. EOD has had an unbelievable 2012 so far, up 21.8% even though its NAV is up only 5.6% YTD. More importantly, how has EOD's NAV performed on a longer term basis with that high distribution?
For comparison purposes, I have included a fund that I have recommended over the past year which has a much more manageable NAV yield. The Eaton Vance Tax-Managed Global Buy/Write Opportunities fund (NYSE:ETW) I would argue is a far superior fund to EOD because of its lower and more sustainable NAV yield of 9.2% which has helped the fund show a much better NAV performance. Eaton Vance has been very proactive in rebalancing the funds distributions with its incomes and the end result has been significantly better NAV performances for their option-income funds. Over the past four years, or since EOD's inception on 3/28/2007, ETW has a 6.2% total return performance, far better than EOD's -15.1% total return loss. For comparison, the S&P 500 returned 3.9% including dividends over the same four-year period.
The table below will show EOD's and ETW's quarterly NAV performance with distributions added back to give a running total return percentage. Both funds are global option-income CEFs and both started with $19 inception NAVs. Also keep in mind that ETW trades at a -12.6% discount to EOD's 3.9% premium, which makes ETW significantly more attractive on a valuation basis.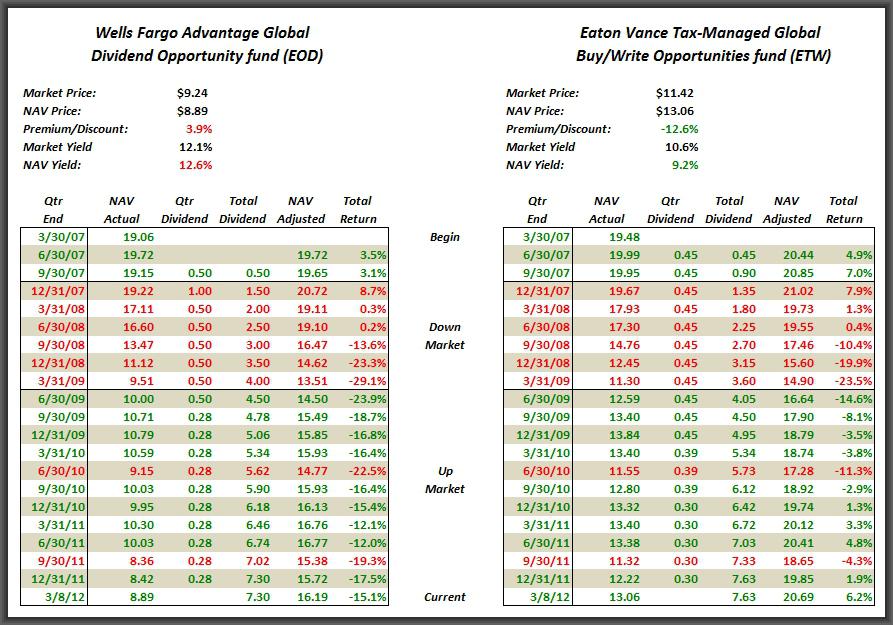 The second fund that may be due for a distribution cut is one that I have been negative on for years. The Alpine Global Dynamic Dividend fund (NYSE:AGD) is a dividend harvest CEF that has a 12.5% NAV yield and currently trades at $6.07, a 5.4% premium price over its NAV of $5.76. AGD has historically had one of the worst NAV and market price total return performances of all equity CEFs I follow and yet it continues to trade at a premium price. To me, that's sort of like paying more for something than it is worth just for the right to lose money.
The table below compares AGD with another global fund that instead of a dividend harvest strategy, uses a leveraged portfolio strategy to derive income for its high yield distributions. Unlike AGD however, this fund sponsor has done an excellent job in balancing the fund's distribution with its NAV and as a result, the fund's NAV has held up much better than AGD's. Not only that, the fund sponsor raised the distribution on the fund on February 1st.
The Calamos Global Dynamic Income fund (NASDAQ:CHW) is a 27% leveraged CEF with a similar U.S./international stock exposure as AGD though CHW does include corporate and convertible bonds in its portfolio whereas AGD is purely a global stock portfolio. Still, for a leveraged global fund that came public in June of 2007, not long before the bear market began later that year, CHW's NAV performance has been excellent, down only -5.3% on a total return basis compared to AGD's down -40.9%. And what has CHW earned for that outperformance and a recently raised distribution? CHW continues to trade at a relatively wide -8.9% discount compared to AGD's 5.5% premium. That's about a 15% valuation difference for a fund that has clearly done a much better job at managing its distribution. The only difference is that you give up about 300 basis points in yield.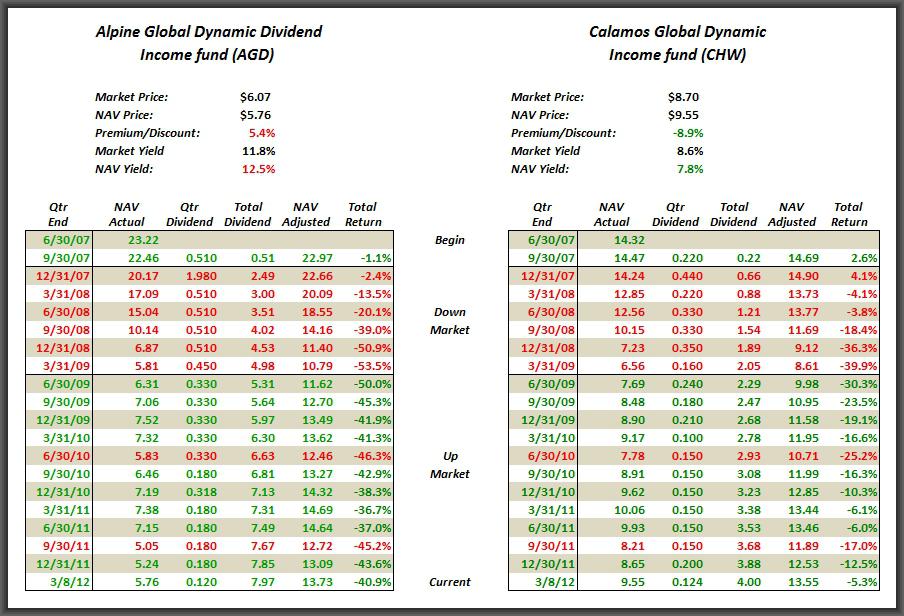 The point I'm trying to make in this analysis is that equity CEFs that offer exorbitant yields are generally paying for that yield at the expense of the NAV and at some point, the fund's NAV will become so depressed that the fund will be forced to cut their distributions again.
I would advise investors to look to funds which have more reasonable distribution yields since not only are they more likely to raise their distributions in the future, but they generally have done a much better job at maintaining and growing their NAVs, which typically translates to much better overall performance.
Disclosure: I am long CHW, ETW.
Additional disclosure: Short AGD, EOD.