The Nasdaq 100 is currently up 15.78% year-to-date, from 2,277.83 on 12/30/11 to 2,637.18 as of 3/8/2012. Although such increase seems quite large during the span of about 10 weeks, it is yet possible for the index to move higher and test 3,000. As a matter of a fact, the index is up a more modest 13.54% during the past year, from its close of 2,322.69 on 3/8/2011.
NASDAQ-100 Price Chart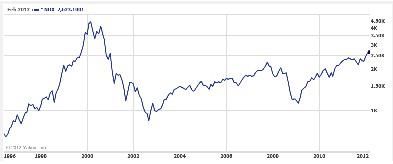 Source: Yahoo Finance
The main factor that may propel the Nasdaq 100 index higher could be the technology sector, led by Apple Inc. (NASDAQ:AAPL), Microsoft Corporation (NASDAQ:MSFT), Intel Corp. (NASDAQ:INTC), in addition to possibly Oracle Corporation (NYSE:ORCL) and Google Inc. (NASDAQ:GOOG).
According to a recent article by Reuters, we can imply that such stocks currently make up a total of about 42.2% of the index. Despite Reuters' indication that a possible re-weighting of the index could occur in case such stocks collective weighting reaches 48% of the total index, we believe the index can possibly test the 3,000 level, for three reasons.
1- Potential for higher U.S. sales growth
An improving U.S. economy can possibly lead to additional gains in IT spending. It is estimated by Forrester Research that U.S. IT spending will be about 6.6% in 2012. Meanwhile, IDC is estimating 5% IT spending growth in 2012.
When examining analysts' sales forecast for the referenced companies (according to Yahoo Finance), it is expected that Apple sales will grow by about 45.3% for the current fiscal year ending in September 2012, and 16.2% for the next fiscal year ending in September 2013. Considering that Apple currently makes up over 17% of the Nasdaq 100 Index, given its latest revenue growth of over 73% for Q4 2011 over Q4 2010, and the current modest estimates for its revenue growth of 16.2% for fiscal year 2013, there is a very good likelihood that Apple will beat such estimates.
In addition, sales growth forecasts could also prove to be modest for Microsoft (5.5% / 8%), Intel (4.8% / 7.7%) and Oracle (4.4% / 6.6%). As for Google, its sales forecast are less certain to beat forecasts of an increase of 21.6% for current fiscal year and 19.9% for next year.
The main factor that would drive such higher IT spending would be the resurging U.S. economy, as we already discussed in an article published on 3/4/2012, "5 technology stocks that can get a boost from the economy."
2 - Potential for higher European IT spending
According to IDC, IT spending for Europe will grow by less than 1% in 2012 and 3% in 2012. Given recent sovereign debt problems in Europe, such forecasts are not unexpected. However, it was recently announced that a restructuring of Greek debt was completed. The lifting of such heavy cloud from European markets could lead to an improvement in consumer and business confidence, possibly leading to higher IT spending growth rates than currently estimated.
The top five companies in the Nasdaq 100 generate substantial revenues in Europe. One of the main reasons that Google had missed its earnings estimate for Q4 2011 was the slumping Euro and stagnant European economies. However, the Euro has recently stabilized and moved higher, currently trading around $1.32 after having reached a low of about $1.27 USD/EUR in January.
USD/EUR Price Chart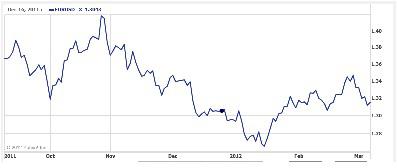 Source: Yahoo Finance
3 - Price/Earning (NYSE:PE) ratio expansion
Despite recent appreciation in U.S. equities, PE multiples are still reasonable from a historical perspective. According to Bloomberg the S&P 500 PE ratio is currently at about 14.1, substantially below its 5 decade average of 16.4.
When taking into consideration the Nasdaq 100 heaviest component, Apple Inc., its PE ratio is even more attractive, as illustrated in our article of 3/6/2013, "4 signs Apple shares may rebound tonew highs, again," where we estimate its forward PE could be as low as 10.2 for next fiscal year.
Given current interest rates of nearly 0%, and the Federal Reserve's indication that it will maintain low interest rates through 2014, we would expect current PE ratios to actually exceed the historical average of 16.4. This is primarily due to the fact that current interest rates have never been as low as they currently are.
When, and if, the Nasdaq 100 starts to move higher again, we would expect it to gain momentum and move rather quickly. Many investors and traders forget how the Nasdaq 100 moved from 1,140 in August 1998 to 1,925 in February 1999, a gain of 69%, in as little as 6 months. Similarly, the Nasdaq 100 moved from 2,407 in September 1999 to 4,397 in February 2000, an increase of 83%, in a span of 5 months.
The Nasdaq 100 peaked at 5,132.52 on an intraday basis on 3/10/2000. We certainly are not advocating that such drastic moves, which were attributed to the internet bubble era, will repeat themselves, but we are merely demonstrating how momentum can sometime build and carry through, especially when it catches skeptics off-guard.
Disclosure: I am long QQQ calls.