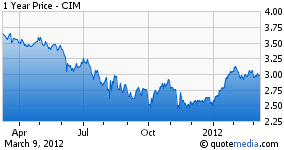 As a mortgage real estate investment trust (mREIT), Chimera Investment Corporation (NYSE:CIM) invests in residential mortgage securities. Like most mortgage REIT stocks, it dropped late last year as the effects of the market correction combined with concerns that a "mass refinancing" program from the Obama Administration could drastically lower profits for this sector. Investors also were concerned when the SEC decided to review the amount of leverage used by companies in the sector. So far, none of the worst case scenarios have played out, nor do they appear likely to in the future. Supporting this belief is the fact that Chimera shares have rebounded sharply from recent lows and have now stabilized at around $3 per share. Even though it has rebounded, the stock still looks attractive now for a number of reasons:
1) The stock is trading below book value of $3.27 per share.
2) This company is managed by "Fixed Income Discount Advisory Company" (FIDAC), a wholly-owned subsidiary of Annaly Capital Management, Inc. (NYSE:NLY) which is a highly-regarded mortgage real estate investment trust. Chimera shares give investors an opportunity to have top-notch management and receive a higher yield when compared to Annaly shares.
3) Multiple insiders were buying this stock in December, 2011. On December 22, 2011, a director named Paul Keenan about 19,526 shares. On December 22, 2011, a director named Gerard Creagh bought about 19,252 shares. On November 28, 2011, a director named William Byer bought about 10,000 shares.
4) The uptrend in the stock was recently confirmed when the 50-day moving average at $2.89, crossed above the 200-day moving average, which is $2.85. This is known as a "Golden Cross" which is widely
followed by many investors.
With all the positives here, there is good reason to consider buying Chimera. Not the least of which is the very generous yield of almost 15%. The mortgage REIT stocks have seen some volatility, but an
investor that can buy and hold for 3 years or so, could be looking at gains of about 50%. This is based on average yields of about 15% for the next 3 years, plus reinvested dividends. Plus, there is always a
possibility for capital gains which would further enhance potential gains.
Key Data Points From Yahoo Finance:
Current Price: $3
52-Week Range: $2.38 to $4.31
Dividend: 44 cents annually which yields 14.7%
2012 Earnings Estimate: 45 cents per share
P/E Ratio: about 6
Data is sourced from Yahoo Finance. No guarantees or representations are made. Please consult a financial advisor before making investments.
Disclosure: I have no positions in any stocks mentioned, and no plans to initiate any positions within the next 72 hours.