Verizon (NYSE:VZ), the $110 billion large-cap company that provides communications, information, and entertainment to consumers and businesses, pays a nice dividend of 5.1%. The stock provided a total return of 18.2% in 2011, which includes the dividend plus stock appreciation. It has increased its dividend for five consecutive years.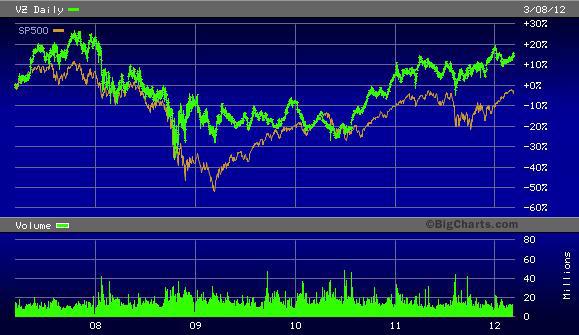 While I would rate Verizon as fairly valued, it is much closer to undervalued than overvalued. Its trailing PE ratio is a little high at 45.73, but the forward PE ratio is only 13.98. Verizon has a PEG ratio of 1.3 and a price to book ratio of just 3.05.
Verizon brings in significant cash with an operating cash flow of $29.78 billion and free cash flow of $13.5 billion. The company does a good job of using its cash to grow the business and reward investors with a generous dividend.
The company is continuously investing in networks and new technologies to grow the business. It has improved its competitive position by acquiring Cloudswitch and Terremark in the cloud computing field.
Verizon is the leader in 4G LTE. The fourth quarter of 2011 was its best year ever in terms of smartphone sales. The company offers 20 4G LTE smartphone and data devices. Wireless sales were up 13% year over year for Q4 2011. Verizon is continuing to expand its 4G LTE network coverage to mirror its 3G coverage by mid-2013.
FiOS comprises 61% of Verizon's consumer revenue and enterprise Strategic Services represents 51% of its Global Enterprise revenue. The Fios subscriber base has grown to 4.2 million. Of that figure, 3.5 million customers are enrolled in triple play (TV, internet, and phone). Strategic Services increased 14.7% in Q4 led by managed network, call center, IP communications, and cloud offerings.
Total service revenue grew 6.4% year over year. Data represents 41.6% of total service revenue. Total data revenue increased 19.2% year over year. This growth in data revenue was driven by web and email services which increased 34% year over year.
Wireless revenue increased 13% year over year and retail service revenue grew 7.8% year over year.
Verizon ended 2011 with industry leading total connections of 108.7 million, which was an increase of 6.3% over 2010. The company is gaining share in the retail postpaid market with 87.4 million connections which is driven by the demand for its various 3G and 4G LTE devices and internet data devices.
FiOS revenue grew 18.2% year over year, which contributed to an overall consumer revenue increase of 1.3%. Total Wireline revenue decreased 1.5%, but EBITDA increased 23.8%.
Verizon is expected to grow earnings annually at 11.94% for the next five years. When you combine this growth to the generous 5.1% dividend, Verizon should provide investors with an average annual total yield of 17.04%. This is solid growth that should easily outperform the S&P 500 over the next several years.
Disclosure: I have no positions in any stocks mentioned, and no plans to initiate any positions within the next 72 hours.