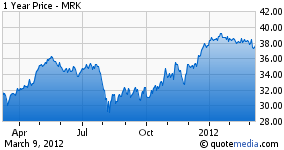 Pharmaceutical companies are frequently great targets for new stock holdings. The large-cap firms often provide both growth and dividends, making them excellent long-term investments.
While some pharmaceuticals are cutting research and development, Merck (NYSE:MRK) is increasing its spending in this area. This pharmaceutical giant has a strong drug pipeline and aggressive approach to obtaining FDA approval. The company is also benefiting from lower overhead costs and higher revenue than competitors, after seeing a double-digit stock price gain last year. When compared to competitors, Merck offers a solid dividend and is in optimal position for growth this year. Here, I will look to Merck for our next potential target in the growing pharmaceutical sector.
Merck Showed Strength in 2011
While a number of companies didn't fare well in 2011, Merck saw its numbers head in a mostly positive direction, as the $115.5 billion company pushed ahead. Riding the success of drugs like its wildly popular hepatitis C medicine, Victrelis, the company hauled in an impressive gross profit of over $31 billion. The company's stock price climbed over 15%, while its price to earnings ratio (10.14), price to book ratio (2.1), and debt to equity (30.8) all suggest that the company is being well-run. Its $41.25 target price shows high growth potential (10% over the current share price), and when coupled with its $1.68 annual dividend (good for 4.4%), Merck offers a winning combination of growth and dividends to investors.
Making News for the Right Reason
Publicity is great when it goes your way. It can be brutal when it doesn't. The good news for Merck is that lately, it seems like most of its news is favorable. One big development to watch is the approval process of the company's latest anti-allergy medication, an upcoming compound that fights ragweed allergies. The company, which also produces anti-allergens Nasonex and Claritin, has announced that it will seek approval for its formula within the next year. Developments like this can have both long-term and short-term effects on its profitability, as drugs are first sold by prescription and over-the-counter.
Developing a Competitive Advantage
Even without this new medication, Merck performed well against its competitors in 2011. A smaller company than both GlaxoSmithKline (market cap of $219 billion) and Pfizer ($177 billion capitalization), the company managed $48 billion in revenue ($43 billion for Glaxo and $67 billion for Pfizer). Its $15.65 revenue per share was almost double the $8.6 generated by each of its rivals.
Merck also saw its share price increase nearly 16% over the past year, while enjoying a quarterly revenue gain of 1.7%. Glaxo's share price also gained almost 16%, but its revenue dropped 3%. Pfizer had a 9% gain in its stock price, but its revenue tumbled 4.6%.
Announcement of Merck's research and development plans going forward could also have a strong effect on the company's bottom line. With costs rising, competitors like GlaxoSmithKline (NYSE:GSK) and Pfizer (NYSE:PFE) are among a growing number of pharmaceuticals cutting R&D expenditures. This decision could increase the company's chances of creating new drugs, which could generate great profits for its investors as well.
The Importance of Getting Approval
Merck's efforts to win FDA approval of its drugs underscore its importance. In 2010, only 21 drugs were approved, and back in 2003, consulting firm Bain & Company estimated that the total cost for approval of a new pharmaceutical was around $1.7 billion. Many drugs never recoup their development costs, suggesting the potential of the ones that are successful is enormous.
While Merck has maintained its R&D budget to continue creating new formulas, other companies have tried to save money with other approaches. Rival Gilead (NASDAQ:GILD) attempted to enter the hepatitis C market by spending $11 billion (including a 90% premium) for Pharmasset, which manufactures an existing drug for the disease. While the potential market is expected to swell to $85 billion within 20 years, Gilead's chances of capturing a piece of that growth took a hit when initial trials were unsuccessful.
Merck is also attempting to move other drugs to FDA approval as well. Human papilloma virus vaccine Gardasil is a Merck product that is currently being considered by the Food and Drug Administration. With the high rate of contraction, this vaccination has been approved for school-aged children. The company can capitalize on these developments, which could potentially create another revenue stream.
The Best Medicine for Your Portfolio
There are a number of very good pharmaceutical stocks to own, but if you had to pick one, I would recommend that you take a close look at Merck. While last year's financial numbers were very similar to both GlaxoSmithKline and Pfizer, Merck is showing significant strengths going forward that the others don't have. First, Merck is the only one of the group that had positive revenue figures in 2011. A double-digit stock price gain last year and another expected in 2012 factor into the equation as well. The company has low overhead and numbers suggest that more growth could come during this year.
In addition to the financials, I see Merck as very promising for its business approach. The company is putting capital toward research and development, while winning approval of new drugs. It has serious inroads in a lucrative hepatitis C market, which could have the potential of becoming a multi-billion dollar sector.
A well run company with excellent existing and potential products should be enough to get any investor excited. I like the fact that the company has been showing share price growth to complement its steady dividends. For traders interesting in picking up a pharmaceutical stock, Merck is an excellent choice.
Disclosure: I have no positions in any stocks mentioned, and no plans to initiate any positions within the next 72 hours.