With the bull market turning three today, below we highlight the performance of the Bloomberg IPO index over the last three years compared to the S&P 500. The Bloomberg IPO index tracks the performance of US initial public offerings over their first year of trading.
As shown, the S&P 500 has outperformed the Bloomberg IPO Index by 28 percentage points since the bull market began. The IPO Index was outperforming the S&P 500 through the end of 2010, but the big drop the market saw in mid-2011 really hurt IPOs. During the recent market turnaround over the last four or five months, the two indices have performed roughly inline.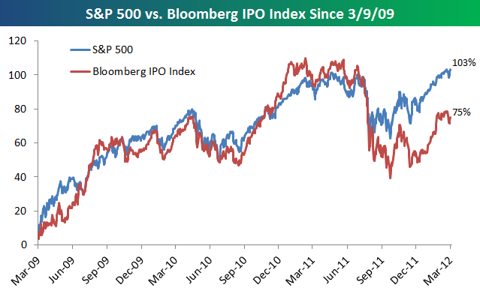 We've heard multiple comments in the media recently about IPOs performing poorly from their opening prices (the first price that regular investors can buy the stock at once it begins trading). However, based on IPOs over the last six months, that simply hasn't been the case. There have been 50 IPOs over the last six months, and below we highlight their performance from both their IPO price and their opening price on the day that they go public. Of the 50 IPOs, 41 (82%) are up from their IPO price and 36 (72%) are up from their opening price. The average change of the 50 stocks from their IPO price to date is 27.46%, while the average change from their opening price to date is 15.92%.
As shown, InvenSense (NYSE:INVN) has performed the best from it opening price at 108.43%, followed by Michael Kors (NYSE:KORS), Clovis Oncology (NASDAQ:CLVS), Mattress Firm (NASDAQ:MFRM) and Imperva (NYSE:IMPV).
Intermolecular (NASDAQ:IMI), Groupon (NASDAQ:GRPN), Digital Domain Media (DDMG) and Angie's List (NASDAQ:ANGI) are down the most from their opening prices.