Although value is much harder to find in the market after this substantial rally, there is still some to be found for investors willing to look. Here is one small-cap equity with substantial cash holdings, low valuations and that is priced significantly under analysts' price targets to consider.
Inteliquent (NASDAQ:IQNT) - "Inteliquent, Inc. provides intelligent networking to solve interconnection and interoperability issues on a global scale. It offers voice, IP Transit, Ethernet, and hosted service solutions to carriers, service providers, and content management firms based in approximately 80 countries and 6 continents." (Business Description from Yahoo Finance)
6 reasons IQNT has significant value at just over $10 a share:
The company has a solid balance sheet with over $2.50 a share in net cash on its books.
The median analysts' price target for the five analysts that cover the stock is $15 a share, about 40% over the current share price.
Revenue is showing good growth. It booked $200mm in sales in FY2010, should come in around $265mm in revenue in FY2011 and analysts project over $285mm in FY2012.
The stock is priced just above its long-term technical support (See Chart - click to enlarge)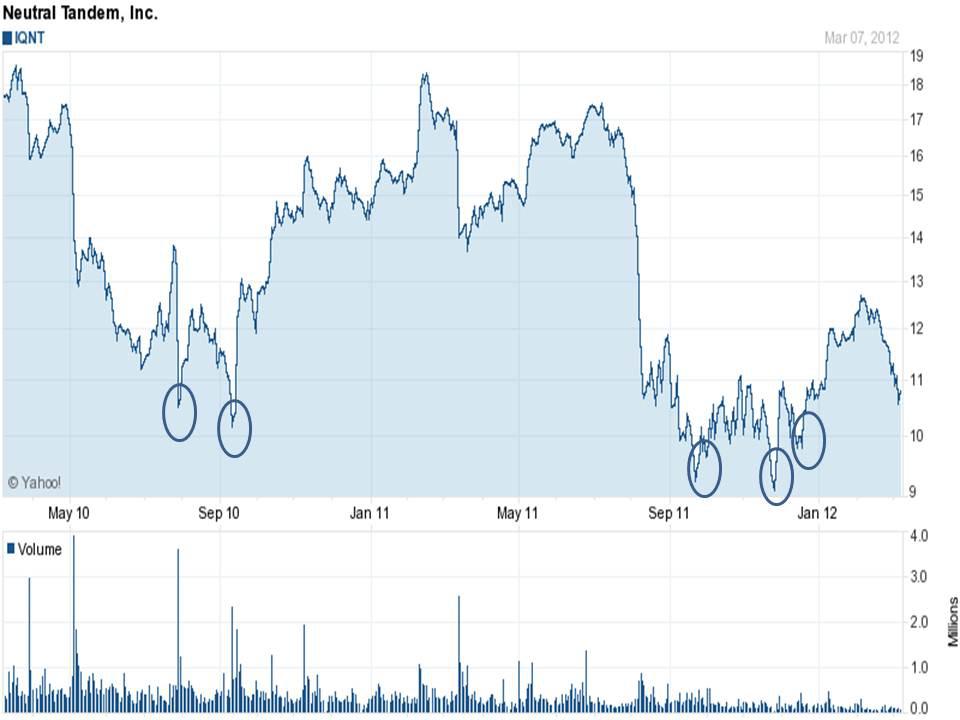 It has a low five-year projected PEG (.94) and under 11 times forward earnings.
The company is selling at under 6 times operating cash flow and just 33% over book value.
Disclosure: I have no positions in any stocks mentioned, but may initiate a long position in IQNT over the next 72 hours.