Of the thirty companies that make up the Dow Jones Industrial Average, Verizon (NYSE:VZ) currently gives you the best bang for your buck as an income stock. At its current price level of about $39 per share, your investment brings in 5.2% per year in yield. This compares to the average dividend yield of only 2.7% for the total Dow components.
Verizon also has great potential for capital appreciation. With the ever increasing trend in smart phone and tablet personal computer usage, capital appreciation could be substantial for Verizon this year. Verizon is in a well established upward trend, and reaching all-time highs is strong evidence in support of this assertion. In this article, I will explain why it should be included in your portfolio.
Click to enlarge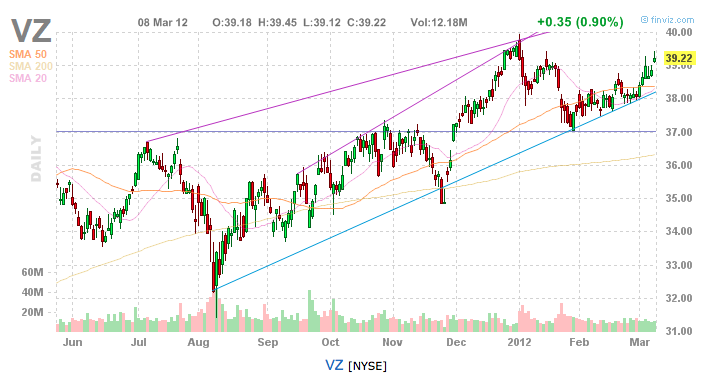 Verizon currently pays out a dividend of $2 per share, which brings in a dividend yield of 5.2% at the stock's present price. It has a payout ratio of 231%. Verizon has a long history of dividend growth. Over the past two years alone, the company has increased dividends by 3%. The company also has a long sustainable dividend history dating back to 1984.
I believe the company's $14 billion in cash on hand will allow it to maintain its dividend policy for the foreseeable future. I think margins will remain stable, giving the company ample cash flows to keep income investors happy.
The company has a five-year expected PEG ratio of 1.30 that makes it relatively cheap compared to its nearest competitor AT&T (NYSE:T) and its five-year expected PEG ratio of 3.52. Verizon also has a higher five-year forecast earnings growth of 6.1% compared to AT&T, with a five-year forecast earnings growth of only 4%. AT&T pays out a dividend of $1.76 per share by comparison, that amounts to a dividend yield of 5.7% at the stock's current price.
Vodafone (NASDAQ:VOD), with a five-year expected PEG ratio of 1.33 is significant in that it has a partnership with Verizon in its growing wireless segment. (Verizon has a 55% stake, while Vodafone Group has a 45% stake.) Vodafone Group also pays out a dividend of $0.95 per share which amounts to a dividend yield of 3.5% at the stock's current price - for comparison's sake. In terms of growth, price per share, and earnings going forward, I think Verizon is a much better buy than its competitors according to these metrics.
Verizon's wireless segment is by far its most profitable segment. Even with only a 55% stake in the division it contributes to over 60% of the company's total revenues. The wireless segment is the largest wireless service in the United States, and I think the upward trend in smartphone use and wireless data transfer has led to this expansion.
The company's latest launch of its 4G LTE network is billed as the fastest mobile broadband network in the world and is ten times faster than its 3G network. The speed of this new network has enabled Verizon to develop the first mobile television service in the United States. In my opinion, Verizon Wireless represents the most significant segment for the company's growth. With the technological advances in smartphones and tablet personal computers, the different types of Apps that can be downloaded to them, and the ever-growing functionality of the devices for both consumers and industry, the possibilities are virtually endless.
This is not to say that Verizon has neglected its wireline segment. In the past two years, the company has invested over $20 billion in its Fiber-to-the-Home (FiOS) network. This has made it the leading provider of fiber optic cable services in the United States, and has left competitor AT&T struggling to keep up.
The expansion of its fiber optic network also allows Verizon Wireline to add streaming video and television services to its network, which will eventually put the company in direct competition with local cable television providers. Most cable providers are reciprocating by offering telephone and internet access. As this competition intensifies, I think Verizon Communications will have a competitive advantage through its experience and expertise in the technology, and its advanced infrastructure in the form of its fiber optic network.
This technological competitive advantage was further advanced in April of 2011 when Verizon purchased Terremark. Terremark is a global leader in cloud, information technology infrastructure, and managed hosting services. In my opinion, the acquisition represents the company's first step in what will, in all probability, give Verizon Communications a global footprint in the telecommunications industry.
Cloud computing is predicted to be the next big cost-saving mechanism for mid- to large-size companies and companies from every nation are looking into the technology. With a well known brand name like Verizon attached to this specific division, the segment itself has an advantage over the growing competition in the technology, in my opinion.
The August 2011 acquisition of CloudSwitch by Verizon fit right in nicely with the company's aforementioned purchase. CloudSwitch was a software start-up company that designs and develops software that makes it easier for business to move their applications into the cloud. The software also protects data as it moves through the network, maintaining the customers' security policies and giving them another option for network security and control. In my opinion, this was a well thought out and executed set of strategic moves on Verizon Communications' part, giving them access to several different markets and global reach - all in two quick acquisitions. I think it also displays the quality of management that is running the company.
Verizon would fit into several different categories in your portfolio from a technology stock, to an income stock, to a growth stock and would shine in any of these categories. I recommend buying shares of Verizon at current price levels.
Disclosure: I have no positions in any stocks mentioned, and no plans to initiate any positions within the next 72 hours.