As a fan of options writing I was excited to see the development of covered call ETF funds. Options are useful tools to create an income stream while at the same time hedging against volatility or downside moves. Of course, selling puts gives you the same effect as a covered call without having to purchase the underlying.
Imagine my surprise when I realized how poorly these funds were performing. The PowerShares S&P 500 BuyWrite Portfolio (NYSEARCA:PBP) has underperformed the S&P 500 index since the fund's inception - which is depressing since a fund of S&P 500 stocks also gets a 1.5 - 2% dividend yield.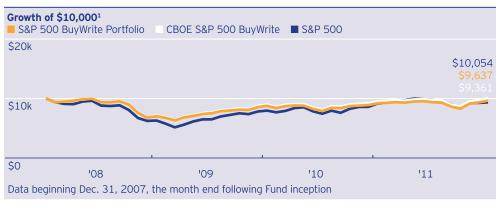 The iPath S&P 500 BuyWrite Index ETN (NYSEARCA:BWV) seems to be in a similar boat with comparative returns to the S&P 500 BuyWrite Index, which has not significantly outperformed the S&P 500 over the past 5 years.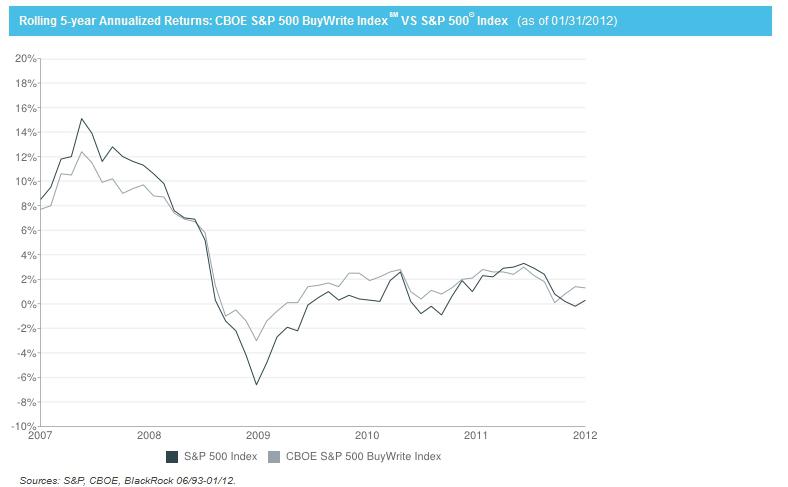 What's wrong here? Are covered calls a poor income-generating tool, with the efficient market canceling our gains, or does some of the fault lie with the fund managers?
Volatility and Options
The seeming benefit to covered call writing should be a steady stream of income that offsets market volatility. The more volatile the market gets, the larger the premium that is paid. So why are these funds performing so poorly? One reason could be related to monthly call writing and the current market activity. What's might be at fault?
On the surface, you would think that monthly option writing would be the big money ticket. Consider the following scenario:
The SPDR S&P 500 fund (NYSEARCA:SPY) trades at $137.86
30 days until expiration (ATM) = $2.41/share premium
With a 21% potential upside, are we protected against a 21% downturn in the market - right? That would be fallacious thinking. The monthly premium is worth 1.7% (ATM) in this instance. What would happen in the market bounced up 5% one month and down 5% the next without really going anywhere? In this instance you would lose 3.3% one month but only gain 1.7% the next. Your losing month would be twice as bad as your month of profit. The problem arises when you trade too narrow a window with too small a premium based on trendless volatility.
Fund managers should consider adding call option writing with 3, 6 and 12 month expiration dates. Blending option writing from monthly up to LEAPS would increase management fees but may provide more rounded out protection when considering volatility risk over a variety of time frames.
Hedging with Leveraged Funds
A second option for hedging against trendless volatility is to short the UltraPro S&P 500 fund (NYSEARCA:UPRO) and the UltraPro Short S&P 500 fund (NYSEARCA:SPXU) simultaneously and with similar dollar amounts. How would this help?
These leveraged funds are reset daily. The compounding effects work for you when experiencing back to back trending days (two or three up or down days in a row), yet this same effect works against you when markets trade up and down with trendless volatility.
If you have $100 and you gain 3% you have $103.
If you now lose 3% you are down to $99.91 which is less than what you started with.
If you triple leverage this amount you will rise up to $109 but down to $99.19 the next day.
By day 10 you are down $4 whereas the non-leveraged account is only down 45 cents.
If you short both the triple leveraged long and short S&P 500 funds you can potentially profit from both funds even if the S&P 500 trends. One fund should hedge the other fairly well when a big move occurs, yet they both lose value when whipsaw action occurs. Notice how the net gains of the two funds (add the percent gains and losses together) continues to track lower and lower over time. After one year you have 40% profit.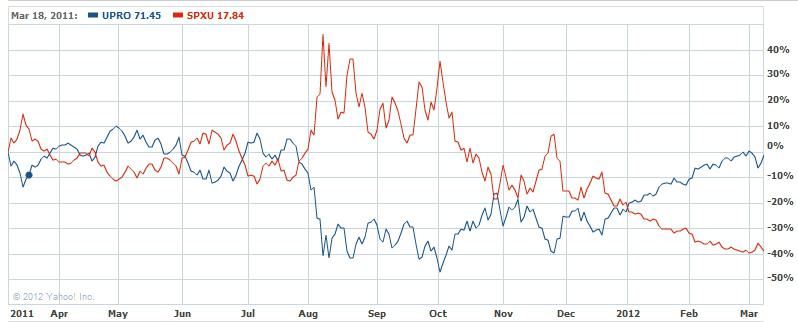 This would be a good complementary strategy for the covered call writing fund, as it profits from trendless volatility. If the covered call ETFs added in a variety of expiration periods for option writing, this too could enhance risk-reduction for volatility of any one time frame.
Disclosure: I have no positions in any stocks mentioned, and no plans to initiate any positions within the next 72 hours.