Timmins Gold (OTC:TMGOF) is another company I've got on my watchlist that I think has potential to be a great stock to accumulate if a sufficiently large sell-off arrives. Here's a quick rundown of TGD and my take on it:
A Small Market Cap Producer. Timmins has crossed the threshold from explorer to producer -- in fact, one with positive earnings and cash flow. So, I view much of the early stage risk as being already removed here. Timmins currently has an EPS of $0.11, a P/E ratio of 22.89, a price-to-book ratio of over 4, and a market capitalization of $367 million. I'd prefer to see P/E and P/B fall a bit, and I do suspect that when sell-offs come, there is a chance that the price ratios will be even more favorable and more in line with what some other promising gold mining stocks are currently offering. A stock I like to compare Timmins with is AuRico Gold (NYSE:AUQ); AuRico is much larger -- it has a market cap of over 2.6 billion, over 7X the market cap of Timmins -- but it has a P/E of below 13 and a price/book of just above 2.4. If Timmins can fall closer to these numbers, I'll almost certainly be buying.
To other companies with sub-$500 million market caps that I like to compare Timmins with are Vista Gold (NYSEMKT:VGZ) and DRD Gold (NYSE:DRD). Like Timmins, Vista is a precious metals mining company focused on operations in Mexico, with a market capitalization of under $500 million, positive earnings, and lists Sprott Asset Management as a shareholder. Vista has a P/E of just over 5 -- clearly much more appealing. A similar story can be found with DRD, which boasts positive earnings and a dividend yield of 1.23%, has a market cap of under $300 million, a P/E ratio of about 7, and is currently trading at below book value. I believe Timmins is probably underpriced at its current levels in light of where I think gold stocks are headed, but compared with some others, it's not as good of a deal at its current price.
2. Lots of Growth Potential. The chart below, from the company's latest presentation, illustrates the growth in the company's NI 43-101 reserves and resources. The reserve number is the one I like to focus on, and we see that there is over 1.3 million ounces in reserves, as well as a trend that illustrates growth. Management has stated that there are additional discovery opportunities near its San Francisco mine in Mexico; the growing reserves suggests that thus far this has been true. I consider it reasonably likely that reserves will continue to grow and that management can deliver -- especially since the company reported record production of over 21,000 ounces in Q4 2011 at a cost per ounce of under $600.
(Click charts to enlarge)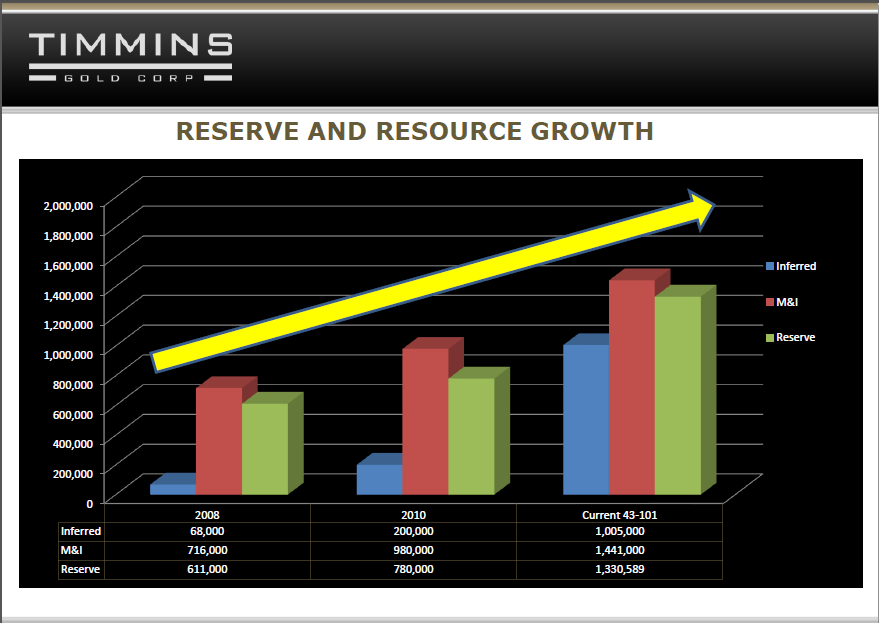 Click to enlarge
Prominent Shareholders. Timmins has a solid list of notable shareholders, including Sprott Asset Management, Van Eck, and Oppenheimer Funds. So, there is the assurance that Timmins is a part of a more robust value network -- which in turn will facilitate M&A opportunities.
Paper and Price. Timmins is 93% diluted; there are still options with a strike price of $1.60 that are set to come into the market. $1.60 is a price I would love to see Timmins fall to.
The chart below illustrates my current technical analysis of Timmins. The hammer candlestick off the 200 EMA suggests buyers may be defending the $2.50 level, although I'll still wait for the chance that price falls to $1.70 at least.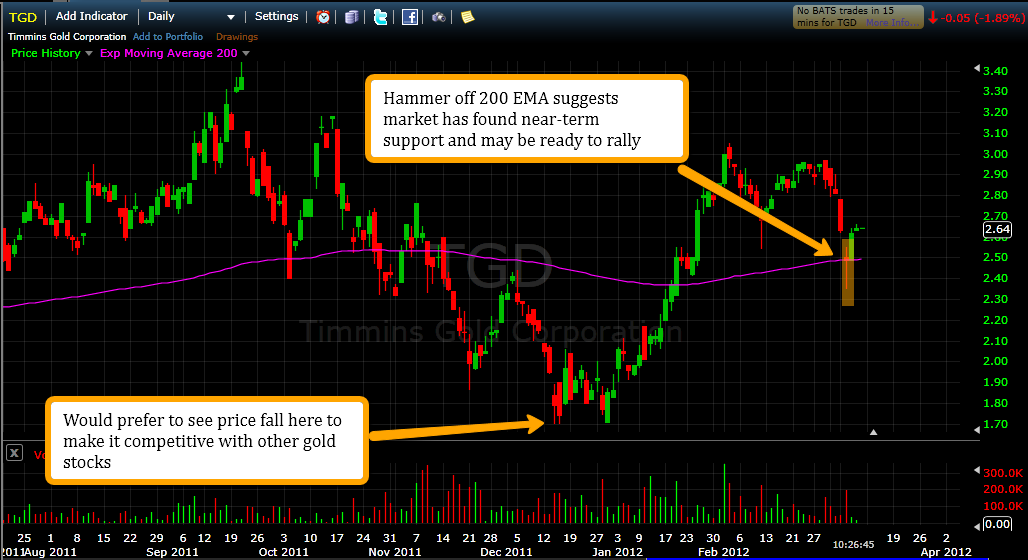 Click to enlarge
In any event, Timmins is one to keep an eye on, in my opinion. While I'm not particularly interested in buying at current prices, a sharp sell-off or some particularly astute acquisitions could suddenly make this something I'll buy.