As an independent trader with less than $25,000 in my broker account, I found many ideas that are normally inapplicable for me. So, I decided to research and write to share possible option trades with little money, relative low-risk and interesting returns after commissions. This is my first attempt and I hope you take advantage of this.
In this article I will use options spreads to manage risk and affect the lower account margin as I can. Note that naked positions could seriously hurt your position and use a huge margin from your account.
I would like to introduce Petroleo Brasileiro S.A. (NYSE:PBR)
Petrobras, together with its subsidiaries, engages in the exploration, exploitation, and production of oil and gas, and energy in Brazil and internationally. The company operates in four segments: Exploration and Production, Supply, Gas and Energy, and Distribution.
(Click charts to expand)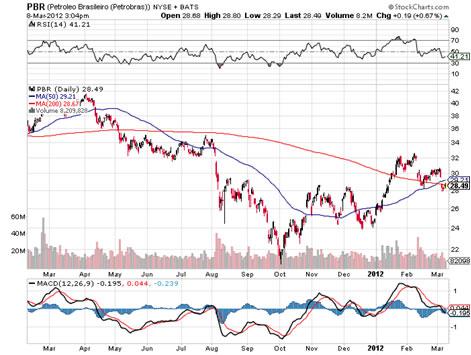 With more than 80,000 employees, a market cap of $184B and $142B in sales PBR is undoubtedly an energy monster.
Current P/E ratio is 8.04 and Fwd P/E is 8.96. Profit margin for PBR is 16%.
Distance from 52-week low is +36.90% and -31.63% from its 52-week high.
Analysts' target price range for PBR is 33-40.
Petrobras has also new CEO and I think she would not disappoint investors in this challenge.
My suggested conservative play here could be like this…
Sell Oct-12 29 Put for 3.58
Buy Oct-12 25 Put for 1.80
You will get a credit of 1.78 per contract.
Supposing that you trade three contracts and assuming a $14.95 commission you will get a net income of $519.05 (your max gain) and you will assume a possible loss of $680.95. Your affected margin will be 1200 so the possible return is 43.25% after 226 days (70.17% annualized).
The following chart shows you possible results according to different stock prices at expiration date.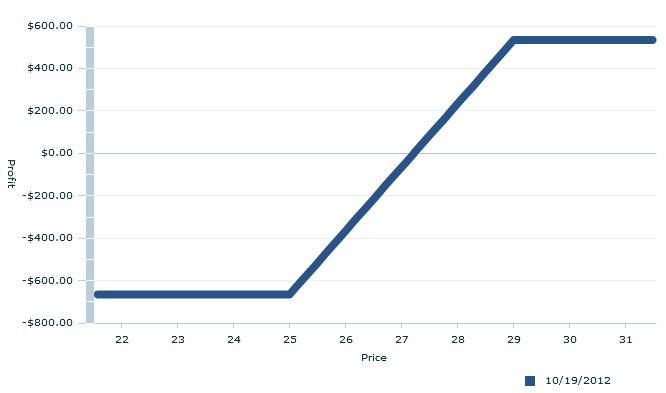 This chart is valid at expiration date. Note that you can cash your gain or stop your loss before expiration date assuming the opposite position anytime.
Disclosure: I have no positions in any stocks mentioned, but may initiate a long position in PBR over the next 72 hours.