In doing some research on Australian resource companies within the iron ore sector, I came across this excellent instablog post by 'LKofEnglish':
"Fortescue metals group. Look it up. Warren Buffet has said "no new rails lines are being built" and yet here is a company that spent $4.4 billion to do just that in Australia in the late 90's and now is reaping the harvest of one of the great business plays of the 20th century. They bought Australian iron ore deposits for basically nothing because Rio-Tinto and BHP had the only rail line running to the ore supply, prices seemed permanently depressed and nobody thought it possible. That changed when Fortescue raised the capital and built the rail line and now has an active port with actual ore getting loaded and being sold all over the world."
I couldn't agree more. Interestingly, the instablog post was titled 'Fortescue, the speculative buy of a lifetime'. I have to agree that's the exact same thought I had going through my mind the first time I invested money in the company. And then came along a really inconvenient thing called the global financial crisis and an economic slow down. I took a -1% return on the stock (forced stop loss), but haven't been invested since I removed all positions in direct stocks in August 2011, with the exception of BHP Billiton (NYSE:BHP). I now think it may be time to revisit that position, and gradually get back on the iron ore train.
Fortescue Metals Group trades as FMG on the Australian Stock Exchange, but for US investors you can track it on SA using the ticker (OTCQX:FSUMF). The company was founded by Andrew 'Twiggy' Forrest, and the history of the company is worthwhile reading. Of note is that the company was only formed in 2003; its ability to develop so quickly is testament to its workforce and management, especially the leadership from its founder (and current Chairman).
The outlook for the company is summarized on their web page:
"Located in the iron ore rich Pilbara region of Western Australia with close proximity to Asia and India, Fortescue is the world's fourth largest iron ore producer and is still growing. Fortescue has an enviable record of rapidly bringing new projects online and is continuing to unlock the significant potential of the Pilbara's vast resources. Over the next two years, Fortescue will triple in size, increasing iron ore exports by 180 per cent."
There is also a seven minute video titled 'Forging Ahead' which gives a good overview of the company; as they say a picture speaks a thousand words. It also demonstrates the company's capacity and track record to get projects done in a compressed time frame. It's rail project is paying dividends, allowing up to seven trains (each 1.8 miles long) to deliver to the Port Hedland export terminal every day.
Fortescue is undergoing a transformative expansion from a 55 million tonne per annum operation to a 155 million tonne per annum powerhouse by June 2013.
The 155mtpa project funding is secure with US$1.5 billion (bn) of Senior Unsecured Notes raised in October 2011.
The 155mtpa expansion involves additional infrastructure at Herb Elliott Port, 120 kilometres of mainline rail duplication, a new 130 kilometre rail spur from Solomon to the mainline, a 60mtpa mine at Solomon and Chichester Hub development to take its combined production capacity to 90 million tonnes per annum (plus 5mtpa from a 50/50 BC Iron Joint Venture).
The Solomon Project is 120 kilometres to the west of the Chichester Hub, more than 3 billion tonnes have been discovered here and early ore is expected later this year, with full production on target for July 2013.
Solomon is the largest iron ore start-up in Australia, showcasing innovation to execute in record time and at a lower capital cost/tonne ration than any of our competitors
Solomon is set to be a production powerhouse within the T155 expansion project with a target of 60 million tonnes per annum.
Our most recent major discoveries include Nyidinghu and the Western Hub.
Nyidinghu is less than 35 kilometres from the flagship Chichester Hub.
Two billion tonnes of high grade Brockman resource has been discovered at Nyidinghu
We are evaluating early production of the significant Nyidinghu discovery, and expect a full scale project to be our next development step.
A maiden resource of 625 million tonnes has been declared at the Western Hub. This figure is expected to grow and both Nyidinghu and Western Hub will rival the Chichester Hub in production capacity.
Fortescue is investigating a 'two port, three hub' strategy that would take production to 355 million tonnes per annum which could potentially include a new Pilbara port.
Performance Snapshot
The company recently reported a first half profit increase of 155% to $801 million, which also represents a 30% increase on its iron ore exports.
6 Month Trading Pattern on the Australian Stock Exchange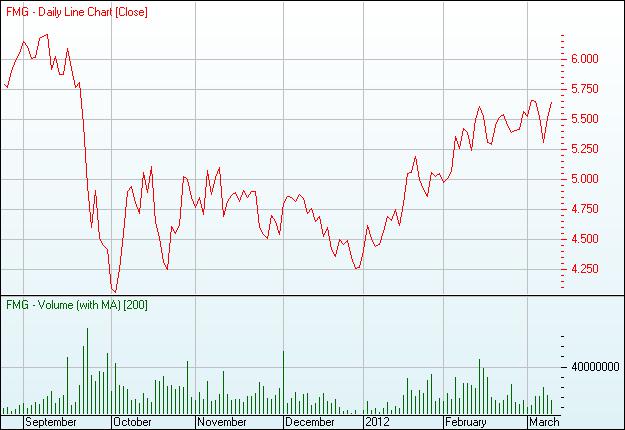 3 Month Trading Pattern for FSUMF: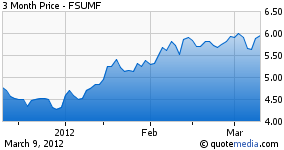 The Upside
The company recently started paying a dividend, which while small, is a potential long term growth prospect for dividend growth investors (NYSE:DGI). The company has previously focused much of its attention in reinvesting profit to fund expansion, allowing it to achieve so much in such a short space of time. Its goal of increasing its capacity to 350 million tonnes per annum outstrips BHP's stated goal in 2011 to increase its capacity to 220 million tonnes per annum. RIO Tinto's (NYSE:RIO) capacity is likewise around 220 million tonnes.
The company has demonstrated previously that it has capital growth prospects in share price, and that once the current pressures associated with some slowdown in Asia, it is well geared for supplying Asia for the coming decades of required supply. The stock's all time trading high was AUD$13.15 on 30 June 2008 for FMG, and ~USD$50.00 for FSMUF.PK. It's current price is AUD$5.64 on for FMG, and ~USD$5.93 for FSMUF.PK as at 09 March, 2012. The stocks 52week range is:
FMG = AUD$6.84 / $3.89
FSUMF.PK = USD$7.00 / $4.00
It has expansion plans in place to continue to grow the company, and its operations map showing these is displayed below.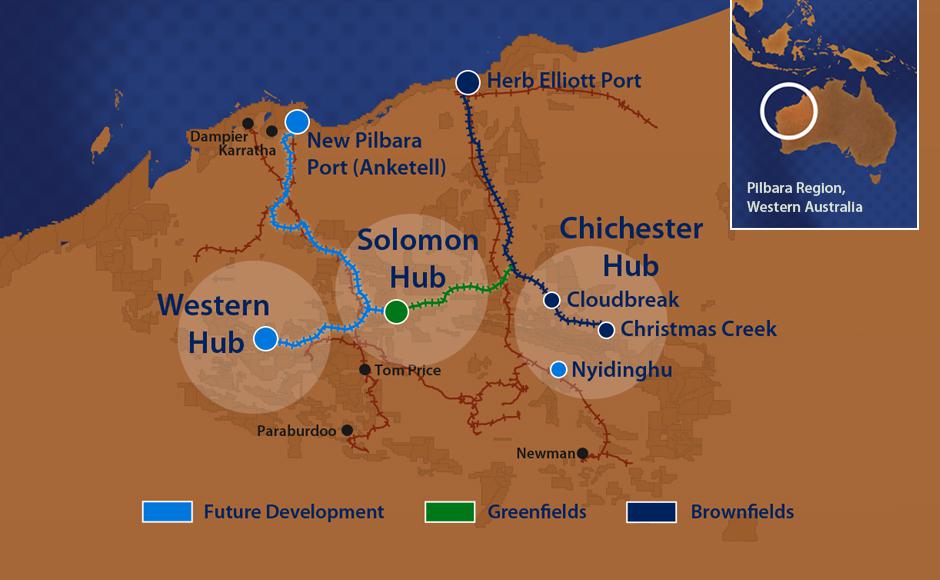 The Downside
The biggest downside to Fortescue is that it currently is a pure play, iron ore resource bet, as opposed to the bigger diversified miners like BHP Billiton and RIO Tinto. Vale (NYSE:VALE), BHP and RIO account for 61% of the global iron ore export market
While the company is ensuring its supply of ore deposits, it is also sinking a lot of money into exploration, and the outcomes of that will also drive the company's future. I also think that the company in time will want to use profit to fund acquisitions that will help diversify it away from being an iron ore resources pure play. Some analysts also suggest the company's 350 million tonne per annum capacity goal is ambitious, and subject to project slippage.
Summary
Make no mistake, this is no small speculative miner. It may have been called that in the past, but it is well past that stage now. I think the original opening quote could be changed to 'Is Fortescue the discounted buy of a lifetime', or perhaps just simply a statement... 'Fortescue - David of the Mining Goliaths'. The next 12 months will be telling in terms of the immediate market for Asia, but as economies strengthen, this is one resources company that is going to have significant upside potential, for decades. I believe this represents an opportunity for more aggressive investors to take a long position in the stock (3-5 years). It could very well be time to get on board before the train leaves the station.
Disclosure: I am long BHP.
Additional disclosure: I may initiate a position in FMG (on Australian Stock Exchange) within the next 72 hours.This advice is general advice only. You should seek independent financial advice prior to making any investments of your own.