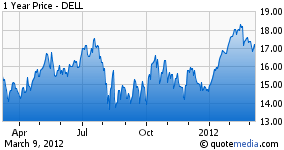 Most technology companies have made their founders and early investors very wealthy. However, this is not always the case for all tech stocks because, historically, some IPOs in the technology sector have also diminished the wealth of many shareholders.
Dell (NASDAQ:DELL) resembles the former description as it has remained a leading technology company and created wealth for countless investors around the globe. Nonetheless, the stock has been on a bearish trend since 2005, after temporarily recovering from the dot-com bubble in 2000. But Dell has recently been eyeing new markets, such application recovery software, and, based on my analysis below, its stock appears undervalued. Is it an indication of the perfect time to step in and buy shares? Let's find out now.
Dell is a leading technology corporation offering mobility products, desktop personal computers (PCS), software and peripherals, servers and networking products, storage and services. However, this may soon change because Dell has recently talked about focusing more on services, software, hardware and servers as its personal computer unit keeps slumping. Management is seeking to reposition the company à la IBM (NYSE:IBM) to adjust to a changing environment in the highly competitive computer industry. Furthermore, Dell's strategy intends to focus on more lucrative segments such as smaller businesses. It has a market cap of $31.20 billion and is currently trading near its 52-week high of $18.36.
The first thing I noticed when I looked at the balance sheet for the latest annual data is the $13.85 billion in cash and cash equivalents and the $6.39 billion in long term debt the company has, a good indication the company is not using debt to run day-to-day operations. Furthermore, the company's working capital is $7.45 billion, giving it a working capital per share of $4.14. Working capital per dollar of sales is 12%.
Dell's quick ratio is 1.12, thus under the strictest test of financial strength, Dell has $1.12 in quick assets for every $1 in current liabilities. In my opinion, you can be sure the company is not in any danger of going broke any time soon.
Dell's inventory turnover is 34.4, which means it clears its inventory about every 11 days. The company's receivable turn is 6.33 per year, or once every 57 days. Although Dell is clearing its inventory every 11 days, as mentioned earlier, it is only getting paid every 57 days. This big gap means cash stuck in receivables could be put to better use if management was more efficient at collecting receivables at a faster rate. In addition, these ratios also reveal that because inventory turns aren't converted into cash immediately, the company may need more working capital to operate. The working capital per dollar of sales of 12% calculated earlier appears slightly lower than the average since Dell has $0.12 in working capital for every $1 in sales. The industry average for computers/peripherals is about $0.15 in working capital for every $1 in sales.
Over the last four years revenue has increased at a CAGR of 0.39% while income increased at a CAGR of 8.95%. More recently, during the last 12 months, sales and income increased 0.90% and 32.50%, respectively. Cash flow has been strengthening, increasing at a CAGR of 15.57% over the last four years.
Dell has a price to earnings ratio (NYSE:TTM) of 9.22; IBM is at 15.09. Price to sales for Dell and IBM is 0.50 and 2.15, respectively. The industry average is 3.81. I think the stock is undervalued because of its low price to sales and price-to-earnings ratio. In addition, the stock is currently trading about four times its working capital per share of $4.14.
IBM is currently trading 26 times its working capital per share of $7.47 while Hewlett Packard (NYSE:HPQ) is trading 84 times its working capital per share of $0.29. From these three companies, Dell is the only one selling close to its working capital per share, which means that if you could buy Dell at $4.14 you would get all of the company's computers, real estate, long term investments, good will and earnings each for free forever because you are only paying for the working capital of the stock. Stocks are more likely to sell close to working capital during economic recessions, but that is not always the case. Thus right now I believe is a good time Dell.
Recently, some analysts downgraded the stock citing concerns of Dell's exposure to "government sector technology purchases." Moreover, management also announced it expected revenue to decline approximately 7% sequentially in the first quarter of 2013. These announcements caused the stock to drop from $18.21 to $17. On a good note, Dell recently announced the acquisition of AppAssure, an indication management is already taking the necessary steps to break into new markets and increase its customer base.
From a technical perspective, over the last year the stock almost traded sideways. However, it was not until recently that the stock reached a 52-week high of $18.36. The stock seems to be struggling to break the resistance level around the $19 mark. As soon as it overcomes this hurdle, in my opinion, the stock may jump around the $25 level.
As I mentioned earlier, Dell is already taking the necessary actions to remain competitive in a changing environment to meet the demands from clients and adapt to new technological trends. For example, a higher global demand for tablets means Dell must adapt to this demand and restructure its business operations to remain competitive. However, these trends not only affect Dell but also Hewlett Packard, IBM, Sony and other major players within the technology sector. The most innovative company that is able to adapt quickly and execute with a stellar implementation will win the battle.
In fact, Dell's management is already focused on trimming business units that are not generating profits in order to increase margins and value for shareholders, thus I believe the stock will begin to appreciate with the help of other factors, including higher revenue and the adaptation of new business models through acquisitions. In my opinion, as stated earlier, the stock looks undervalued thus investor demand should increase, therefore driving the stock price higher. Furthermore, the stock is in a good financial position with a low debt to equity ratio, and a bright outlook looking forward as it repositions its products and services to gain market share and more consumers. I recommend buying shares of Dell now, but you need patience to start seeing your Dell investment appreciate in value.
Disclosure: I have no positions in any stocks mentioned, and no plans to initiate any positions within the next 72 hours.