The Economic Cycle Research Institute (ECRI) - a New York-based independent forecasting group - released its latest readings for its proprietary Weekly Leading Index (WLI) today.
For the week ending March 2, 2012:
WLI is 124.3, up 0.2 from the prior week's revised reading of 124.1.
The lowest reading for WLI on record was 105.3 for the week ending March 6, 2009.
WLI growth rose to a negative 2.6%, up from last week's reading of negative 3.0%
The lowest reading for WLI growth on record was -29.9% on December 5, 2008. It turned higher months before the stock market [S&P 500 (NYSEARCA:SPY)] bottomed on March 6, 2009, at 666.79.
WLI made a 29 week high. It has not been this high since August 12, 2011, when it was 124.7.
WLI growth made a 28-week high. It has not been this high since August 19, 2011, when it was a negative 1.0.
Two weeks ago in the article "ECRI Remains Bearish on US Economy - Recession Still Expected," ECRI reiterated their call for a recession. ECRI's Co-Founder & Chief Operations Officer, Lakshman Achuthan, said recession should begin by mid year 2012. He says revisions in the data might say a recession has already started, just like the last recession. If the recession is starting now, then the consensus should figure it out in about six months (August.)
Chart of WLI and WLI growth vs. GDP Growth (click charts to enlarge):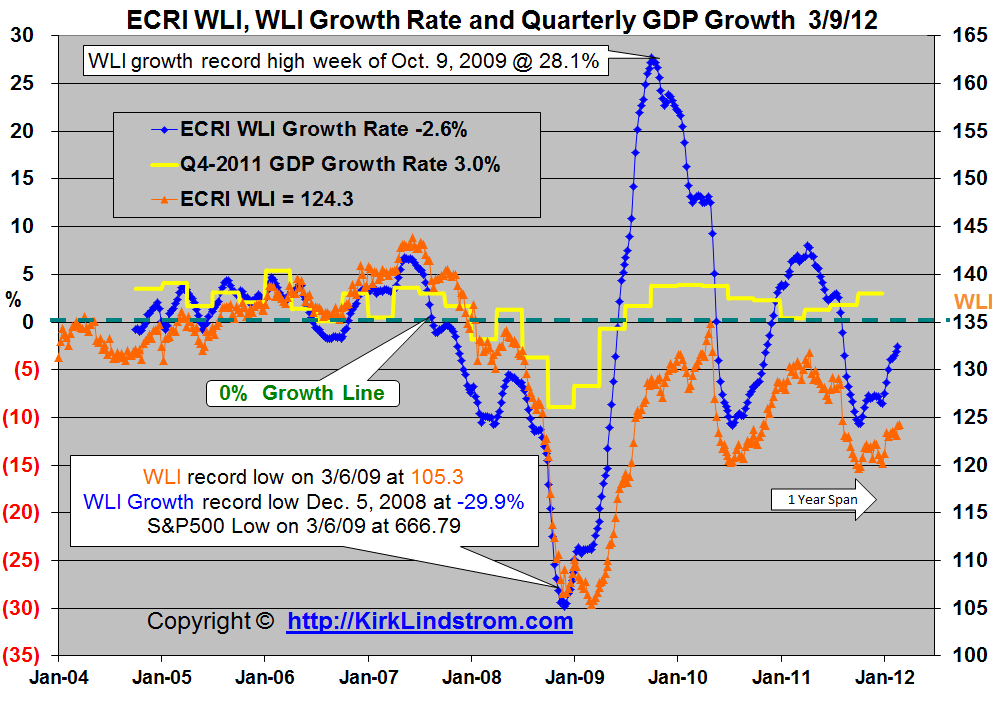 Click to enlarge
Since ECRI releases WLI numbers for the prior week, and the stock market is known in real time, you can sometimes get a clue for next week's WLI from the weekly change in the S&P 500 or its exchange traded fund, SPY. Notably, in the lead-up to the last two recessions, the WLI turned down months before the stock market did.
Chart of S&P500 vs. ECRI's WLI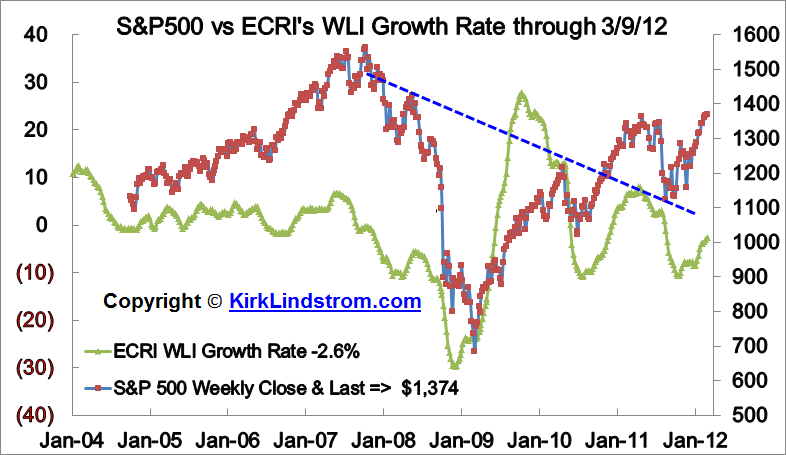 Click to enlarge
Note that the chart above of the S&P 500 vs. WLI shows a breakout above the dashed blue line that represents the neckline for a "Head and Shoulders Bottom" pattern. This is a very bullish pattern. A pullback to this neckline during a global slowdown projected by ECRI would not invalidate the bullishness of this pattern but it appears we already had a test of this support line from above last year and the market has moved on.
How High would the WLI have to go for ECRI to Say They Were Wrong?
On September 30, 2011 in "ECRI's Weekly Leading Index Falls: Jobs To Get Worse Under Recession-Bound U.S. Economy," the ECRI said "the jobless rate, already above 9%, will go much higher." Since then, jobs have only gotten better.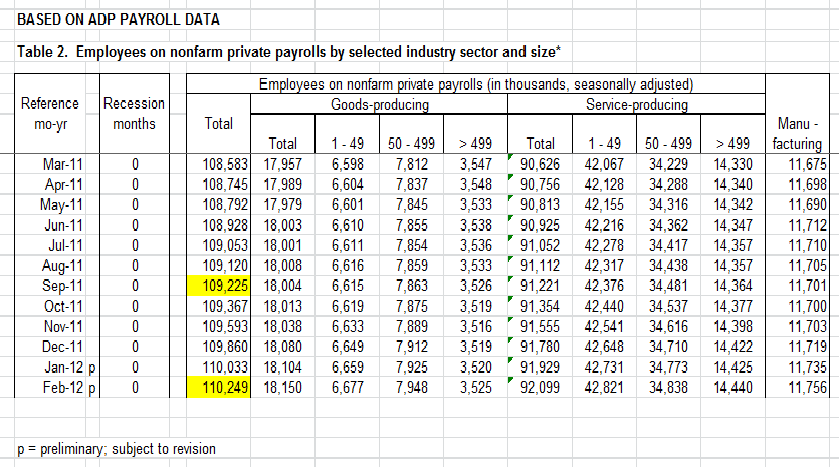 Click to enlarge
ECRI expects a recession while the stock market, official Fed documents projecting GDP growth and most TV pundits think otherwise. I should point out that the stock market rallied to 1400 in 2008 before "The Great Recession" which came after ECRI's March 28, 2008 recession call in an article called "ECRI Calls it 'A Recession of Choice'."
The DOW (NYSEARCA:DIA) has been roughly flat for the past four weeks while the S&P500 (SPY) and NASDAQ (NASDAQ:QQQ) are up, and the Russell 2000 (NYSEARCA:IWM) is down slightly.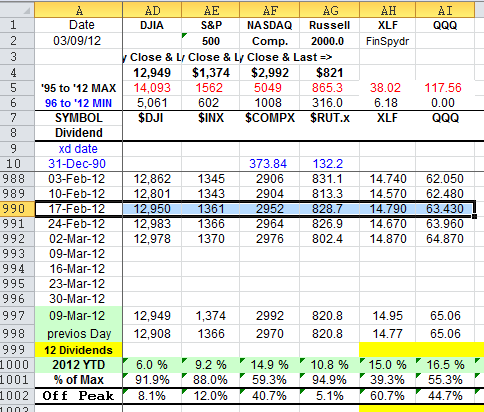 Is there enough improvement in the economy with the latest jobs data and slightly higher S&P500 to push WLI higher again next week?
I used the market weakness this past week to buy back some shares of a small cap stock I took profits in just a month earlier. I think the economy is treading water with government spending and artificially low interest rates keeping it alive, so I'll continue to trade the volatility.
Notes:
Occasionally the WLI level and growth rate can move in different directions, because the latter is derived from a four-week moving average.
ECRI uses the WLI level and WLI growth rate to HELP predict turns in the business cycle and growth rate cycle respectively. Those target cycles are not the same as GDP level or growth, but rather a set of coincident indicators (including production, employment income and sales) that make up the coincident index. Based on two additional decades of data not available to the general public, there are a couple of occasions (in 1951 and 1966) when WLI growth fell well below negative ten, but no recessions resulted (although there were clear growth slowdowns).
For a better understanding of ECRI's indicators, read its book, Beating the Business Cycle.
SPY is the exchange traded fund for the S&P 500 Index.
Disclosure: I am long SPY. I recently took profits to keep my asset allocation on target. I may also add to my SPY position if the market corrects significantly from here. If it goes significantly higher, I will take profits again to maintain my target allocation to equities, as discussed in my newsletter.