Freeport-McMoRan Copper & Gold Inc (FCX) mines, smelts and refines copper, gold and molybdenum. One of the challenges it faces soon is with its operations in Indonesia. The government made an announcement that within 10 years of production, domestic ownership in the stock must be at 51%. This is intended by the government to take more profit out of the mines in the country owned by foreign companies.
It just so happens that Indonesia is conveniently in the process of renegotiating existing royalty contracts with major foreign investors -- Freeport is one of them. Deputy Foreign Minister Widjajono Partowidagdo came out publically and says it is not specifically aimed at FCX.
This is not the only complications that Freeport is facing in the country. The Grasberg mine in Indonesia recently had violent clashes between union and non-union workers to the level that the mine had to be closed down for awhile. The animosity exists between unionized workers (8,000) and the non-union (14,000) since a strike at the end of 2011 that was supposedly settled. J.P. Morgan lowered the company's price expectations, believing the Indonesian mine was behind expectation, and would continue because of the ongoing difficulties between the two groups.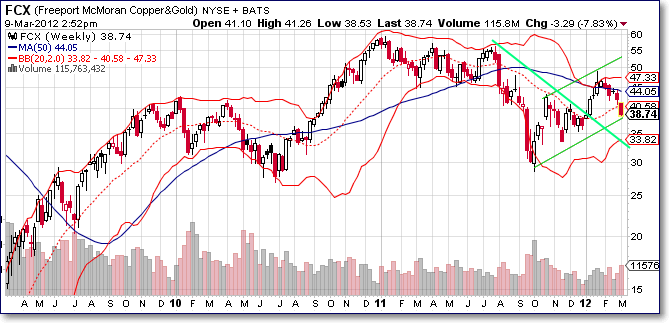 Copper Demand & Pricing
China consumes about 40% of the copper in the world. It is expected to grow by another 6% in 2012 due to the high demand from development in the power sector. Import of the metal has seen record months recently and prices are to remain strong but lag in the short term because of possible over kill on inventory levels now. China is one of the main reasons the metal has grown 11% since the beginning of the year.
Copper prices have been strongly correlated with economic growth for a long time. The idea is not hard to understand. It is intertwined with almost every part of society and technology. It makes sense that as China's economy goes; so will the demand for the metal and have a strong affect upon prices. In turn, this will have an effect upon FCX.
Presently the stock is in the middle of a bullish peak and valley formation that started last October. The move continues to look strong, and not ready to end. The stock is expected to move up to the $54 level, which is significant from where it presently sits. We are bullish on the stock, but not sure it will continue this strong through the year. With the struggles going on in Indonesia, they have been downgraded twice, to hold, just recently.
We like the stock for a long-term investment but advise more research for the investor before putting money into it right now. If you own it now, keep it. If you don't own it yet, research and see if this stock makes sense to invest in right now, or if you should put it on a watch list.