In April 2011 we see a peak in Netflix's (NASDAQ:NFLX) free cash flow, followed by a decline in price to earnings in July.
(Image from ycharts,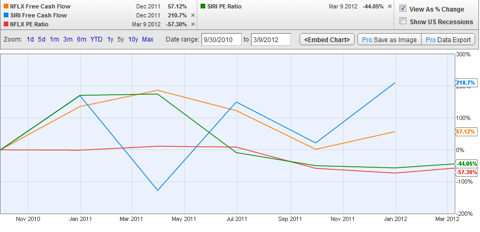 Free cash flow is a major component of the popular bull case for Sirius XM (NASDAQ:SIRI). According to CramerGee-MelOn University, free cash flow is what you want to look at to see how a company will grow. In reality, free cash flow is something that one considers in asking whether a company can grow. As such, history is littered with the carcassed portfolios of investors who confused the ability to finance growth with the ability to make growth happen. For example, if you bought Netflix's free cash flow in April 2011, you probably lost money when the stock tanked.
And what better comparison than Netflix? Like Netflix, Sirius XM is a "streaming media" company that was a first adopter and now faces a wide array of competition. Like Netflix, Sirius XM has had its ups and downs and is an entertaining battleground stock. Like Netflix, Sirius XM's free cash flow does not imply a future increase in P/E.
In early July 2011, Cramer told everyone how cheap Netflix was. Now, he's telling you how cheap Sirius XM is. As far as free cash flow is concerned, Cramer's irrational bullishness is a short idea.
Another fallacy brought up alongside free cash flow is "business model." Sirius XM's Mel Karmazin touts the virtue of Sirius XM's high-end service, claiming it's somehow immune to the low-end price disruption coming from Pandora (NYSE:P), Spotify and Google (NASDAQ:GOOG). Guess what? Your competitors' business model is part of your business model. I'm not saying Tesla (NASDAQ:TSLA) has to worry about Teasla - it's more along the lines of, Chipotle (CMH) has to worry about Taco Bell. With squeezed margins from low-end competition, Sirius XM's profit growth expectation isn't sustainable in the long term, especially considering future technologies.
When it comes to sustainability, companies like Netflix can't afford to neglect their business models. And there is no clearer act of ignoring one's own business model than writing off the business model of one's competitors, which is what Mel has done.
I understand the history of free cash flow, in that Sirius XM was once a company facing liquidity questions. Liquidity was assured, the improvement was priced in to the stock, and Sirius XM now faces growth sustainability questions. So the focus on free cash flow is a fallacy.
Disclosure: I have no positions in any stocks mentioned, and no plans to initiate any positions within the next 72 hours.