Stocks were able to climb out of their hole to finish out the week in positive territory, despite abysmal markets mid-way through the week. The S&P 500 was able to tack on 0.4% on the day while the Dow was able to make mild gains to erase its near 200 point nosedive on Tuesday. Today's gains were spurned by strong jobs data, as this is the third consecutive month that has seen significant jobs growth.
Though gold looked like it was in for another nasty trading day, the precious metal was able to pull out of its tailspin and finish the day up $15/oz. Gold was one of the worst-hit assets on the week, allowing bargain hunters to take advantage of its low prices, subsequently giving momentum to the commodity. Crude oil also had a busy week, dropping as low as $104.5/barrel but still finishing out the week on a strong note, posting a small gain on the aggregate five day period.
One of the biggest ETF winners on the day was the Russell 2000 Growth (NYSEARCA:IWO) which tacked on just under 1.4% for the session. This fund dedicates its assets to the small-cap growth sector of the U.S. equity market with over 1,000 holdings in its well-diversified portfolio. The fund is nearing $4 billion in total assets and was able to make strong gains today based on its structure. While large-cap funds made small strides on the day, small caps demonstrated their value by outdoing their larger counterparts, a typical characteristic of funds that focus on smaller companies (note that the aforementioned pattern works both ways).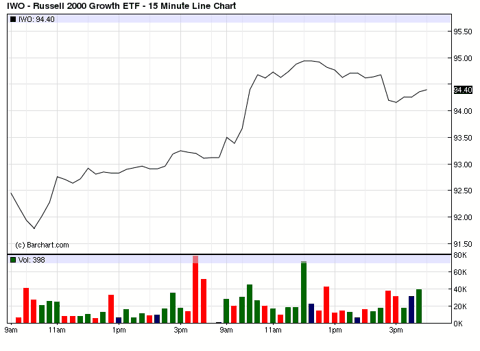 One of the biggest ETF losers on the day was the S&P 500 VIX Short-Term Futures ETN (NYSEARCA:VXX), which has been struggling as of late. Despite losing nearly 2% on the day, VXX was able to maintain its prominence as a speculative tool with over 36 million shares traded on Friday alone. As a volatility product, VXX is designed to fail during strong markets, as volatility typically has an inverse relationship with major equity benchmarks. This ETF, despite making an historic run toward the end of last year, has posted losses of 35% on the year alone, as equities have found their footing amid a strong economic recovery.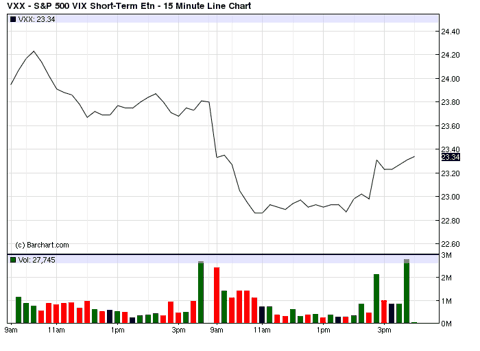 Disclosure: No positions at time of writing.
Disclaimer: ETF Database is not an investment advisor, and any content published by ETF Database does not constitute individual investment advice. The opinions offered herein are not personalized recommendations to buy, sell or hold securities. From time to time, issuers of exchange-traded products mentioned herein may place paid advertisements with ETF Database. All content on ETF Database is produced independently of any advertising relationships.