In my earlier article, I discussed the strategic imperative for Netflix (NASDAQ:NFLX) to partner or merge with a content provider in order to manage its sharply rising content costs. The encouraging news is the CEO Reed Hastings is actively courting content partnerships. The not-so-encouraging news is that Netflix appears to be wasting its valuable time courting cable operator Comcast. News outlets are now reporting that Comcast (NASDAQ:CMCSA) is not interested in partnering with Netflix. In other news, the U.S. is not interested in merging its military with Russia. This news cannot a shock to anyone besides Netflix.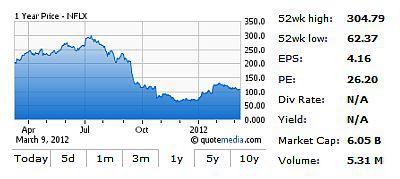 Partner with anyone besides Comcast
Comcast benefits little from a Netflix partnership, and that is why it is easy to walk away from a Netflix overture. In the online streaming market, Comcast is Wal-Mart (NYSE:WMT) and Netflix is a local mom-and-pop shop. As we all know, Wal-Mart's scale allows it to provide products at the lowest price. Similarly, Comcast is able to offer a $4.99/month streaming option at almost half the cost of Netflix's $7.99/month online membership. Comcast has a more comprehensive media offer through cable and on-demand.
If anything, Comcast views Netflix as a cannibalizing threat. Netflix wants to gain access to Comcast's NBC content at the lowest price, and it wants to disintermediate its higher-margin on-demand product. From Comcast's perspective, it makes little sense to aid its struggling competitor, Netflix.
Partner with Starz or HBO
Recent comments from Reed Hastings are a real head-scratcher. At a Morgan Stanley technology conference, Hastings stated that Netflix seeks to become a premium cable channel with unique content. Retreat, Reed! Bidding on unique content is not a game-winner. You are likely to overpay for content in order to outbid more well-capitalized channels such as HBO or Starz.
Curiously, Hastings views Comcast as its partner and Starz as its competitor. To me, it's the other way around. I recognize the last contract negotiations with Starz were tough and Hastings may feel like a jilted lover, but he must be dispassionate as a business person. Premium channel providers such as Starz or HBO are the most natural alliance for Netflix- they have the content and could benefit from an online-streaming platform. It is in shareholder's best interests for Hastings to re-open conversations with these providers.
Conclusion
To prevent subscriber churn, Netflix needs to acquire reasonably-priced content by year-end 2012. Approaching large cable providers is a waste of management's time. Premium channel providers such as Starz and HBO are more natural partners. I will give Reed Hastings and his team a few months to announce that Netflix is pursuing deals with premium channel providers. Shares would likely rally on such news.
Disclosure: I have no positions in any stocks mentioned, and no plans to initiate any positions within the next 72 hours.