Pandora (NYSE:P) is a really interesting stock. After announcing underwhelming quarterly results and a gloomy 1Q 2012 advertising revenues outlook, its shares plunged 24% before recovering Friday.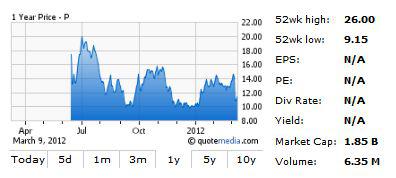 However, here's why I think it's worthwhile of consideration from a big-picture perspective:
First, the bad news (short-term pain):
Pandora is rapidly losing market share among its original demographic: Young, web-savvy users. Spotify and turntable.fm are doing a much better job at making music listening a social experience. Turntable even added gamification elements that appeal heavily to the Zynga (NASDAQ:ZNGA)/Foursquare crowd. No longer the only player in the Internet radio space, Pandora won't be able to maintain its subscriber growth metrics, which can be seen in the company's reduced 2012 forecasts.
Now the good news (long-term gain):
Pandora is now a mainstream brand already, unlike Spotify and turntable.fm. Furthermore, while the other services sort of require that you have friends, Pandora is much closer to the traditional, passive discovery radio model. Compared to traditional radio, Pandora suddenly looks a lot better.
Put yourself in the shoes of the average commuter (70% of all radio is digested in cars). Right now, you have two commuting entertainment options:
Pay nothing for traditional radio, which plays the same 10 Top 40 songs all the time. Stocks in this sector include Cumulus Media (NASDAQ:CMLS) and Entercom Communications (NYSE:ETM)

Pay $15 per month subscription fees to listen to higher-quality Sirius XM (NASDAQ:SIRI).
For the commuter, Pandora is superior to each of these options. Its music similarity discovery algorithms offer personalized choice and higher quality content, without the fees of Sirius. Pandora can afford to do this because its business model efficiently leverages mobile data services, while both traditional radio and Sirius bear the cost burden of outdated, legacy infrastructure designed for the sole purpose of transmitting radio waves.
Ask yourself this question: In this day and age, does it really make sense to have huge towers everywhere and satellites orbiting the earth just to deliver the latest Lady Gaga hit to your car radio?
Risks to Pandora capitalizing on that long-term gain:
Of course, Pandora taking over the car market faces some big risks. In my opinion, here are the ones that are and aren't.
Traditional radio and Sirius XM are installed in cars already; Pandora isn't. Small risk: The average household probably changes cars every 5 years. It didn't take long for car satellite ratio to become mainstream,;car internet radio isn't far behind.

Pandora can't get local advertising which drives radio, as suggested by this article. Small risk: Other online businesses have figured out how to successfully appeal to local advertisers. Cases in point: Groupon (NASDAQ:GRPN) and Yelp (NYSE:YELP). Pandora streams music to a device, which means it can easily figure out roughly where you are at all times. It should be easy to offer local businesses geo-located advertising services.

Mobile data costs will prevent heavy internet radio usage in cars. Small risk: You may think mobile data transmission costs are high now, but compare them to prices 5 years ago. Fast forward 5 years, and the cost of streaming audio (but maybe not video) will be a non-issue.

High content acquisition costs eat into Pandora's margins. Medium risk: High content fees have been the main cause of Pandora's inability thus far to actually make money. However, it's not like traditional radio and Sirius are getting their content for free either. Over time, internet radio's more efficient delivery mechanism should win out.

Competition from other internet radio players. Big risk: the limits of signal strength made traditional radio stations effective oligopolies. Similarly, Sirius installs its own receivers in cars, through which only Sirius content can be delivered. In contrast, there is little exclusivity for internet radio installation. Replacing Pandora with Spotify or another service shouldn't require any hardware adjustments. In fact, while the mainstream media has focused on Ford's partnership with Pandora, Ford is also working with Spotify.
In a nutshell:
Traditional and satellite radio are dead in the water.

Internet radio will take over the car.

Pandora has the mainstream edge, but whether it's sustainable remains to be seen.
Disclosure: I have no positions in any stocks mentioned, but may initiate a long position in P over the next 72 hours.