For those of us who believe gold is going to go much, much higher -- at least twice its current price, and quite possibly into five figures -- a common expectation is to see a mania emerge in both gold and gold stocks. From this perspective, positioning one's self for in gold stocks in anticipation of a mania in the years to come is one of the best opportunities out there.
Investing in gold stocks is fraught with risk, especially for mining stocks that have yet to enter production; while a tiny minority of them will go on to yield some of the highest returns if a mania does come about, the vast majority will likely go out of business before prodcing an ounce of gold. So, from this perspective, focusing on firms that are in production and/or have positive earnings is perhaps a safer bet.
With this in mind one scan I like to use to find potential mining stocks of interest is simply to see which gold stocks have positive earnings and P/E ratio below the S&P 500 average. At the time of this writing, the S&P 500 average P/E ratio is 22.86. See the chart below (click to enlarge image):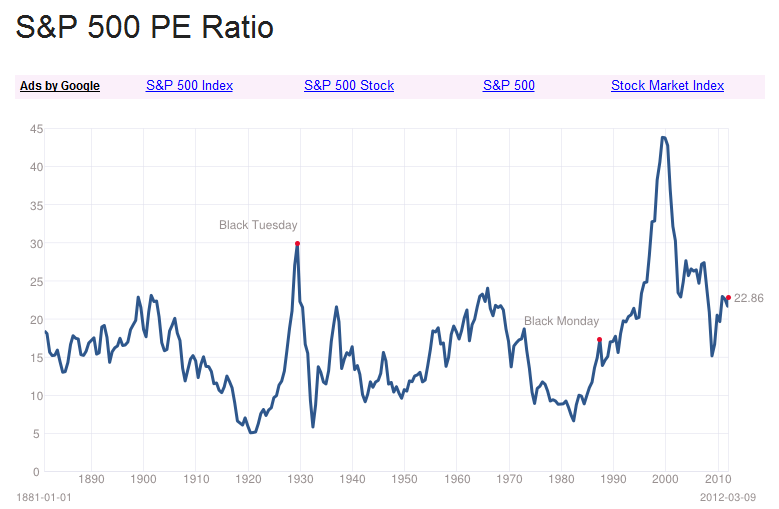 As the Fed has signalled inflation and money supply continues to rise to new all-time highs -- all while bonds continue to provide no meaningful returns -- I believe stocks will go much higher, and that the S&P 500 average P/E will go higher as well. If this is true, and if the gold stocks are leading the way, the gold stocks with positive earnings that are currently below the S&P 500 average P/E are potentially a particularly outstanding opportunity.
So, without further ado, here's a list of ten stocks that meet the aforementioned criteria: currently producing gold, have positive earnings, and show a P/E ratio below 22.86. I give a positive recommendation to 7 of them.
Yamana Gold (NYSE:AUY). Yamana is one of the big players, offering a $0.74 per share and 1.31% dividend yield. It's P/E ratio of 22.84 is barely below the S&P 500 average, so I don't think this stock is as underpriced as some others; it has received some acknowledgement from the market. But as I believe gold and gold stocks are going to go much higher, a major producer like Yamana -- which boasts a market cap greater than 12 billion and over a million ounces of gold mined each year since 2009 -- is a safe way to get gold in the ground that still has much room to appreciate.
AuRico Gold (NYSE:AUQ). AuRico is one of my favorite mining stocks, as I've noted before. It has positive earnings that are growing -- Q4 revenue in 2011 is reported as 38% higher than the previous quarter -- and a P/E ratio of just 12.58. The company also has more projects in the pipeline that will boost its overall production in the years to come.
Gold Resource Corp (NYSEMKT:GORO). GORO has a P/E of 22.33, so like Yamana, it is basically right at the average S&P 500. The stock is still one I find very appealing and with great room for appreciation, though, because its current operations are yielding very high grade gold relative to most other current mining operations -- the result of which is a lower cost per ounce. The average cost per ounce is around $620, but GORO is coming in at nearly a third of that at approximately $222. Lower costs translate to higher earnings, and GORO has expressed an interest in implementing a strong dividend policy; its current dividend yield is 2.52%, well above the industry average and even just above Newmont's (NYSE:NEM) dividend yield of 2.46% -- a particularly notable accomplishment given Newmont's status as industry incumbent and its reputation for committment to high dividends.
Goldcorp (NYSE:GG). Like GORO and AUY, Goldcorp's P/E ratio is barely below the S&P 500 average; GG currently comes in at 21.55. The company's cost per ounce for Q3 2011 was reported to be $258 -- a number that significantly outperforms most of its peers. The company also has several projects in its pipeline; one that is particularly noteworthy is the Cochenour project, which is expected to yield upwards of 250,000 ounces per year starting in 2014 at an average cost per ounce of below $350. Goldcorp is a company built by Rob McEwen, who currently runs McEwen Mining (NYSE:MUX) and is an individual myself and many others regard as one of the best mining executives in the industry; he's built a great organization in Goldcorp that looks like it can succeed even after his departure. Goldcorp is a stock I regard as an essential part of a well-shaped gold mining portfolio.
IAMGOLD (NYSE:IAG). IAMGOLD had a record year in 2011, boasting record revenue, net earnings, and operating cash flow. The company has 20 projects in the exploration phase in 2012, another record for the company. With a track record of success, an EPS of $1.04, a dividend yield of 1.73%, and a P/E ratio of 13.88, IAG is a stock I believe is very well-positioned.
Richmont Mines (NYSEMKT:RIC). Richmont Mines is the one that meets the criteria -- an EPS of $0.81 per share and a P/E ratio of 11.61 -- but I don't think it is a particularly compelling opportunity. It's a fairly small company, in the sense that it's market capitalization is just over $300 million and it produced just over 80,000 ounces of gold last year. The firm has two mines in production and two more slated to come on board in 2015. Both of its current mines have a cash cost per ounce of over $700, which I don't find to be particularly inviting. This isn't a company that I find negative, and given where I think gold is headed I think a strong case can be made that all produces are undervalued, but Richmont doesn't strike me as compelling relative to the other options out there.
AngloGold Ashanti (NYSE:AU). Its high dividend yield -- 2.58%, second only to Gold Fields on this list -- and its P/E ratio of just 10.76 make this one that immediately stands out and worth a closer look. The company's earnings and operational cash flow have been steadily growing; it expects an increase of more than 27% in production by 2014 to over 5.5 million ounces. I simply don't see a particularly compelling reason why this company has such a low P/E ratio.
Gold Fields Limited (NYSE:GFI). GFI has over 80 million ounces in attributable gold reserves, and its P/E ratio of 10.81 coupled with a dividend yield of 3.04% -- the highest of any on this list -- are particularly impressive. There's a lot to like about GFI; it's production is growing, earnings are growing, cash flow is growing, and promising projects are in the pipeline. But it's a South African firm, which is a dealbreaker for me; the political risk in South Africa is a bit too much for me, and I believe it is growing.
DRDGOLD (NYSE:DRD). DRD has a very low P/E ratio -- it comes in at 7.04 -- and there is lots to like about this company, but like GFI, it is a South African company. So, I'll pass. It should be noted, though, that DRD is also a uranium producer; as a person who thinks uranium is going to $200, this is especially delightful. But of course when there is a real risk the government will take the whole thing anyway, the quality of the mine, its management, profitability, and everything else are a bit irrelevant, unfortunately.
Barrick Gold (NYSE:ABX). Last but certainly not least is Barrick Gold, the largest gold producer in the world. Barrick is coming in with a P/E of just 10.23, and also offers a dividend yield of 1.31%. These numbers are very appealing, though for those looking for a downside, I think a case could be made that Barrick's exploration projects are not as promising as some other firms out there. With that said, I do like Barrick and feel it has a place in a portfolio because of its size and name recognition, low P/E ratio, and dividend issuance.
This simple filter -- gold production, positive earnings, and a below average P/E ratio -- is a tool I've found particularly effective in finding stocks that have graduated beyond the significant risks of pre-profitability operations yet still have great upside potential.
Disclosure: I am long GG, ABX, NEM, AUQ, MUX. I am also long GDX, which has exposure to some of the firms listed here.