One concern that I frequently hear from investors about SeaDrill (NYSE:SDRL) is the company's level of debt. This is a legitimate concern as SeaDrill is much more levered than some of the other companies in the industry. A good example of a peer with a lower debt level is Diamond Offshore (NYSE:DO). I am not as worried by this debt as some others are and I would like to explain why.
First, it is important to understand why SeaDrill has the debt load that it does. In a previous article, I discussed how SeaDrill has rapidly expanded its fleet over the past few years, growing from five rigs in 2005 to 62 rigs today. That kind of expansion does not come cheap. The typical cost of a rig in SeaDrill's fleet ranges from approximately $200 million for a jack-up or tender rig to $600 million or more for an ultra-deepwater floater. There was no way for SeaDrill to grow that quickly simply by retaining its cash flow and using that to finance the construction of new rigs. That left the management with two ways to pay for this growth: secondary equity offerings or debt. SeaDrill's management chose to finance the company's expansion by taking on debt rather than inflict the heavy dilution that secondary offerings would bring to the stock holders.
This rapid expansion has given SeaDrill one of the newest fleets in the industry. This new high-specification fleet provides an effective moat that will not be easy for its competitors to match. The company's modern rigs allow it to command some of the highest dayrates in the industry and these high dayrates give the company more money to use to pay off the debt and support its massive dividend.
SeaDrill can easily afford to carry its debt. In 2011, SeaDrill's operating cash flows totaled $1,816 million. This was a substantial increase from the $1,300 million that the company earned in 2010. During the same time period, SeaDrill paid $295 million in interest payments. This was less than the $312 million of interest that SeaDrill paid in 2010. The company's ability to service its debt is improving significantly (although it wasn't a problem in 2010 either).
SeaDrill has not been having any difficulty attaining credit or rolling over its debt. The company also has a substantial amount of credit available to it that it is not using. Here is a chart summarizing all of the credit lines that SeaDrill has available to it.
click to enlarge images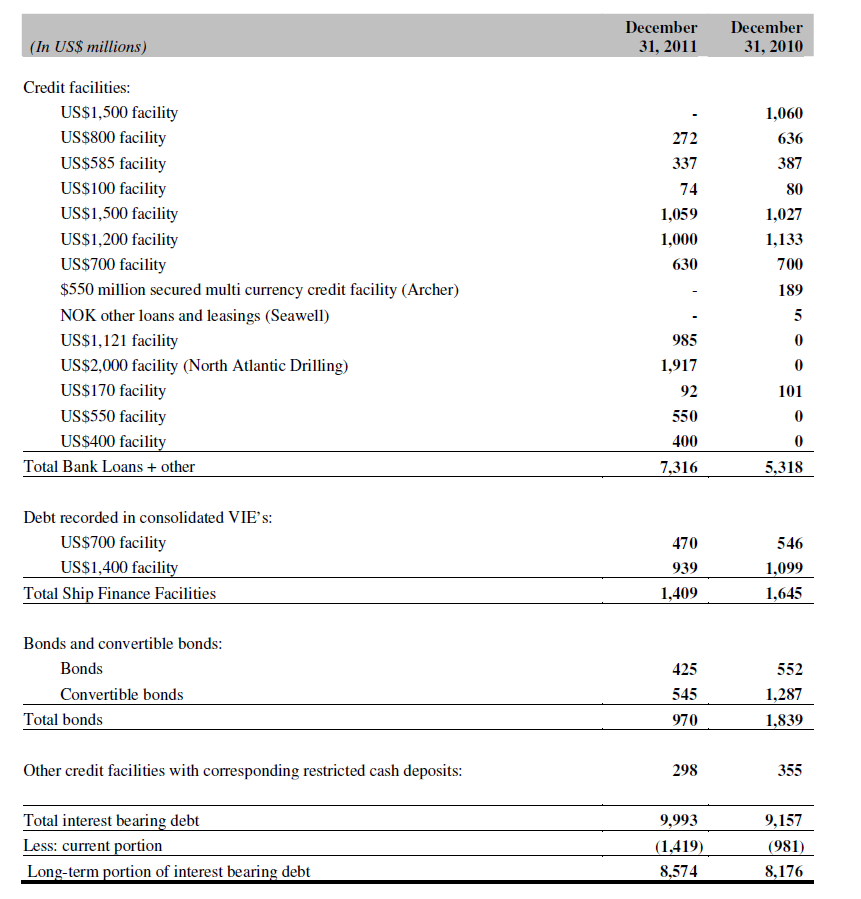 Click to enlarge
Source: SeaDrill Q4 2011 Earnings Release
As this chart shows, SeaDrill reduced its outstanding debt on most of the credit facilities. It did increase its total outstanding debt but this was accomplished primarily through rolling over debt and increasing the number of available bank credit lines. The company also retired just under half of all of its outstanding bonds during the year and paid off $236 million of loans that were owed to Ship Finance (NYSE:SFL).
SeaDrill's debt is also relatively long-dated and the company does not have to repay it or roll it over anytime soon. Here's SeaDrill's debt maturation schedule:

SeaDrill has an average of $1,731.5 million coming due annually between 2012 and 2015. Meanwhile, 31.7% of the company's outstanding long-term debt comes due in 2016 or later. This opens up another possibility for the company. The average debt coming due in each of the years 2012-2015 is less than the company's operating cash flow in 2011! SeaDrill could, conceivably, using its operating cash flow to pay off the debt as it becomes due. The debt due in 2013 is above the average and it is not payable solely with 2011's operating cash flows but it is still large enough to take off most of it, leaving the rest to be rolled over with a refinance. Operating cash flow is also likely to grow over the next few years for reasons which I have discussed in numerous articles over the past few months (such as this one and this one). The company could not possibly maintain its dividend if it does this but the option and ability is most certainly there.
SeaDrill's net interest bearing debt in deepwater unit equivalents has been decreasing over the past several quarters and expectations are that it will continue to decrease going forward.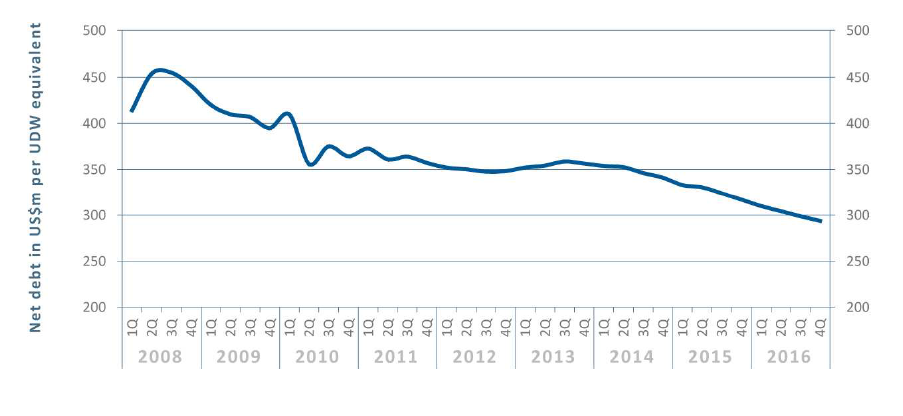 Click to enlarge
Source: SeaDrill's Presentation at the SEB Enskilda Nordic Seminar
Thus, SeaDrill is and has been improving its balance sheet. This trend should benefit investors. As the company continues to grow and increase its cash flow, it should also be reducing its net interest bearing debt. This will result in the company needing to use a smaller percentage of its total operating cash flows to support the debt. This frees up cash which the company can use for other purposes. One potential use is to continue to raise the dividend going forward and, considering SeaDrill's history, looks to be likely to happen.
Disclosure: I am long SDRL.