The U.S. economy added 227,000 jobs during February, which was above the consensus of 215,000 jobs estimated. In addition, the number of jobs added during January was increased to a gain of 284,000 jobs (up from the previously reported 243,000 jobs). February marked the third consecutive month that jobs surpassed the 200,000 mark. Back in December, the Bureau of Labor Statistics (BLS) originally reported 200,000 jobs were gained, and then increased that number to 203,000 during January. Now the BLS has increased the number of jobs created during December to 223,000. Overall, the economy has added an average 245,000 jobs over the past three months-- more than double the pace of job creation between May and November. The following chart outlines the monthly jobs added and the unemployment rate over the past year. It is considered that to account for population growth, more than 150,000 jobs need to be created.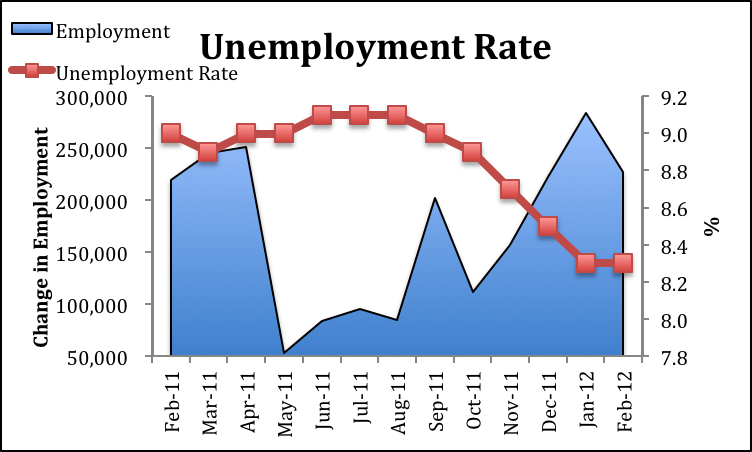 Job growth came from a variety of sectors. Professional and business services, health care, and leisure and hospitality industries had the largest increases. Manufacturing employment rose by 31,000. Construction employment remained unchanged. The government slashed 6,000 jobs during February, whereas during 2011 the government cut an average of 22,000 jobs per month.
Most of the economic data over the past few months has pointed to a rebound, but it still seems that the "green shoots" are wooing buyers. This has been one of the warmest winters ever, but the economy didn't see the type of bounce one would expect without the weather. Every winter we hear about how the cold temperatures or snow storms affected job creation. Initial jobless claims have been improving, with the 4-week moving average breaking a string of eight consecutive weeks of improving trends.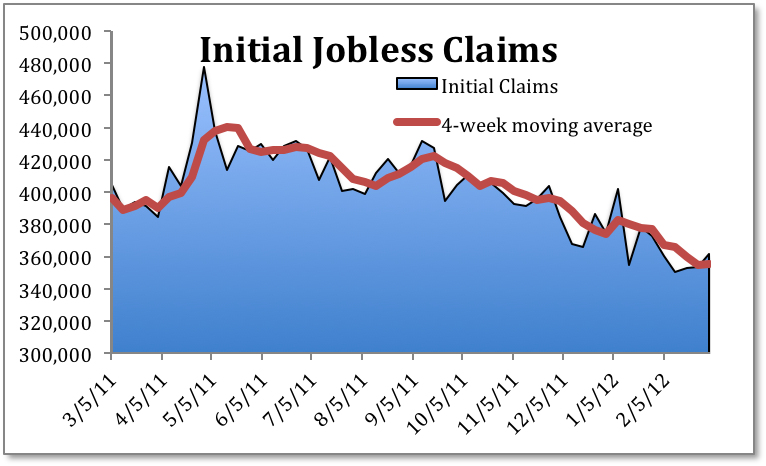 Compared with February 2011, 2,021,000 more Americans have payroll jobs. In the past two years, the private sector has created 3,938,000 jobs. Hourly wages inched higher, but they are not keeping pace with inflation, which could spell for an even slower recovery. This is still an employers market, with as many as five unemployed people for every job opening. So the job market is improving, but not enough that the all clear can be sounded. Looking at both of the previous charts, you see that the jobs picture has come a long way in just the past year, but we still have a long way to go before the economy gets back to full health.