In a recent talk at the Mobile World Congress, Eric Schmidt, Google's (NASDAQ:GOOG) chief representative, explained that in the future some people are going to bask in technological affluence more than others. In part, Schmidt is just emphasizing that some technology will be expensive. Everyone will have basic technology (like water) but not everyone will have the best technology (like clean water).
If you want to be able to afford the higher-end technology of the future, you might want to consider buying some Google stock, now. It's cheap (20 P/E) because the market hasn't caught on to its next growth story. In effect speculators are trying to pick the next Google (or Apple (NASDAQ:AAPL), Facebook (NASDAQ:FB)), and they're ignoring the probability that Google is the next Google.
A couple days before Schmidt gave his talk, I claimed Google investors should not disregard robotics. My working thesis is that Google will claim dominant market share in brokering robotic software. Schmidt gave his talk, discussing a foreseeable future of robotics, and this has done nothing for the stock.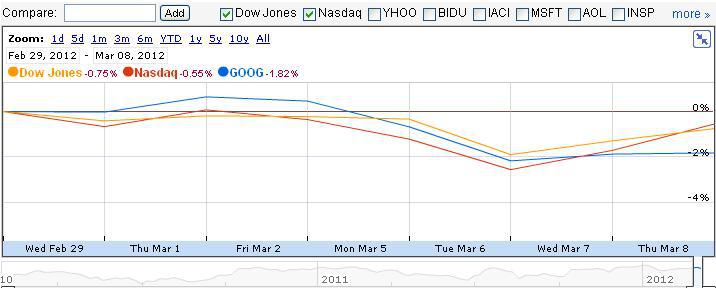 (chart from Google, click to enlarge)
So that means Google investors are continuing to disregard robotics. Look, Eric Schmidt is not one to make false promises, and he's speaking strongly about the future of robotics. When he speaks of robots in 2020, those are the robots with amazing 3D ability. What he maintains in secrecy are the robots in 2018, 2016, and 2014, which are not as advanced as the droids in 2020, but will represent dramatic departures from what we have in 2012.
Which raises the question, because we're not in 2014...when does 2014 get priced into Google's stock? Forget 2020. We don't need 3D videographer robots to go to a concert for us; we just need robots to clean walls, play with our pets, and do the cooking. With Google naturally advantaged in robotics, and overall executing on a plan to become your ubiquitous sidekick, why should Google's P/E be less than Facebook's? In 2014, let alone 2016, how is social media more exciting than robots?
Disclosure: I have no positions in any stocks mentioned, and no plans to initiate any positions within the next 72 hours.